Made in Germany: Behind-the-Scenes at the Zimmer Cryo Manufacturing Plant
– Take a sneak peek behind-the-scenes. See for yourself the attention to detail that takes place during the Z Cryo assembly and manufacturing process.
Read the article and then scroll below for the video.
By Regina West; November 24, 2020

Scroll down for video.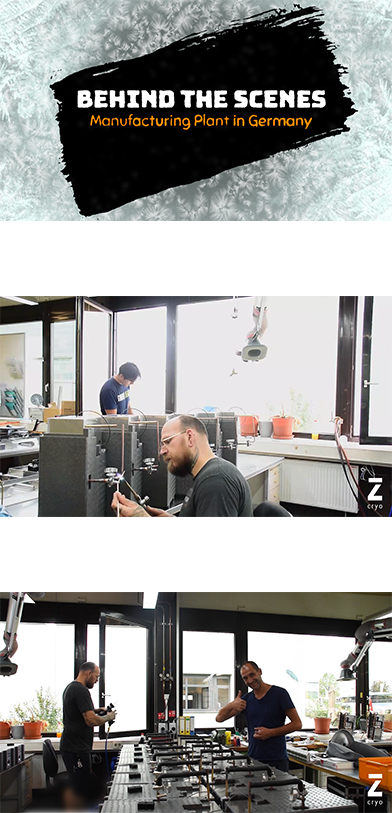 Made in Germany, at the Zimmer MedizinSysteme manufacturing plant, Zimmer Cryo devices are known for their superior quality and precision of detail. Z Cryo harnesses the indisputable German excellence in engineering.
Zimmer MedizinSysteme was founded over 50 years ago in Germany. Since the initial skin cooling model was introduced, well over 50,000 have been sold globally. The product has also significantly contributed to safer laser treatments while improving patient comfort.
Zimmer USA is the U.S. distribution arm for Zimmer MedizinSysteme and is an American company, proudly inching up on our 35th anniversary. Our branches in Irvine, California and in Allentown, Pennsylvania provide support across the time zones.
In the 1990s, Dr. Emil A. Tanghetti conducted clinical trials that helped the Zimmer Cryo device gain US FDA market clearance. Since then, Zimmer USA has sold over 15,000 units domestically, and counting.
The pioneering Cryo 5 unit reliably provided state-of-the-art cooling for procedures at laser centers, medical spas, hospitals, physician's offices, and more. Today, we no longer manufacture the Cryo 5 model, but we stand behind the device. It is still in use at facilities across the world, with continued maintenance and support. Our current cryotherapy models are the Cryo 6 and the Cryo Mini.  Cryo 6 is our flagship Z Cryo unit. It is a full-capacity, powerhouse chiller device that cools the skin before, during and after laser energy application. This unit delivers cold air as low as -30°C. Cryo Mini provides the same incomparable Zimmer quality in a lower capacity, more compact and transportable chiller device.  The Cryo Mini unit delivers cold air as low as -10°C.
Practitioners across the globe attest to their trust in products manufactured by Zimmer MedizinSysteme. Here in the USA, Dr. Pearl Yee of San Francisco commented on the reliability and function of her Zimmer Cryo unit. She uses it for procedures such as laser hair removal and IPL treatments. She raved, "In the ten years I had my first Zimmer, I did not have one break down, one problem, not one service call and it worked great… I liked it so much I bought a second one."
Dr. Anna Petropulos's Boston area cosmetic surgery practice owns Z Cryo and Z Wave devices by Zimmer. She commented on her trust in the manufacturer. "With Zimmer [MedizinSysteme] being a German company, you can rely on the technology for sure."
Loretta Zanetti, ARNP, of Tampa's Erasable Inc. MedSpa said, "We have the Cryo 6 and it is probably the most used device in our practice… I love the Zimmer chiller… It works consistently for us all day long. So it is a fantastic device and absolutely worth every penny."
We invite you to take a sneak peek behind-the-scenes at the Zimmer Cryo assembly and manufacturing process in action.  Watch the hand craftsmanship and detail that go into each of our German-made cryotherapy devices.
Scroll below to view a behind-the-scenes video from our manufacturing plant in Germany.
About Zimmer Cryo
The Zimmer Cryo delivers cold air as low as -30°C. The device is intended to minimize pain and thermal injury during laser and dermatological treatments. It also provides temporary topical anesthetic relief during injections, tattoo application, tattoo removal, RF, laser hair removal and much more.  The system can assist in a variety of applications and is particularly useful with cosmetic procedures. Unlike other cooling methods, such as contact cooling, cryogen spray or ice packs, Zimmer Cryo can cool the epidermis before, during and after the laser energy has been applied, without interfering with the laser beam. For more information about Zimmer Cryo devices, please view a web overview of the product. You may also contact Zimmer any time by phone or email.