Erasable Inc. Reviews the Utility of their Zimmer Cryo 6 Device: It's the "Most Used Device" in the Practice and "Works Consistently…All Day Long"
By Regina West; August 4, 2018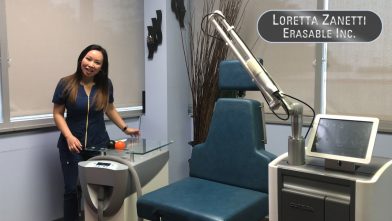 Scroll to bottom for video.
Four years since the inauguration of their Zimmer Cryo 6, Erasable Inc. designates the Cryo Therapy machine the "most used device" in their practice. Loretta Zanetti, an Advanced Registered Nurse Practitioner (ARNP) at the practice, says, "It works consistently for us, all day long. So it is a fantastic device."
Erasable Inc. uses their Cryo unit to control pain during procedures like laser tattoo and hair removal and Botox / filler injections.  Nurse Zanetti says, "The really cold air helps to not only cool the skin, but it confuses the nerve endings a little bit, which helps to decrease the perception of pain."
In the video, Zanetti details how Erasable Inc. uses the Zimmer "chiller" with a variety of procedures to minimize pain and the risk to their patients. Zanetti says that with its 10 second warm-up, the chiller also saves the practice time versus using topical anesthetics, which she says, "can take 30 to 45 minutes to set in. And it saves money on injectables. And of course, there's less risk to the skin – as well as systemically whenever you're just using just cold air versus using injectable products like lidocaine. I love the Zimmer chiller."
Loretta Zanetti and Erasable Inc. shared the below video and comments about Zimmer Cryo technology without compensation.
Scroll down to view the full treatment video.
About Erasable Inc.
Erasable Inc. offers head-to-toe MedSpa services. The practice implements advanced technologies to achieve the best results for treatments like acne reduction, skin rejuvenation, dermal injectables, CoolSculpting, microneedling with PRP, vaginal rejuvenation and much more. The practice's team of aesthetic medicine professionals is led by 2 Board Certified OB/GYN physicians and 2 ARNP's.
The practice's website houses great resource videos, including informational and procedure clips. The tattoo removal section highlights a recording of a large facial tattoo removal. In this video, the Cryo 6 with focusing tip directs the cold air flow directly to the sensitive treatment area as the tattoo is effectively erased before our eyes.
To learn more about the services and technologies available at Erasable Inc. MedSpa, you may visit them online at www.ErasableMedSpa.com  The practice is located in Tampa, Florida. You may also browse the medical grade skin care and cosmetic products that they offer in their online store at ErasableMedSpa.brilliantconnections.com.
About Zimmer Cryo
For more information about Zimmer Cryo devices, please view a web overview of the product. You may also contact Zimmer any time by phone or email.
Related Z News Articles: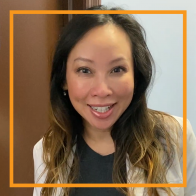 Watch the reaction! Erasable Inc's returning tattoo removal client was told that ZCryo wasn't available. Nurse Zanetti said Zimmer chiller is "so helpful for pain control that patients don't even want to do the treatments without it." Video PLUS Q&A ...
Read More