Erasable Inc. Prank on Tattoo Removal Client Shows How Much Patients Love the Comfort of Zimmer Cryo
– Z News Video and Interview with Loretta Zanetti, ARNP
"[Zimmer chiller] is so helpful for pain control that patients don't even want to do the treatments without it."
Read the Q&A and then scroll below for Erasable Inc's video.
By Regina West; August 17, 2020

Scroll down for video.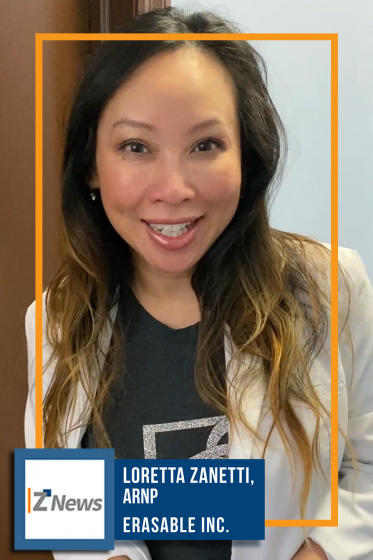 "So… you wanna' reschedule? I love it. I think I need it." That's the reaction Erasable Inc's returning tattoo removal client had after she was told that Zimmer Cryotherapy would not be available during her laser procedure. Preparing to cancel the procedure, the client adjusted her shirt and covered her tattoo. Advanced Registered Nurse Practitioner, Loretta Zanetti, revealed that she had only been joking, but it demonstrated an important point.
"I just wanted to show you guys how dependent people are on the Zimmer chiller for their pain control for tattoo removal," said Nurse Zanetti. "That is 100% our reaction, everybody, when they don't have the Zimmer chiller. It is so helpful for pain control that patients don't even want to do the treatments without it."
Zanetti later explained that for five years, Erasable Inc's Zimmer Cryo 6 has been the practice's most used device, operating "tirelessly" and "without fail". It provides skin cooling with the MedSpa's laser tattoo removal, hair removal and Radiofrequency microneedling services. The chiller delivers all-natural cold air at temperatures as low as -30°C. Nurse Zanetti pointed out how the Gate Control Theory (AKA: Gateway Theory) of Pain comes into play with laser procedures. "If you're feeling cold, it decreases the sensation of pain, and for a treatment like tattoo removal that is so fast – that is sometimes is only five to ten seconds – it doesn't make sense to do thirty minutes of numbing, or ten minutes to inject the area."
Zimmer Cryotherapy helps the office operate practically and optimally, in a number of ways, according to Zanetti. Staff members are able to easily wheel the device from one treatment room to another, as needed. She added, "The cold air is clean and easy, works better than ice," she said. "And it gets my patients in and out so I can turn over the room really quickly… If you're doing anything that's remotely uncomfortable for your patients, you will see a better return with your patients back into your office if you're doing something to help control their pain."
Z News Interview with Loretta Zanetti of Erasable Inc.
Z News:   You have dubbed the Zimmer Cryo the "most used device" in your practice. We can see that you get a lot of daily use out of the chiller to minimize pain and risk of thermal injury during laser tattoo removal. Can you talk to us some more about how the device helps with other procedures in your office?
LZ:   We do about 20-25 tattoo removal treatments daily and use it all day long for these treatments. However, we will sometimes roll the device in for our hair removal treatments and RF microneedling. Because it has wheels, it moves easily from room to room.
Z News:   You mentioned that your Zimmer cryotherapy unit has worked for you without fail since you bought it 5 years ago. Can you estimate how many hours per day/month you typically use it?
LZ:   The device runs 5-8 hours per day, 6 days a week.
Z News:   We love the joke you played on one of your patients. After you pretended that the Zimmer Cryo 6 would not be available during her tattoo removal procedure, her reaction was to ask to reschedule. Why do you think your patients love the Zimmer chiller so much that they would rather reschedule than be treated without it?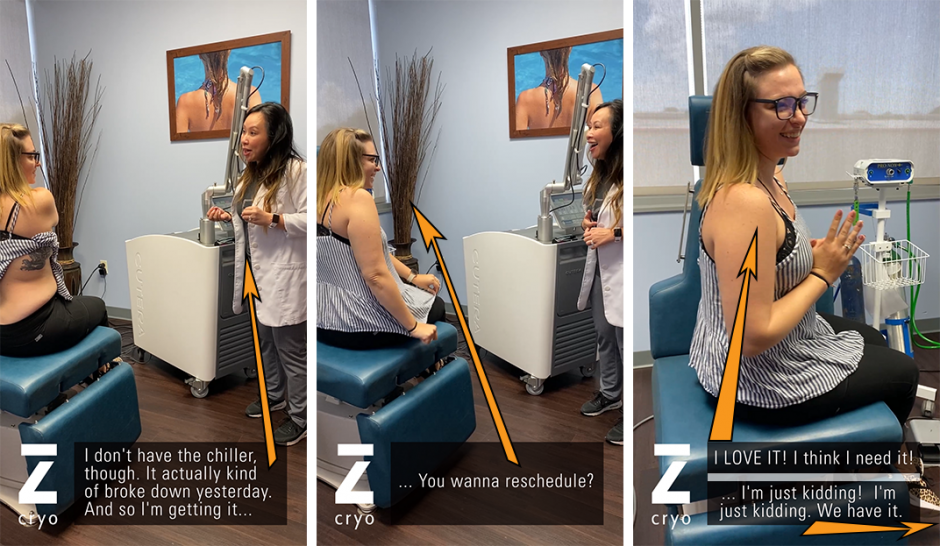 LZ:   Our patients have become accustomed to the pain relief it provides. It really helps people get through painful procedures. It is faster than injecting anesthetic and less messy than ice.
Z News:  Was there ever a time when you performed laser procedures without integrating Zimmer cryotherapy? If so, have you seen a reduction in the occurrence of thermal injury to the skin?
LZ:   My mantra is that epidermal cooling is the key to preventing thermal injury. We have had the Zimmer since we started so I can't comment on whether it has decreased thermal injuries.
Z News:  Does adding Zimmer cryotherapy to potentially uncomfortable laser procedures help give you an edge over competitors who do not use cryotherapy?
LZ:   Anything that can be done to minimize pain and increase patient comfort gives us the competitive edge.
Loretta Zanetti and Erasable Inc. provided this video and interview about Zimmer Cryo without receiving compensation of any kind.
Scroll below to view the Z Cryo  video by Erasable Inc.
About Erasable Inc.
Erasable Inc. offers head-to-toe MedSpa services. The practice implements advanced technologies to achieve the best results for treatments like laser tattoo and hair removal, acne reduction, skin rejuvenation, dermal injectables, CoolSculpting, microneedling with PRP, vaginal rejuvenation and much more. The practice's team of aesthetic medicine professionals is led by 2 Board Certified OB/GYN physicians and 2 ARNP's.
The practice's website houses great resource videos, including informational and procedure clips. The tattoo removal section highlights a recording of a large facial tattoo removal. In this video, the Cryo 6 with focusing tip directs the cold air flow directly to the sensitive treatment area as the tattoo is effectively erased before our eyes.
To learn more about the services and technologies available at Erasable Inc. MedSpa, you may visit them online at www.ErasableMedSpa.com  The practice is located in Tampa, Florida. You may also browse the medical grade skin care and cosmetic products that they offer in their online store at ErasableMedSpa.brilliantconnections.com.
About Zimmer Cryo
The Zimmer Cryo delivers cold air as low as -30°C. The device is intended to minimize pain and thermal injury during laser and dermatological treatments. It also provides temporary topical anesthetic relief during injections, tattoo application, tattoo removal, RF, laser hair removal and much more.  The system can assist in a variety of applications and is particularly useful with cosmetic procedures. Unlike other cooling methods, such as contact cooling, cryogen spray or ice packs, Zimmer Cryo can cool the epidermis before, during and after the laser energy has been applied, without interfering with the laser beam. For more information about Zimmer Cryo devices, please view a web overview of the product. You may also contact Zimmer any time by phone or email.
Related Z News Articles: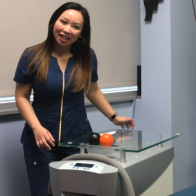 Four years since the inauguration of their Zimmer Cryo 6, Erasable Inc. designates it the "most used device" in their practice. Loretta Zanetti (ARNP) says, "It works consistently for us, all day long. So it is a fantastic device." ...
Read More