Center for Classic Beauty's Dr. Anna Petropoulos Receives Z Wave Q Cellulite Treatment and Discusses this "Comfortable" Treatment
– Z News  Video and Bonus Interview with Dr. Anna Petropoulos
"Notice how we are able to treat through the clothes, so there's no need to undress for this treatment. And it's so comfortable. It's like a nice, quick massage."
Some of the applications discussed by Dr. Petropoulos are considered off-label use and are for informational purposes only. Zimmer MedizinSystems does not market Z Wave for male and female intimate wellness.
Read the Q&A and then scroll below for the video by Dr. Anna Petropoulos of Center for Classic Beauty.
By Regina West; July 13, 2020

Scroll down for video.
Dr. Anna Petropoulos, Medical Director of New England Facial and Cosmetic Surgery Center and its Center for Classic Beauty, discussed with Z News some of the treatments she offers using Zimmer's Z Wave Q. She provided Z News with a demonstration video and a follow-up interview. In the video, the doctor offered a window to Z Wave's ability to reduce the appearance of cellulite. Dr. Petropoulos detailed the cellulite treatment as she lay comfortably, receiving a treatment performed by her office's Master Medical Esthetician. She also touched on how the Z Wave Q helps the practice achieve an astounding 50% improvement in CoolSculpting™ results.
The cellulite treatment demo video began as the MME, Jeanine, glided the Z Wave Q across the back of Dr. Petropoulos' thigh. "It is so comfortable," said the doctor. "It's actually a very pleasant treatment."
Dr. Petropoulos commented on her trust in the Z Wave's manufacturer. "Not only is it pleasant, but it's very effective. With Zimmer [MedizinSysteme] being a German company, you can rely on the technology for sure." The doctor noted that the sensation of the treatment at one point felt "ticklish". Z News followed up on that comment in the interview below, and Dr. Petropoulos elaborated on this observation and offered feedback she has heard from her patients.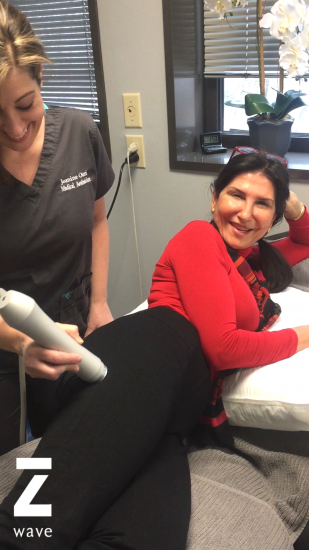 During the cellulite treatment, Dr. Petropoulos made a remarkable side note. She stated that CoolSculpting (Cryopolysis™) treatments for fat reduction can achieve markedly improved results when Z Wave is integrated:
"I'm sure you can see that we have our dual CoolSculpting machines left and right. And that enables us to perform the CoolSculpt fat melting treatments much more quickly. And now, with the Zimmer device here, the Z Wave, that will allow us to get a 50% improvement in our results. Because if you combine the Zimmer together with the CoolSculpt, your results are greatly enhanced."
Dr. Petropoulos, who is a double board certified, Harvard educated plastic surgeon, was recently elected President of the Massachusetts Society of Facial Plastic Surgery. Notwithstanding her exceptional qualifications in cosmetic surgery, she is also involved in all of the non-surgical treatments at the Center for Classic Beauty. She personally tailors the parameters (including those for Z Wave cellulite treatments) according to the needs of each patient.
As her own cellulite treatment proceeded, the radial pulses became audibly more rapid. The doctor confirmed that the frequency of the Z Wave Q device was increased and that she was "still very comfortable". "Notice how we are able to treat through the clothes," she said. "So there's no need to undress for this treatment. And it's so comfortable. It's like a nice, quick massage." Approaching about 2,500 to 3,000 total administered pulses, Dr. Petropoulos' treatment was nearly complete. She summarized, "This is an amazing treatment."
The Center for Classic Beauty website has more information about services with the Zimmer Z Wave and Z Cryo devices on a webpage dedicated to these treatments.
Dr. Petropoulos provided this video and comments about Zimmer Z Wave without receiving compensation of any kind.
Z News  Interview with Dr. Anna Petropoulos of Center for Classic Beauty:
Z News:   What do you use Zimmer Z Wave most often for?
AP:    Our Z Wave is most often used to massage patients after our CoolSculpting procedures. We achieve a deeper and more comfortable massage with Z Wave's shock wave technology. Thus, fat cell contents are more effectively dispersed into the surrounding tissues improving elimination via the circulatory and lymphatic systems. This addition to our Cool Sculpting treatments gives a much better fat reduction per treatment than the typical 2-minute manual massage that is required post treatment and the body contouring results achieved are greatly improved.
Z News:    What do you tell your patients about Z Wave's results for cellulite? How long / how many treatments does it take before results start to become visible? How long can they expect results to last? How long does each treatment take? What do you recommend for maintenance?
AP:    The Z Wave allows us to better breakdown connective tissue to loosen puckering and increase blood flow to lessen fluid retention. Patients who are consistent with their visits and are compliant with our recommendations to drink plenty of water daily, can expect to see results after the first 2-3 treatments. Treatments are quick, lasting 20-30 minutes twice per week and 8-10 treatments are recommended for optimal results. Lifestyle plays a large role in our recommended maintenance plan. Patients can expect to see long lasting results with the Z Wave and maintenance is recommended every 6-12 months, depending on the patient needs.
Z News:    In your video, the Z Wave treatment is applied over what appears to be thin pants. Is this just as effective as treatment directly on the skin?
AP:    Yes! This is one of the best features of the Z Wave. Patients can be treated with or without clothing to accommodate their comfort level. There is no need to fully undress, making this treatment perfect for a lunch time visit to the office! We use the Z Wave primarily for post CoolSculpting treatment massages so patients are not wearing clothing over the area. However, they can be clothed if preferred. 
Z News:    What determines if treatment will be done over clothing or directly on skin?
AP:    What we are treating would determine if the patient is clothed in the treatment area or not. If we were doing a quick 20-minute cellulite only treatment for patients, we would likely just go over the clothing.
Z News:    In your video, your Master Medical Esthetician, Jeanine, performs the Z Wave treatment. Are you able to delegate all Z Wave treatments to trained staff – or do you perform some/all yourself?
AP:    In our office, our highly trained staff of medical estheticians and nurses perform the treatments. I am the first to jump on the table for treatment in between my busy schedule seeing patients in our practice!
If I am using the Z Wave for a medical indication treatment that I have developed for ganglion cysts, then I will perform the treatment myself. For a ganglion cyst, it works very well, within 2 minutes, to disperse the cyst and thus avoids a surgical intervention! This is HUGE for patients who suffer from ganglion cysts on their hands, wrists, feet or elbows and their only option had previously been surgery along with the unsightly scar associated with that!
Z News:    Is it easy to train staff to operate Z Wave?
AP:    The Z Wave is very simple to operate! The straight forward Z Wave system made it very easy for our staff to quickly learn how to use the machine.
Z News:    What is your favorite application for Z Wave? 
AP:    Our staff and patients love the addition of the Z Wave for the post CoolSculpting massage, along with cellulite treatments. Patients also love popping in after overdoing it with their sports to increase the blood flow to their stiff muscles; the same applies after an Evolve Trim, Tite, Tone treatment for body contouring. We are constantly incorporating Z Wave into our ever-expanding menu of services. Along with RF treatments, there are so many additional applications with the Z Wave. We have now incorporated the Z Wave into our aesthetic menu and into our male intimate wellness menu for Erectile Dysfunction [ED] alleviation.
Z News:    You mentioned that you can achieve 50% better results when integrating Z Wave into your CoolSculpting™ treatments. What kind of results have you seen Z Wave achieve in your practice with cellulite?
AP:    Results have varied among patients, depending on their depth or advancement of cellulite and also their ability to maintain a healthy lifestyle. However, it has been exciting to see patient satisfaction with cellulite improvement after just 3 treatments that continues after the completion of the full set of treatments.
Z News:    How much are you able to charge for a Z Wave treatment? (stand-alone service, and/or as an add-on to other services) 
AP:    $75-$100 per visit has been our average price per add-on session and is an attractive price point for patients. For stand-alone cellulite treatments, we charge for the full set in advance.
Z News:    Your office is among the first to own the new Z Wave Q device, which is reengineered with a water-cooled generator. This enables 50% quieter operation of the device. It also prevents the hand piece from becoming warm and eliminates the need to alternate handpieces for longer procedures.
a.   Have you ever operated or heard the Z Wave Pro (the predecessor to the Z Wave Q)? If so, do you notice the softer sound of Z Wave Q?
AP:    Yes, I've operated the prior model Z Wave Pro in the past. I much prefer the quieter new model, so it does not disturb other procedures being performed throughout our peaceful Center for Classic Beauty, which is known for its relaxing, Zen-like ambience.
b.   Any other observations on the Z Wave Q in comparison to other devices?
AP:    Even though I am a surgeon, I am known for my non-invasive preference. Hence, I prefer offering the effective, quick and easy, non-invasive Z Wave treatments for cellulite, rather than the other more invasive and tedious cellulite procedures that are available on the market, which even in themselves do not have a guarantee on their results.
Z News:    You used words like "pleasant" and "ticklish" during your own Z Wave treatment for cellulite. What feedback have you gotten from your patients about how it feels & results?
AP:    Prior to the advent of Z Wave in our office, when we were hand massaging after a CoolSculpting procedure, the area was usually quite sensitive.  We have found that the Z Wave has proven to be much more comfortable than the previous manual massage we typically did. It can be "ticklish" for some patients. We have had abdominal treatment patients giggle, when most patients are holding their breath! Overall, it has made our CoolSculpting experience significantly better by eliminating the post-procedure manual massage discomfort. And it has greatly improved the amount of fat reduction that patients achieve with each application and the overall results! We are so happy our patients are happy!
Scroll below to view the Z Wave testimonial video by Dr. Anna Petropoulos.
About Center for Classic Beauty

Dr. Anna Petropoulos is the Medical Director of New England Facial and Cosmetic Surgery Center and its Center for Classic Beauty. She is double board certified by the American Board of Facial Plastic and Reconstructive Surgery and the American Board of Head and Neck Surgery. She completed residencies in Head and Neck Surgery with two additional formal fellowships in Facial Plastic Surgery at Harvard and Ottawa Universities. In 2020, Dr. Petropoulos was elected President of the Massachusetts Society of Facial Plastic Surgery.
The Center for Classic Beauty offers an extensive assortment of surgical and non-surgical procedures. Among these are facelift, rhinoplasty, liposuction, PRP hair restoration therapy, hair transplantation, CoolSculpting™, filler and neuromodulator injections, male and female intimate wellness treatments, laser/ RF treatments, anti-aging solutions, snoring/ sleep apnea treatments, and Z Wave treatments for cellulite. Zimmer Cryotherapy is used in adjunct with many services, such as injectables, radiofrequency and laser treatments, for all-natural pain minimization and reduced risk of thermal injury. The practice may also use Z Cryo to spot treat injured or irritated areas. The Center for Classic Beauty website has more information about services with the Zimmer Z Wave and Z Cryo devices on a webpage dedicated to these treatments.
The practice's staff of medical aestheticians and nurses aid Dr. Petropoulos in providing the highest quality of care possible to their patients. Dr. Petropoulos believes in the importance of personally reviewing all treatment protocols for each patient. She specifically tailors the parameters for each patient's unique needs. Having a board-certified facial plastic surgeon who is engaged with each patient's treatment protocol is a feature that sets the facility apart from many other large practices.
Center for Classic Beauty is located near Boston, in Danvers, Massachusetts. To learn more about the practice and the services offered, visit their website at www.classicface.com.
About Zimmer Z Wave
The Zimmer Z Wave transmits powerful sound waves into the tissue. The energy then spreads out radially to enhance the treatment effect (Radial Pulse Therapy). The body responds to these sound waves with increased metabolic activity in the form of lymphatic drainage and increased blood circulation. The result is an improvement in the appearance of cellulite and improved results when used with other body contouring procedures. For more information about the Z Wave, visit a web overview of the product. You may also contact Zimmer any time by phone or email.