Video: Dr. Mejia Demonstrates Integration of Zimmer Cryotherapy with IPL Treatment for Leg Pigmentation
Plus – Jupiter Dermatology Patient Says Facial Laser Treatment Is 'Much More Tolerable' with Zimmer Cryo
By Regina West; November 26, 2018
Scroll to bottom for video.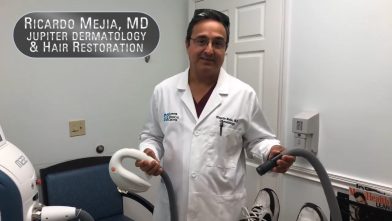 Ricardo Mejia M.D., FAAD, performed a demonstration in which he integrated Zimmer Cryotherapy with an IPL (Intense Pulsed Light) treatment for hemosiderin pigmentation of the legs. The patient in the video had previously visited Dr. Mejia at Jupiter Dermatology & Hair Restoration to treat test spots. This resulted in a 30-40% lightening of the pigment in the treated area.
During this recorded second laser treatment for the stasis dermatitis condition, Dr. Mejia showed how he adds Cryotherapy for patient comfort and safety. The Zimmer Cryo 6 device has the ability to cool the patient's skin, before, during and after laser treatment, making the treatment more comfortable. The cold air also protects the skin from thermal injury during application of the energy without interfering with the laser. Dr. Mejia operated the Zimmer "Chiller" while explaining, "Cooling the skin helps to actually protect the skin and it actually provides a lot of patient comfort. We use the Zimmer device for a lot of our treatments, whether it be fillers, laser resurfacing and so forth."
The Cryo 6 skin cooling was continued by one of Dr. Mejia's staff during the IPL treatment demonstration that followed. The doctor checked in with his patient, who confirmed that he was not feeling any discomfort. Upon completion of the laser treatment on one of the patient's legs, Dr. Mejia noted that at the follow-up visit, he expected to see even more improvement in the appearance of the leg pigmentation.
In closing, Dr. Mejia gave the following rave regarding his Zimmer Cryotherapy device:
"So that's the IPL treatment… using the M22 device from Lumenis. And then we have the Zimmer cooler here, which helps cool the skin.  This is actually wonderful for helping to reduce discomfort for any types of skin treatments that you're doing."
Following the IPL treatment demonstration, another of Dr. Mejia's patients discussed how his facial laser treatments are made more tolerable because of integrated Zimmer Cryotherapy.  The patient attested, "I've had blue light [laser] treatment before without the Zimmer machine. It was painful and it was much more tolerable with the Zimmer machine.  It blows nice cold air on your face, you get to direct it on your face… and it's certainly a much more tolerable experience. I would recommend it to anybody."
Scroll down to the video to watch Dr. Mejia's full IPL treatment demo with integrated Cryotherapy. Plus, watch through the end for a bonus patient testimonial about how laser treatments are more tolerable with Zimmer Cryo.
Dr. Ricardo Mejia did not receive compensation of any kind for this video or for his comments about Zimmer Cryo.
Scroll down to watch the video.
About Jupiter Dermatology & Hair Restoration
Jupiter Dermatology & Hair Restoration is headed by Board Certified dermatologist, Mohs skin cancer surgeon, and hair transplantation specialist, Dr. Ricardo Mejia. Dr. Mejia is one of very few physicians in the USA to be Board Certified in dermatology and dermatologic surgery, while also a Diplomat of the American Board of Hair Restoration surgery. Having performed thousands of Mohs and plastic surgery reconstructions with artistic technique and results, he is a true expert in the field.
Jupiter Dermatology & Hair Restoration offers both medical and cosmetic dermatological services. Among the treatments available are a variety of dermal injectables like Botox© and fillers, and lasers for skin resurfacing, photo facials, veins, tattoo removal, pigmentation reduction and hair removal. Dr. Mejia and his staff also offer microneedling, PRP therapy, mole removal, acne treatments, patch testing for skin allergies, scar revision, Photodynamic Therapy (PDT) and much more.
In treating for hair restoration, Dr. Mejia uses cutting-edge platelet rich plasma (PRP), ACell extracellular matrix proteins treatments, various follicular unit strip techniques and follicular unit extractions. His customized regimens maximize the number of hairs transplanted and to provide excellent cosmetic results.
Jupiter Dermatology & Hair Restoration is located in Jupiter, Florida. To learn more about the practice and their services, visit them online at www.jupiterderm.com. The practice website provides information in 5 different languages.
About Zimmer Cryo
The Zimmer Cryo delivers cold air as low as -30°C. The device is intended to minimize pain and thermal injury during laser and dermatological treatments. It also provides temporary topical anesthetic relief during injections, tattoo application, tattoo removal, RF, laser hair removal and much more.  The system can assist in a variety of applications and is particularly useful with cosmetic procedures. Unlike other cooling methods, such as contact cooling, cryogen spray or ice packs, Zimmer Cryo can cool the epidermis before, during and after the laser energy has been applied, without interfering with the laser beam.
For more information about Zimmer Cryo devices, please view a web overview of the product. You may also contact Zimmer any time by phone or email.
Related A to Z News Articles: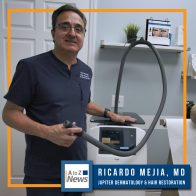 Dr. Ricardo Mejia on the benefits of his new Zimmer MedizinSystems Cryo 7 skin cooling device. "Simplicity of use…a reliable unit, and provides an effective cooling method for all different types of skin treatments." VIDEO + ARTICLE + Q&A ...
Read More