Dr. Mejia Discusses the New Zimmer MedizinSystems Cryo 7 and Its Ease of Use
– A to Z News Video + Bonus Interview with Dr. Ricardo Mejia
"Safety was not the only benefit we considered when purchasing the [Cryo 7] device. My main interests are simplicity of use, the fact that it is a reliable unit, and provides an effective cooling method for all different types of skin treatments."
Read the Q&A and then scroll below for the video by Ricardo Mejia, MD of Jupiter Dermatology & Hair Restoration
By Chad Lutzke; July 1, 2022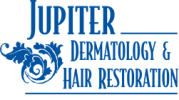 Scroll down for the video.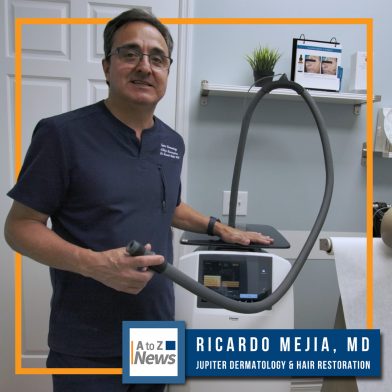 After regularly utilizing the Zimmer MedizinSystems Cryo 6 during various skin treatment procedures for several years, and singing its praises (see our 2018 article here), Ricardo Mejia M.D., FAAD described the new Zimmer MedizinSystems Cryo 7 as being more convenient than previous models. He attributed this to the device's lengthier hose for ease of movement, user-friendly touchscreen, quieter sound, and its more compact size.
In the video below, Dr. Meija demonstrated the Cryo 7's quieter operation, while boasting of its non-intrusive footprint. He also commented on the higher tabletop shelf, ergonomically favorable for placing smaller devices and treatment accessories within easy reach.
Dr. Mejia uses the new Cryo 7 device in conjunction with lasers during IPL, laser resurfacing, and laser tattoo removal procedures. The cooling begins, he emphasized, with just the press of a single button. According to Dr. Mejia, using the Cryo 7 alongside their Lumenis IPL (Intense Pulsed Light) system allows for "nice and comfortable" procedures for patients at his practice, Jupiter Dermatology & Hair Restoration.
"I'm very happy to have my new Zimmer Cryo 7," said Dr. Mejia. "It's all about providing service and comfort to the patient." He says that this is exactly what the Cryo 7 does with its direct cooling, while also protecting the skin from thermal injury during procedures. Dr. Mejia acknowledged that Zimmer MedizinSystems devices are a safer method of cryotherapy, using all-natural cooling as opposed to vaporized liquid nitrogen, which can be harmful. He stated, though, that his main reason for purchasing the device was its "simplicity of use, the fact that it is a reliable unit, and provides an effective cooling method for all different types of skin treatments."
By using the Zimmer MedizinSystems Cryo devices, skin treatments that would otherwise be uncomfortable, and even painful, are now more tolerable and safer, significantly reducing the risk of thermal injury and putting patients at ease.
Dr. Mejia provided this video and comments about Cryo 7 by Zimmer MedizinSystems without receiving compensation of any kind.
A to Z News Interview with Dr. Ricardo Mejia of Jupiter Dermatology & Hair Restoration
---
A to Z News:  Congratulations on being among the very first to own the new Cryo 7 by Zimmer MedizinSystems! A longtime user of our family of cryo devices, you recorded a treatment demonstration for A to Z News in November of 2018. That video showed your integration of the Cryo 6 device with an IPL treatment for leg pigmentation. Now having used Cryo 7 for a while, how would you compare the performance of the two devices during treatment? For example, is the Cryo 7 quieter than previous models, as advertised? Does the Cryo 7's longer hose make a difference in ease of movement? Does there seem to be a difference in the temperature or the speed at which the unit is ready to deliver chilled air?
RM:     The Cryo 7 is a little bit quieter than the Cryo 6. We do like the longer hose. It does make a little bit of difference in the ease of movement. The temperature does seem to be a little bit colder on the newer unit.
A to Z News:   How do you like operating the Cryo 7's touchscreen? Do the menus seem intuitive and easy to navigate?
RM:     The Cryo 7 touchscreen is easy to operate, and hence user friendly and easy to navigate. It is very simple to start the cold-air treatment with a quick, easy press of a single button.
A to Z News:     In your video, you talked about how our Cryo family of devices provides comfort to your patients during procedures like IPL, laser resurfacing, and tattoo removal. Can you explain how Zimmer MedizinSystems Cryo systems also improve the safety of laser procedures?
RM:   Yes, the Cryo 7 and the Cryo family of products are good for all different types of IPL, laser resurfacing, and tattoo removal. It is also helpful in preventing thermal injury to the skin by lowering the skin temperature, thus making all laser and IPL treatments safer.
A to Z News:    Other methods of cryotherapy, like vaporized liquid nitrogen, are said to carry the potential risks inherent with introducing chemicals into the respiratory and circulatory system. Especially when treating on and near the face, do you think it's significantly safer to use all-natural Cryo 6/7 devices to cool the skin than other methods of cryotherapy? Was the added element of safety ever a consideration for you prior to making the decision to cool with Zimmer MedizinSystems chillers?
RM:    Because it's not using liquid nitrogen, I do believe it is potentially safer near the face. Safety was not the only benefit we considered when purchasing the device. My main interests are simplicity of use, the fact that it is a reliable unit, and provides an effective cooling method for all different types of skin treatments.
Scroll below to view the video by Dr. Ricardo Mejia.
About Jupiter Dermatology & Hair Restoration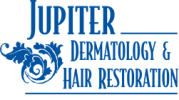 Jupiter Dermatology & Hair Restoration is headed by Board Certified dermatologist, Mohs skin cancer surgeon, and hair transplantation specialist, Dr. Ricardo Mejia. Dr. Mejia is one of very few physicians in the USA to be Board Certified in dermatology and dermatologic surgery, while also a Diplomat of the American Board of Hair Restoration surgery. Having performed thousands of Mohs and plastic surgery reconstructions with artistic technique and results, he is a true expert in the field.
Jupiter Dermatology & Hair Restoration offers both medical and cosmetic dermatological services. Among the treatments available are a variety of dermal injectables like Botox© and fillers, and lasers for skin resurfacing, photo facials, veins, tattoo removal, pigmentation reduction and hair removal. Dr. Mejia and his staff also offer microneedling, PRP therapy, mole removal, acne treatments, patch testing for skin allergies, scar revision, Photodynamic Therapy (PDT), and much more.
Dr. Mejia offers world-class hair restoration options for men and women. Some services available are hair transplantation, various follicular unit strip techniques, follicular unit extractions, cutting-edge platelet rich plasma (PRP), and ACell extracellular matrix proteins treatments. His customized regimens maximize the number of hairs transplanted and to provide excellent cosmetic results.
Jupiter Dermatology & Hair Restoration is located in Jupiter, Florida. To learn more about the practice and their services, visit them online at www.jupiterderm.com.
About Cryo by Zimmer MedizinSystems
The Zimmer MedizinSystems Cryo system delivers cold air as low as -30°C. In physical therapy, the cooled air can be used for efficient pain treatment, swelling reduction, and muscle relaxation. The system enables cryotherapy with precise placement and at a constant dosage, every time. In aesthetic medicine, the line of Cryo devices is intended to minimize pain and thermal injury during laser and dermatological treatments. The "chiller" provides temporary topical anesthetic relief during injections, tattoo application, tattoo removal, RF, laser hair removal, and much more. Unlike other cooling methods, such as contact cooling, cryogen spray, and ice packs, Cryo by Zimmer MedizinSystems can cool the epidermis before, during, and after the laser energy has been applied, without interfering with the laser beam. For more information about cryotherapy devices by Zimmer MedizinSystems, please view a web overview of the product. You may also contact Zimmer MedizinSystems any time by phone or email.
Related A to Z News Articles: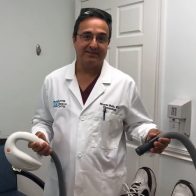 Ricardo Mejia, MD demonstrated the integration of Zimmer Cryotherapy for patient comfort and safety with an IPL treatment for hemosiderin pigmentation of the legs. Plus, Jupiter Dermatology patient says facial laser treatment is 'much more tolerable' with Zimmer Cryo ...
Read More