Franklin Skin & Laser on Benefits of Zimmer Cryo with Clear + Brilliant®, Profound®, Tattoo Removal, Chemical Peels, "All Kinds of Procedures"
– "[Our Zimmer Chiller] does wonders for patient comfort, and has even eliminated the need for topical numbing cream in some cases… We just can't get enough of our Zimmer Chiller!"
By Regina West; February 12, 2020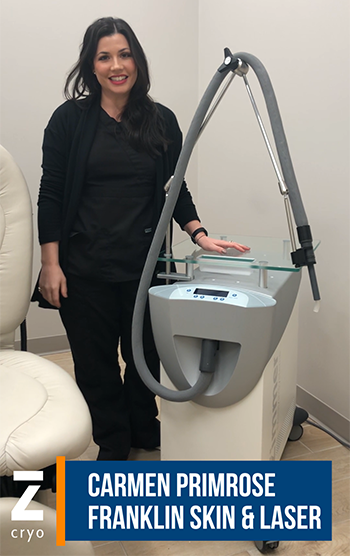 Scroll down for video.
"We love our Zimmer chiller," said Carmen Primrose, of Franklin Skin & Laser. Carmen is Lead Aesthetician and a laser specialist at the practice of Dr. Steven Bengelsdorf. She discussed several of the applications for which the office uses their Zimmer Cryotherapy device.
Standing beside the practice's Cryo 6 cold therapy device with optional articulating arm and focusing tip, Carmen raved, "This thing does wonders for patient comfort, and has even eliminated the need for topical numbing cream in some cases."
According to Carmen, Dr. Bengelsdorf and staff use their cryo device with "all kinds of procedures". One of the treatments aided by Z Cryo is Profound®, a treatment combining microneedling and radiofrequency (RF) therapy for skin tightening and cellulite reduction. Clear + Brilliant® is another of the office's treatments that is made safer and more comfortable because of Zimmer cryotherapy. Clear + Brilliant is a non-surgical laser treatment to improve the overall appearance of skin. Zimmer's chilled air can be used before, during and after the energy is applied, without interfering with the laser beam. Franklin Skin & Laser also uses their chiller with tattoo removal and chemical peels for pain minimization and reduced risk of thermal injury.
Carmen summarized her appreciation for the Cryo 6, "In a nutshell, we just can't get enough of our Zimmer chiller!"
Scroll below to view the Z Cryo testimonial video by Franklin Skin and Laser
About Franklin Skin and Laser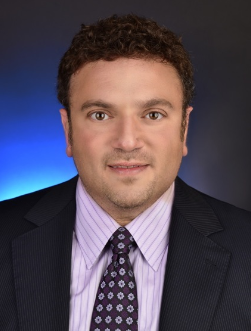 Franklin Skin and Laser is located in Franklin, Tennessee, near Nashville and specializes in Cosmetic Dermatology and Aesthetic Surgery. The practice offers a variety of non-invasive, laser and conventional surgical treatments and procedures for aesthetic concerns like body contouring, skin tightening, laser hair removal, dermal fillers, microneedling, tattoo removal, scar revision, fat transfer, cellulite reduction, natural breast augmentation and gynecomastia. The practice strives to provide treatments that achieve the look of natural beauty with minimal downtime. It distinguishes itself by providing superior results and by utilizing the most up to date techniques and state-of-the-art modalities. Franklin Skin and Laser website states, "Our practice is not a franchise nor is it a Medspa. Our patients are treated with personal, high quality medical and aesthetic care and are scheduled in such a way to allow ample time for discussion of concerns and questions."
Managing Physician, Dr. Steven Bengelsdorf, personally trains and supervises a staff of Registered Nurses and Licensed Clinical Aestheticians. He is a Fellow of the American College of Surgeons and the American Society for Laser Medicine and Surgery (ASLMS). At the age of 17, he was accepted into the prestigious Six-Year Medical Program at Boston University. He graduated magna cum laude with honors, earning a combined Bachelor of Arts and Doctor of Medicine degree. He then completed 5 years in the highly competitive Boston University Surgical Residency Program. Dr. Bengelsdorf is a Board Certified surgeon and has been practicing for over 20 years.
To learn more about the practice and the services offered at Franklin Skin and Laser, please visit www.franklinlaser.com.
About Zimmer Cryo
The Zimmer Cryo delivers cold air as low as -30°C. The device is intended to minimize pain and thermal injury during laser and dermatological treatments. It also provides temporary topical anesthetic relief during injections, tattoo application, tattoo removal, RF, laser hair removal and much more.  The system can assist in a variety of applications and is particularly useful with cosmetic procedures. Unlike other cooling methods, such as contact cooling, cryogen spray or ice packs, Zimmer Cryo can cool the epidermis before, during and after the laser energy has been applied, without interfering with the laser beam. For more information about Zimmer Cryo devices, please view a web overview of the product. You may also contact Zimmer any time by phone or email.
Related Z News Articles: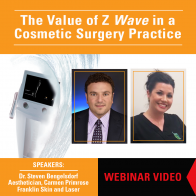 Watch the full video, plus read the article summarizing what was covered by Dr. Bengelsdorf & Carmen Primrose in the 9/2020 Z Wave webinar. Includes presentations on "The Value of Z Wave in a Cosmetic Surgery Practice" + attendee Q&A ...
Read More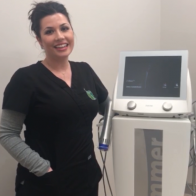 Carmen, an Aesthetician at Dr. Steven Bengelsdorf's Franklin Skin & Laser, spoke about their improved results since adding the Zimmer Z
Wave
to aesthetic procedures. She says, "Patients love how easy this treatment is... we're just loving the Z
Wave
!" ...
Read More