Video: Physical Therapist, Chuck Bagwell, Shows How TherX Performance Uses Zimmer Cryotherapy to Treat Plantar Fasciitis
By Regina West; December 13, 2018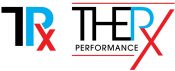 Scroll to bottom for video.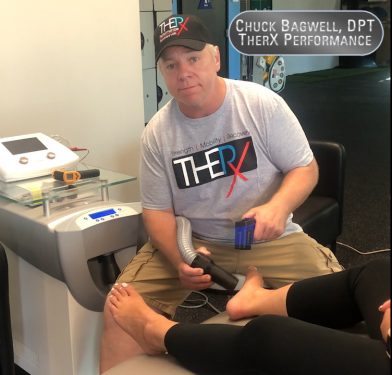 Chuck Bagwell, DPT, of TherX Performance, demonstrates a treatment for Plantar Fasciitis using Zimmer Cryotherapy. He discusses the benefits of his Zimmer Cryo 6 modality as well as Cryotherapy's advantages for Physical Therapy over treatment methods like ice packs.
Dr. Bagwell notes among some of the Chiller's benefits that the device offers constant cold, multiple speed settings, varied temperature possibilities and its ability to get into hard-to-reach areas for spot therapy. He also lists a couple of key attributes of the Cryo 6 unit. First, it provides physical therapy without making direct contact with the skin. (Direct contact can risk burning the skin). Second, it provides "significantly colder" temperatures – as low as -30°C – and in a shorter duration.
After this discussion, Dr. Bagwell proceeds with a patient treatment demonstration. As he begins the Cryotherapy session for Plantar Fasciitis, he monitors the patient's skin temperature with an infrared thermometer.  He indicates that the patient begins with a skin temperature of 30°C (86°F).  Dr. Bagwell moves the Cryo hose over the Plantar Fascia and comments, "The biggest difference I find with this is that that intense cold causes a greater reaction to help with inflammation and reduction of pain. So any Physical Therapists out there thinking about getting one of these, it's an invaluable tool to have." Almost immediately, the patient's skin responds to the Cryotherapy, as Dr. Bagwell notes that the treatment's target skin temperature is between 5°C and 10°C.  Only 58 seconds into Cryotherapy, the target temperature is reached. Dr. Bagwell summarizes, "So it just goes to show you the efficiency of it and the cold temperature that you can't reach with a regular ice pack."
Scroll down to watch TherX demonstrate a Plantar Fasciitis treatment with Zimmer Cryotherapy.
About TherX Performance
TherX Performance provides therapies for strength, mobility and recovery. The company's motto, "The New Prescription for Health", denotes their commitment to using state-of-the-art equipment and the most effective treatment methods available. The progressive facility is the first in the USA to house an all-natural, multi-chamber whole body Cryotherapy icelab. TherX asserts that cold therapy is of great importance in physical therapy, sports medicine and also in general wellness and health. Their icelab, with temperatures in the third chamber reaching as low as -110°C, offers a non-pharmaceutical, non-surgical option for pain and inflammation management, energy boosts and treating stress-related conditions.
TherX Performance also offers treatments with the Ballancer®Pro and NormaTec MVP recovery systems. Additionally, their Deep Muscle Stimulator (DMS) device provides management of acute and chronic pain, reportedly including conditions like migraines, sciatica, TMJ, carpal tunnel syndrome, tendonitis, bursitis, edema, myofascial pain and frozen joints.
Strengthening activities are available at TherX Performance. Individual and group Pilates sessions are led by a certified trainer, as well as golf coaching by an experienced golf professional. To increase fitness and wellness, the facility offers exercise classes in "Body & Bones 4 Life", "RedCord Suspension Training" and "Balance". TherX also offers the Biodex® fall risk screening.
TherX Performance is located in Yorba Linda, California. To learn more about the facility and its services, visit them online at www.TherXperformance.com.
Dr. Chuck Bagwell did not receive compensation of any kind for this video or for his comments about Zimmer Cryo.
About Zimmer Cryo
The Zimmer Cryo delivers cold air as low as -30°C. In Physical Therapy, the cooled air can be used for efficient pain treatment, swelling reduction and muscle relaxation. The system enables Cryotherapy with precise placement and at a constant dosage, every time. In Aesthetic Medicine, Zimmer Cryo is intended to minimize pain and thermal injury during laser and dermatological treatments. The "Chiller" provides temporary topical anesthetic relief during injections, tattoo application, tattoo removal, RF, laser hair removal and much more.  Unlike other cooling methods, such as contact cooling, cryogen spray or ice packs, Zimmer Cryo can cool the epidermis before, during and after the laser energy has been applied, without interfering with the laser beam.
For more information about Zimmer Cryo devices, please view a web overview of the product. You may also contact Zimmer any time by phone or email.
Related Z News Articles: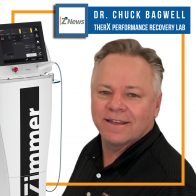 Physical Therapist, Dr. Bagwell (TherX) reviews the new OptonPro 25W high-power laser. He walks through some of the OptonPro's top features. Also, relays his experience using this device, compared to the previous OptonPro 7W model. VIDEO + ARTICLE + Q&A ...
Read More