Renaissance MD Minimizes the Discomfort of Submental Fat Reduction by Adding Zimmer Cryotherapy to SculpSure Treatments
By Regina West; November 8, 2017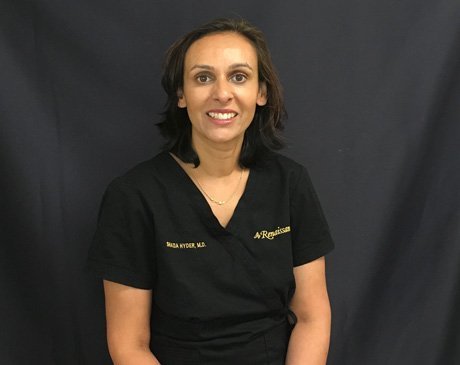 Dr. Shazia Hyder of Renaissance MD recently shared with Zimmer Aesthetic Division a video detailing how she uses her Zimmer Cryo 6 device to minimize the discomfort of SculpSure® laser body contouring procedures. You may view the video below.
Dr Hyder notes that the practice has been very successful with SculpSure® laser treatments for body parts like the lower abdomen and inner thighs. The laser introduced an attachment for treating the submental area (fat under the chin).  Hyder admits that treatments in this sensitive area may cause patients to experience "an intense sensation" such as uncomfortable heat, prickling, cramping or tingling.
Renaissance MD then made the decision to help relieve patient discomfort by investing in Zimmer MedizinSystems' "chiller" technology. The Zimmer Cryo device chills air to as low as -30°C. During laser treatments, Dr. Hyder now provides a "very comfortable cold blast" of cryotherapy using the Zimmer Cryo 6 device. She immediately found that the more distressing submental treatments became very tolerable for her patients.
Said Dr. Hyder, "This has made a big difference in my practice for managing my body contouring patients… I'm really, really pleased that we've made this purchase and most grateful to the Zimmer company for coming out with a device which has helped me and my practice and my patients."
Renaissance MD is located in Redlands, California. For more information about their practice and treatments, please visit www.myrenaissancemd.com.
For more information about Zimmer Cryo Devices, please view a web overview of the product. You may also contact Zimmer any time by phone or email.
Dr. Shazia Hyder of Renaissance MD shared the below video and these comments about her experience using Zimmer Cryo technology without compensation.