Video: After MicroLaserPeel®, Lily Med Spa Cools the Skin with Zimmer CryoTherapy
By Regina West; August 16, 2018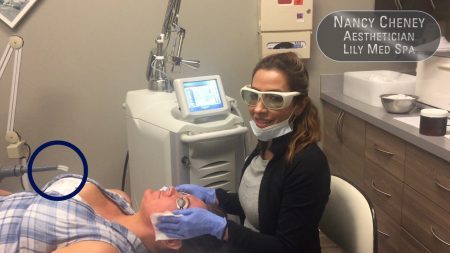 Scroll to bottom for video.
In this video, Lily Med Spa shows how they use their Zimmer 'Chiller' for skin cooling with Sciton® MicroLaserPeel treatments.
When used with laser treatments, skin cooling minimizes pain and thermal injury. All natural cold air from Zimmer Chillers can cool the skin before, during and after the treatment without interfering with the laser.
Here, Lily Med Spa Aesthetician, Nancy Cheney, completes the MicroLaserPeel procedure while the patient directs the Cryotherapy hose toward her face. The focusing tip attachment shown in the video concentrates cold air as low as -30°C at the treatment site. Cheney notes that Lily Med Spa uses Zimmer Cryo devices with all of their laser treatments. In addition to the benefits provided during laser services, Zimmer Cryotherapy can provide temporary topical anesthetic relief with injections and other dermatological procedures.
Nancy Cheney and Lily Med Spa shared the below video and comments about Zimmer Cryo technology without compensation.
Scroll down to view the video.
About Lily Med Spa
The Lily Med Spa staff is headed by Plastic & Reconstructive Surgeon, Ben Tittle, MD, Nurse Practitioner, Tama Tran and Spa Director, Kathy Hamilton. Together, the team offers a variety of aesthetic services. Some of the treatments available are CoolSculpting body contouring and light and laser treatments for hair removal, skin firming, vascular concerns and wrinkle reduction. Using state-of-the art technology, the practice also provides the highly popular PRP (Platelet Rich Plasma) "Vampire Facial". Lily Med Spa carries an assortment of injectables like Botox®, Kybella® and Juvéderm® to address varied aesthetic concerns. They also provide more traditional dermatological treatments for issues such as dark spots, skin tags and acne. Lily Med Spa carries professional skincare product lines like Elta MD® and Epionce®.
To learn more about the services and technologies available at Lily Med Spa, you may visit them online at www.lilymedspa.com  The practice is located in Dallas, Texas.
About Zimmer Cryo
For more information about Zimmer Cryo devices, please view a web overview of the product. You may also contact Zimmer any time by phone or email.