Dr. Goldberg Successfully Treating ED with "Revolutionary New Technology"
– A to Z News Video Testimonial: Lasting Results with Non-pharmacological, Non-invasive Z Wave
Shockwave treatment for ED is an off-label application. Zimmer MedizinSystems does not market Z Wave for ED (Erectile Dysfunction)
"The [Z Wave] device is actually FDA-cleared for the treatment of cellulite. But there is increasing data, both here and in Europe, showing that this device, when used to treat Erectile Dysfunction, can markedly improve Erectile Dysfunction through that same low-intensity shockwave treatment."
Read the article below and then scroll further down for the video by David J. Goldberg, MD, JD of Skin Laser & Surgery Specialists of NY and NJ
By Regina West; September 1, 2022

Scroll down for video.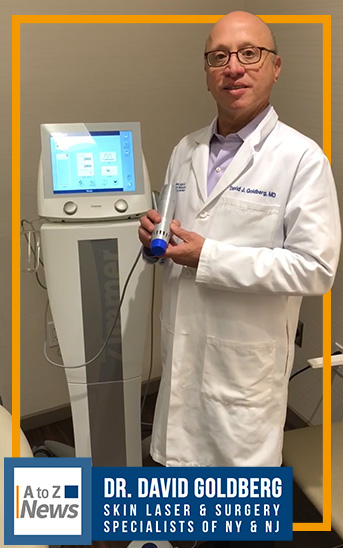 In the video below, David J. Goldberg, MD, JD discussed a new, non-pharmacological, non-invasive technology for the treatment of Erectile Dysfunction. Dr. Goldberg has successfully treated patients for ED using the Z Wave's low-intensity shockwaves. He noted that the Z Wave by Zimmer MedizinSystems is FDA-cleared for the temporary reduction of the appearance of cellulite. He continued, "But there is increasing data, both here and in Europe, showing that this device… can markedly improve Erectile Dysfunction."
Dr. Goldberg explained, "The mechanism of action is clear: We are inducing microtrauma to the skin and that creates new vessels. At the core of at least vascular Erectile Dysfunction is either shrinking or decreasing in the size of vessels. We're now improving that." While there is no shockwave device that is FDA-cleared for the treatment of Erectile Dysfunction or sexual wellness, as Dr. Goldberg noted, this off-label usage of the Z Wave device helps to improve blood flow in the treatment area.
At his practice, Skin Laser & Surgery Specialists of NY and NJ, both female and male sexual health concerns are treated. For men experiencing ED, Dr. Goldberg treats with Z Wave twice per week for 3 weeks. His protocol then calls for an "off period" of 3 weeks before continuing another 3-week treatment period, twice per week.  He said that the treatments are "minimally painful, often painless." Dr. Goldberg added, "Sometimes those results can last up to 12 months…Some of our patients no longer need treatment with oral agents. Some still do, but they're better than they were before. This is revolutionary new technology."
Shockwave treatment for ED is an off-label application.
Dr. David Goldberg and Skin Laser & Surgery Specialists of NY and NJ shared the below video and comments about Zimmer MedizinSystems' Z Wave technology without compensation of any kind.
About Skin Laser & Surgery Specialists of NY and NJ

The medical staff at Skin Laser & Surgery Specialists of NY and NJ is comprised of over a dozen dermatologists, surgeons, and advanced practitioners under the direction of world-renowned dermatologist Dr. David J. Goldberg. The practice specializes in cosmetic dermatology, traditional medical dermatology, as well as the surgical removal of skin cancers with Mohs Micrographic Surgery.
The offices have a huge assortment of advanced technological devices to perform cosmetic treatments. Some of the services provided are:
Anti-aging (Including the minimally invasive Silhouette InstaLift™, a one-hour, in-office facelift utilizing absorbable cones and suspension threads, as well as a variety of cosmetic fillers and injectables.)
Skin rejuvenation (Including facial peels, microneedling, PRP – platelet rich plasma, microdermabrasion, Fraxel® laser resurfacing, photomodulation, and many other treatments.)
Scar reduction and revision
Hair transplantation and other hair restoration techniques
Hyperhidrosis (excessive sweating)
Cellulite and fat reduction (Including Z Wave Pro, Cryolipolysis® – CoolSculpting®– and other laser and RF methods)
Laser tattoo removal
Additionally, Dr. Goldberg and the team at Skin Laser & Surgery Specialists of NY and NJ are highly trained and experienced at treating traditional medical dermatological concerns like acne, shingles, melasma, rosacea, melanoma, varicose veins, radiation therapy, pediatric dermatology, and more.
The offices also offer treatments for men's and women's sexual health. Some options are ThermiVaTM treatments for vaginal rejuvenation and Z Wave Pro treatments for Erectile Dysfunction.
The practice has 3 offices located in New York and New Jersey. They can be visited online at www.skinandlasers.com.
---
About Z Wave by Zimmer MedizinSystems
The Z Wave by Zimmer MedizinSystems transmits powerful sound waves into the tissue. The energy then spreads out radially to enhance the treatment effect (Radial Pulse Therapy). The body responds to these sound waves with increased metabolic activity in the form of lymphatic drainage and increased blood circulation. This results in a reduction of the appearance of cellulite, for which Z Wave is FDA-cleared. Additionally, studies and practitioners have found that Z Wave enables improved results when used with other body contouring procedures and devices. Z Wave was also shown to accelerate tattoo clearance when used in conjunction with laser tattoo removal treatments. For more information about the Z Wave, visit a web overview of the product. You may also contact Zimmer MedizinSystems any time by phone or email.