Armonia Wellness: Z Wave Helps Achieve 70% Reduction in Cellulite & 4-6 cm Reduction in Waist Circumference!
– Z News  Video and Interview with Armonia Wellness
Read the Q&A and then scroll below for video by Armonia Wellness.
By Regina West; March 17, 2020
Scroll down for video.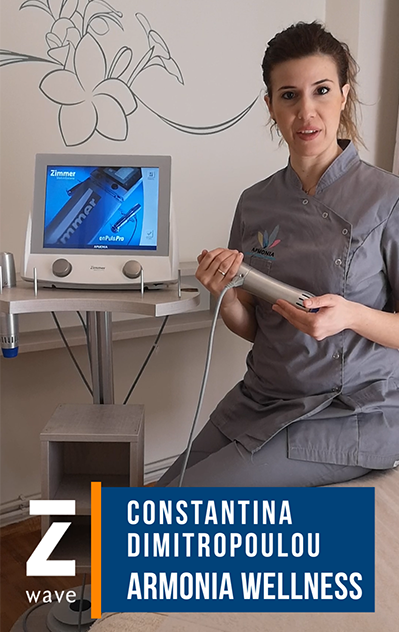 Owner and Director of Armonia Wellness, Constantina Dimitropoulou, discussed why the Zimmer Z Wave is a "favorite body contouring treatment."
In this video testimonial, Dimitropoulou said that she uses Z Wave Pro to treat cellulite, body fat and loss of skin elasticity. She explained why cellulite is a very difficult condition to treat and that abdominal fat is linked to many negative conditions. She noted, however, that Z Wave provides "great and long-lasting results". She shared her impressive findings:
"We have noticed a reduction of cellulite of 70% after 6 to 12 sessions, and the results last for 2 years. Regarding body fat, we have noticed a reduction in waist circumference of 4 to 6 centimeters [or  about 1.6 – 2.4 inches] after 6 to 12 sessions, depending on BMI… Regarding body firming, we get great results… shockwave therapy boosts collagen fibers."
In addition to stand-alone treatments, Armonia Wellness integrates Z Wave with other treatments. Among these are radiofrequency, mesotherapy, cupping, gua sha and body contouring. As Dimitropoulou spoke, videos of some of these treatments were displayed.
Dimitropoulou concluded, "We love shockwave therapy. Our clients love it, and they are very, very happy and satisfied with the quick and long-lasting results."
Z News later interviewed Constantina Dimitropoulou for more details about her success with Zimmer Z Wave treatments.

Z News  Interview with Constantina Dimitropoulou of Armonia Wellness:
Z News:   What do you use Zimmer Z Wave most often for?
CD:   Mainly for regional fat, cellulite and firming.
Z News:   You mentioned that Z Wave's results for cellulite can last for about 2 years. What do you recommend for maintenance? (When? How often?)
CD:   We recommended 6 weekly sessions after 8-12 months, but many of our guests kept the good results without coming back!
Z News:   How long does it take before results start to become visible?
CD:   The results start to become visible after 4 sessions. However we should mention that the majority of the guests report that after the second session, they notice a difference and their legs feel "light".
Z News:   You mentioned that Z Wave is one of your favorite body contouring treatments. Why?
CD:   Because we notice very quick results (something that adds credibility to our work). Also, shockwave therapy simultaneously treats fat, cellulite and skin firming. That's is a value for the money for our guests since they do not need separate sessions for those treatments.
Z News:   When you began adding Z Wave to your RF, cupping, gua sha and other body contouring treatments, what difference did it make?
CD:   By combining Z Wave with other treatments we noticed slightly better results in fat reduction and cellulite.  It also has to do with marketing. We need to keep up with the competition out there! However, we have noticed very good results combining mesotherapy and shockwave therapy for local adipose tissue.
Z News:   What is your favorite thing about Zimmer Z Wave?
CD:   Quick results
Z News:   What is your favorite application for Z Wave?
CD:   The application of cellulite
Z News:   What kind of results have you seen Z Wave achieve with cellulite, body fat and skin tightening?
CD:     
– Reduction of cellulite 60-70%,
– Reduction in body fat 4-6 cm (abdomen, legs, buttocks)
– Skin firming and better body shape observed in before/after photos.
Z News:   Have you used Z Wave on yourself? How did it work for you?
CD:   Yes! Three years ago, I did 6 sessions for cellulite and body firming. I kept the results even after my pregnancy!
Z News:   Can you give an example of a typical Z Wave treatment protocol?
CD:   Local abdominal fat: The abdomen is divided into 4 sections and we apply 2,500 pulses to each section at 100-120mj and 16Hz.
Z News:   Have you had clients ask about Z Wave treatments? What Z Wave application do clients seem most interested in?
CD:   Clients that have already worked with Z Wave tend to ask for it again. Regarding new clients, most of them have heard about shockwave therapy and they recognize it when we recommend it.
Armonia Wellness provided this video and interview about Zimmer Z Wave without receiving compensation of any kind.
Scroll below to view the Z Wave testimonial and treatment video by Armonia Wellness.
About Armonia Wellness

Guests of Armonia Wellness visit for a variety of face and body beauty treatments. The center offers facial treatments for deep cleansing, acne control and anti-aging. Physiotherapy, manual therapy and alternative massages are also available. Some of the center's special massages integrate the philosophies of energy points from traditional Chinese medicine. Armonia Wellness also integrates modern technology into many of their treatments.  In addition to the center's Zimmer Z Wave for cellulite treatment and skin tightening, some services utilize other advanced devices. The center touts radiofrequency (RFI) treatments for non-surgical lifting results in as few as three sessions. Armonia Wellness uses this therapy to stimulate the production of new collagen and offer intensive anti-aging and tightening of the face, eyes and neck. Also offered are treatments for laser hair removal and Dermapen™ microneedling for skin rejuvenation, collagen strengthening and stimulation, wrinkle and scar reduction and skin tightening.
In addition to her undergraduate degree in Beauty Therapy from the Technological Educational Institute of Athens, owner and center Director, Constantina Dimitropoulou, holds a Bachelors and Masters of Science in Clinical Nutrition from University of London. She offers nutritional consultations, advising clients on how to improve everyday dietary habits, as well as offering nutritional support for specific conditions such as weight loss, dyslipidemia, diabetes, pregnancy and lactation, athletic diets and eating disorders.
Armonia Wellness is located in Athens, Greece. The treatment rooms are private, allowing the therapist to focus on one guest per session. The atmosphere is relaxing, providing soft spa music and hotel facilities, such as bath robes, slippers and towels. Armonia Wellness loves to see their guests smiling and they work passionately to achieve that response.
You can connect with them on Instagram at @armonia_wellness and Facebook at @ArmoniaWellnessgr. The center's website is currently in Greek only. The medical and wellness center is in the process of expanding the website to include an English language version. Visit the website at www.armoniawellness.gr for more information about their services and treatments.
About Zimmer Z Wave
The Zimmer Z Wave transmits powerful sound waves into the tissue. The energy then spreads out radially to enhance the treatment effect (Radial Pulse Therapy). The body responds to these sound waves with increased metabolic activity in the form of lymphatic drainage and increased blood circulation. The result is an improvement in the appearance of cellulite and improved results when used with other body contouring procedures. For more information about the Z Wave, visit a web overview of the product. You may also contact Zimmer any time by phone or email.
Related Z News Articles: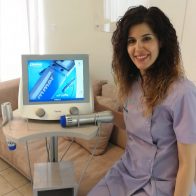 Armonia Wellness describes the "amazing results" achieved using Zimmer Z Wave Pro Radial Pulse Technology for the treatment of cellulite, regional fat and skin tightening. Included: demonstration of treatment with Z Wave for cellulite on the thighs ...
Read More