Two Wavelengths In One Device
Laser light, which is monochromatic and coherent, can be precisely adjusted and its behavior precisely defined. Absorption in injured tissue can be calculated precisely depending on the selected frequency, the composition of the tissue and the selected intensity.
Based on the absorption rate, which can be determined by the Lambert-Beer law, the OptonPro uses a system of four laser diodes with wavelengths of 810nm and 980nm, the absorption minima of melanin and haemoglobin, and a maximum radiation intensity of 7,000 mW (7W).
The optimum ratio of absorption and penetration depth guarantees efficient stimulation of tissue and pain receptors.
7000 mW of Power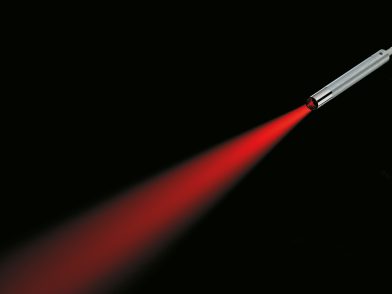 The penetration depth of laser light is a function of power.
The extraordinarily high power of OptonPro means sufficient intensity to reach even deep tissue layers. The power of the OptonPro laser is infinitely variable up to 7000 mW.
OptonPro thereby combines the laser radiation of two suitable wavelengths with exceptionally high power.
Indications
temporary relief of minor muscle and joint aches, pains and stiffness
temporary relief of muscle spasm
temporary relief of minor pain and stiffness associated with arthritis
promoting relaxation of the muscle tissue
temporary increase in local blood circulation