Workhouse Wellness Treatment Video – Specialized Therapeutic Massage with Zimmer Cryotherapy for Pain & Health Management
By Regina West; July 5, 2018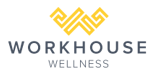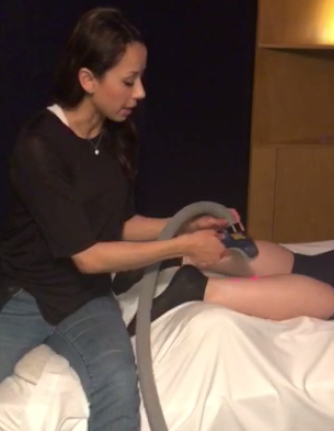 Scroll to bottom for video.
Jackie Burrow, Licensed Massage Therapist and owner of Workhouse Wellness, provided this video demonstration of her Specialized Therapeutic Bodywork with integrated Cryotherapy. Combining massage therapy, infrared monitoring and a Zimmer Cryo 6 cold air device, Burrow talked through her method of rapidly relieving pain, swelling, spasm and inflammation.
Burrow explained that the patient in the video was being treated for tight, sore calf muscles. She first assesses temperatures in the calf, then softens and releases tissues via massage.  At that point, she begins Cryotherapy integration "to manage inflammation, pain spasm cycle, reduce swelling and help with clearing the waste product."
Talking through the cold therapy process and continuing to monitor tissue temperatures, Burrow said that she "focuses on the areas that are highest in [the patient's] temperature range." She then brings the temperature in those areas down by 40 degrees, or to "a close to numb sensation". She notes that this is the point at which the positive physiological effects of Cryotherapy occur. The cold therapy portion of the treatment typically continues for about 3 to 4 minutes per area, depending on the density of the tissue. During a one-hour session, Burrow says that she can typically complete massage therapy, followed by Cryotherapy, on about 1 to 2 areas. During a 90-minute session, she is able to treat 2 to 3 areas.
Jackie Burrow shared the below video and comments about Zimmer Cryo technology without compensation.
Scroll down to view the full treatment video.
About Workhouse Wellness
Workhouse Wellness offers a variety of therapies using a quantifiable approach that they have dubbed "the Workhouse Method". Led by Jackie Burrow and utilizing cutting-edge Thermal Infra technology, the team specializes in muscular health, natural pain management and wellness coaching.
Some of the therapies offered at Workhouse Wellness:
Spot Cryo, combining the Workhouse Method manual massage and cryotherapy for expeditious pain management and inflammation control.
Spot Hydro, which combines the following elements: the Workhouse Method to relieve distressed soft tissues, heat therapy to calm the nervous system and cold therapy for pain management.
Maintenance Care, which pairs the Workhouse Method and Thermal Infra assessment.
Pain and Injury Management, implementing stages of healing for impact and stress that has occurred over time.
Stress Management & Decompression, integrating Reflexology and Lomilomi to help the body decompress from cranial sacral adhesions, sinus points and internal relations.
The practice also offers workshops and the popular Cupping Therapy technique. Additionally, they treat young athletes and performers whose bodies are strenuously exercised.
To learn more about the therapies, technologies and pricing at Workhouse Wellness, you may visit them online at www.WorkhouseWellness.com. The practice is located in Austin, Texas and is open 7 days a week.
About Zimmer Cryo
For more information about Zimmer Cryo devices, please view a web overview of the product. You may also contact Zimmer any time by phone or email.