Video: Dr. Lee B. Daniel Spa Patient Raves That Zimmer Cryo Makes "Laser Services So Much More Tolerable!"
By Regina West; January 2, 2018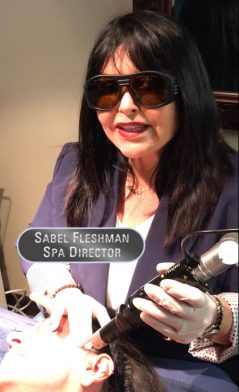 Sabel Fleshman, Spa Director at the practice of Dr. Lee B. Daniel, created a video to share the experience of one of the spa's laser patients.  The patient enjoyed the benefits of Zimmer Cryo Therapy in conjunction with her laser treatment.  The patient attested, "It makes my laser services so much more tolerable!" You may view the video below.
Using state-of-the-art medical techniques and equipment, Dr. Daniel practices Aesthetic Plastic Surgery in Eugene, OR and at his Spa Side on the Hill location in Pleasant Hill. Medical spa services are also offered to men and women, achieving cosmetic goals without surgery.
A board-certified plastic surgeon, Dr. Daniel performs cosmetic surgeries such as breast enhancement and lifts, body contouring, the "mommy makeover", buttock enhancement, reconstructive surgery and facial rejuvenation.  He also identifies a category of "just for men" surgeries that he performs. The practice website notes that these procedures "specifically designed to enhance the male figure, can help you look younger and stay competitive in the job market." Some of these "just for men" surgeries include male breast reduction, liposuction, tummy tuck, eyelid surgery and facelift.
Dr. Daniel earned his medical degree at Vanderbilt University and then did a 5-year general surgery residency at Emory University and Affiliated Hospitals in Atlanta. After that, Dr. Daniel completed a fellowship at University of Texas Southwestern Medical Center. In 1999, he launched his Eugene, OR practice, moving after 8 years from his private practice in Kentucky.
The Spa Side offers non-surgical services like CryolipolysisTM, dermal fillers and Kybella injections. Notably, the medical spa also has a large array of lasers to treat many conditions and improve their patients' appearance.  They use the Zimmer Cryo device in conjunction with many of these treatments. The Cryo device uses cold air and is intended to provide temporary topical anesthetic relief with injections. The Zimmer Cryo can also minimize any discomfort or thermal injury that laser devices may cause to the patient. At The Spa Side, some of the services performed and lasers utilized are: Fraxel for laser skin resurfacing, PicoSure, laser hair removal, laser tattoo removal, feminine rejuvenation with ThermiVaTM, Thermage® radiofrequency to tighten and tone body and face skin and stimulate collagen, Vbeam and Lamprobe 4000 for a wide range of skin and complexion concerns. This location also performs chemical peels, microdermabrasion, lash extensions and much more.  The medical spa boasts, "Whether your concerns are anti-aging, skincare and facial rejuvenation, nonsurgical contouring or hair removal, a customized approach from our medical spa can help you meet your needs."
To learn more about the laser and other treatments offered at the practice of Dr. Lee B. Daniel and The Spa Side, you may visit them online at www.DrLeeBDaniel.com.
For more information about Zimmer Cryo devices, please view a web overview of the product. You may also contact Zimmer any time by phone or email.
Sabel Fleshman, Dr. Lee B. Daniel and the participating patient shared the below video and these comments about Zimmer Cryo technology without compensation.