Video: Dr. Tsitsis Demonstrates Zimmer Cryo Skin Cooling During Forever Young™ BBL (IPL) Laser Treatment
– Plus Other Uses for Z Cryo & Z Wave in Her Practice: "We Love Our Zimmer Devices!"
By Regina West; February 21, 2019

Scroll to bottom for video.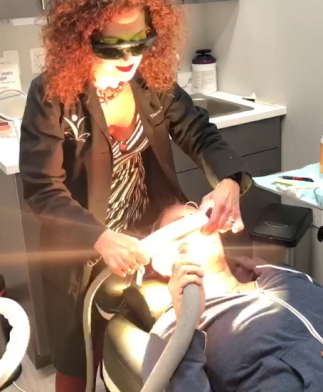 Dr. Tianna Tsitsis provided this video demonstration of one of the many uses that RejuvenationMD gets from their Zimmer Cryo device. She began her presentation by extolling, "We love our Zimmer devices."
In the video, Dr. Tsitsis treated a patient with Forever Young™ BBL, an IPL (Intense Pulsed Light) laser to remove unwanted pigmentation and redness while making the skin healthier.  The patient freely directed the Zimmer "chiller" hose to the desired area for comfort during the procedure. The Cryotherapy device delivers all-natural chilled air (as low as -30°C) to minimize pain, providing a temporary topical anesthetic. The device also minimizes risk of thermal injury during dermatological laser treatments. Dr. Tsitsis' patient appears to have tolerated the laser treatment well and without discomfort.
Dr. Tsitsis added, "We also use our Zimmer when we are doing Halo treatments. That's a resurfacing for skin rejuvenation." RejuvenationMD uses the Sciton Halo, a hybrid fractional laser that applies both non-ablative and ablative wavelengths to the same microscopic treatment zone. According to Sciton, this hybrid device is "more comfortable than traditional fractional resurfacing." The added benefit of Zimmer's skin cooling air helps to further reduce any discomfort to the patient.
Dr. Tsitsis continued, describing other treatments into which she incorporates Cryotherapy:
"We use our Zimmer when we're doing filler treatments to help anesthetize the area and keep it cold while we're injecting. Also love it for when we do Platelet Rich Plasma [PRP] for the scalp. That way, people don't feel the injections going into their hair."
The hair restoration services offered by Dr. Tsitsis are referred to by RejuvenationMD as the "Vampire Scalp" procedure. It is a revolutionary, non-surgical approach offered to both men and women. During an appointment that takes less than 90 minutes, Dr. Tsitsis extracts and concentrates Platelet Rich Plasma from the patient's own blood sample. She then injects it into thinning areas of the patient's scalp, eyebrows and/or beard to stimulate hair regeneration.
RejuvenationMD also owns the Zimmer Z Wave device and uses it post CoolSculpting® for enhanced body sculpting results. Dr. Tsitsis explained, "We also use it for cellulite treatment. It improves the appearance of cellulite for a year! We just love Zimmer!" The RejuvenationMD website provides an informational page about their Z Wave treatments for cellulite.
Dr. Tianna Tsitsis provided this video and comments about Zimmer Cryo and Z Wave technologies without receiving compensation of any kind.
Scroll down to view the Z Cryo & Z Wave testimonial and demo video by Dr. Tsitsis.
About RejuvenationMD Aesthetic Skin Treatment & Wellness Center
Dr Tsitsis, owner and founder of RejuvenationMD, is a triple board-certified physician. She describes RejuvenationMD as "a marriage between medicine and aesthetics." She and her staff of four aesthetic physicians and numerous master estheticians and licensed cosmetologists have the expertise and artistry needed to achieve improved self-esteem and longer, healthier lives for their patients. The staff gives each patient the extra time it takes to create truly beautiful results for the face and body.
RejuvenationMD provides treatments for a variety of traditional dermatological, sexual health and aesthetic concerns like skin rejuvenation, melasma, hyperpigmentation, laser hair removal, PRP for sexual health, rejuvenation and hair restoration, body contouring, cellulite, scars, underarm sweat, acne, an assortment of specialized facials, injectables, dermaplaning and much more.
The practice has two locations, with one office located in Burlington and the other in Bellingham, Washington. For more information about the practice and its services, please visit www.RejuvenationMDmedspa.com.
About Zimmer Cryo
The Zimmer Cryo delivers cold air as low as -30°C. The device is intended to minimize pain and thermal injury during laser and dermatological treatments. It also provides temporary topical anesthetic relief during injections, tattoo application, tattoo removal, RF, laser hair removal and much more.  The system can assist in a variety of applications and is particularly useful with cosmetic procedures. Unlike other cooling methods, such as contact cooling, cryogen spray or ice packs, Zimmer Cryo can cool the epidermis before, during and after the laser energy has been applied, without interfering with the laser beam.
For more information about Zimmer Cryo devices, please view a web overview of the product. 
About Zimmer Z Wave
The Zimmer Z Wave transmits powerful sound waves into the tissue. The energy then spreads out radially to enhance the treatment effect (Radial Pulse Therapy). The body responds to these sound waves with increased metabolic activity in the form of lymphatic drainage and increased blood circulation. The result is an improvement in the appearance of cellulite and improved results when used with other body contouring procedures. For more information about the Z Wave, visit a web overview of the product.
You may also contact Zimmer any time by phone or email.