Tattoo Removal Ink (TRI) Accelerates Laser Tattoo Removal Clearance with Z Wave
– A to Z News Video + Bonus Interview
"[Z Wave] accelerates the tattoo ink leaving. It pushes out the inflammation. It pushes out the ink. It also creates lymphatic drainage and circulation to this area. So, the treatments won't be as many and the clients really appreciate that. I love this device."
Read the article and Q&A below and then scroll further down for the video by Jo Martin of Tattoo Removal Ink
By Regina West; August 2, 2021

Scroll down for video.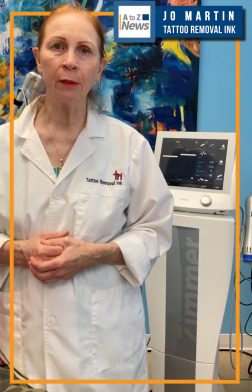 Tattoo Removal Ink (TRI) explained that integrating Z Wave treatments into laser tattoo removal procedures accelerates tattoo clearance. This gives the practice a new reason to love Zimmer MedizinSystems devices.
For years, the practice has already been routinely pairing skin-cooling Z Cryo treatments with laser tattoo removal procedures. The all-natural cryotherapy system is well known for minimizing discomfort and the risk of thermal injury from laser and other procedures.
TRI's mission is to help improve the lives and employment opportunities of former convicts, gang members and victims of human trafficking. They do this by offering the free removal of offensive and racist tattoos, as well as performing other community-driven charity endeavors. In 2018, Zimmer MedizinSystems donated a Cryo 6 "chiller" to replace the clinic's older Cryo 5 unit. Jo Martin, the Director of TRI, expressed her gratitude and the importance Z Cryo in her work. "When we do a treatment with the laser," she said, "it super-heats the ink, so you almost have to have a Cryo, a cooling machine, to do the procedure."
Now, clinical studies show that the Z Wave, another Zimmer MedizinSystems device, can be used in conjunction with laser tattoo removal procedures to expedite the elimination process! One study can be found here: Ramya Vangipuram MD, Selina S. Hamill MD, Paul M. Friedman MD (2018). Accelerated tattoo removal with acoustic shock wave therapy in conjunction with a picosecond laser. Lasers Surg. Med., 50:890–892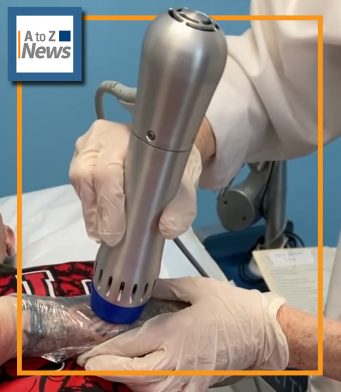 In the video below, Martin demonstrated her usage of the Z Wave Pro following a tattoo removal session with the Astanza Trinity laser. She quickly adjusted Z Wave settings to emit the energy level needed to treat the client's small swastika tattoo. Within seconds, the non-invasive Z Wave treatment was underway. "It sounds like a jackhammer, I tell the clients," noted Martin. (The Z Wave Q model, with a water-cooled generator, is said to have a '50% softer sound', compared to the Z Wave Pro.) In the below follow-up interview, Martin pointed out that while the Radial Pulse Technology device does vibrate audibly, the sensation has been compared to that of a massage. She continued, "[Z Wave] really helps the tattoo removal because it accelerates the tattoo ink leaving. It pushes out the inflammation. It pushes out the ink. It also creates lymphatic drainage and circulation to this area. So, the treatments won't be as many and the clients really appreciate that. I love this device."
Martin also commented on the effect of the accelerated treatments on the clinic's bottom line. "It has really helped the business. We have increased clients and they just love it."
Read the below A to Z News follow-up interview with Jo Martin of TRI for more details.
---
A to Z News Interview with Jo Martin, Director of Tattoo Removal Ink (TRI)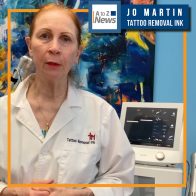 A to Z News:   How long have you been performing laser tattoo removal?
JM:    4 ½ years.
A to Z News:    During the procedure shown in the video, what kind of laser did you use before treating with the Z Wave?
JM:    Astanza Trinity
A to Z News:    You have owned the Z Wave Pro by Zimmer MedizinSytems for a relatively short time. During these first 4 months, into how many tattoo treatments would you estimate that you've integrated Z Wave treatments?
JM:    All of them! A total of 402 clients.
A to Z News:    In the video, you mentioned that adding Z Wave treatments to the procedures helps to accelerate tattoo clearance vs. the laser treatment alone. You said that the clients may have to return for fewer treatments. In your experience so far with this application for Z Wave, can you give any estimates of how much the tattoo clearance is accelerated? (Ex.: Number of treatments reduced by? Are treatments able to be scheduled closer together? Percentage improvement in results? etc…)
JM:    Since the device is new to the practice, we don't have solid numbers for reduced treatments yet. But as far as clearance, there are times, we can see the skin under the tattoo coming through as we are using the Z Wave.  It's exciting and encouraging for the client.  Our clients love that they don't have to wait 6 to 8 weeks to reschedule because the Z Wave pushes out the ink and inflammation. We were using the PFD patch, but the Z Wave is more effective.  And now with the ability to schedule sessions closer together, our revenue stream has increased.
A to Z News:    Can you please go into more detail about your laser tattoo removal protocol, including integration of Zimmer MedizinSystems' Z Wave and Z Cryo devices?
JM:    Phase I is the laser treatment following the detailed laser tattoo removal guidelines. We use the Cryo 6 cryotherapy device to chill the treatment area before, during and after the procedure. The clients find that this decreases the discomfort.  Phase II is the Z Wave.  The effective amount of energy is influenced by the area of the tattoo. The system's interface is easy to navigate and modify, as needed.
A to Z News:    You tell the clients that the Z Wave "sounds like a jackhammer". The client did not seem disturbed by the sensation during the treatment. So what does Z Wave feel like for the client during the treatment?
JM:    When it is performed on a larger soft tissue area, the clients think it feels like a massage. Smaller areas with less tissue can be a little more uncomfortable so we turn down the Hz and the frequency.
A to Z News:    Have you had any return clients who have experienced laser tattoo removal with and without added Z Wave treatments? If so, what were their comments?
JM:    Yes, many! And they love the results of the Z Wave.  One client sent me a picture of the ink literally drifting up from the tattoo.  She was very pleased.
A to Z News:    In the video, you noted that Z Wave helps accelerate the ink leaving because it "pushes out the inflammation. It pushes out the ink. It also creates lymphatic drainage and circulation to this area." Do all of these benefits affect tattoo removal aftercare? Do you notice fewer complications or quicker healing, for example?
JM:    Several of my clients had remarked that they did not have near the skin reaction as previous treatments that had been performed without the Z Wave.
A to Z News:    Do you find that your clients are happier with outcomes and speedier results since you've begun accelerating laser tattoo removal with Z Wave?
JM:    Absolutely! I'm thrilled that we purchased it and the clients appreciate it, also!
Jo Martin provided the below video and comments about Z Wave without receiving compensation of any kind.
Scroll below to view the Z Wave video by Jo Martin of TRI.
---
About Tattoo Removal Ink (TRI)

Tattoo Removal Ink (TRI) is a 501(c)(3) non-profit organization providing free removal of jail, gang and human-trafficking tattoos from the formerly incarcerated, former gang members, and victims of human trafficking. No TRI staff or board members receive any compensation for their work, except for the joy and satisfaction of helping others. The guiding philosophy at TRI is that "a little kindness goes a long way and a helping hand today can make all the difference to someone's future." The clinic endeavors to remove offensive, racist and gang-related tattoos for those who find them to be a barrier to a better future and employment.
Donations to TRI are tax-deductible and 100% of the funding goes toward free tattoo removal for their clients. To support their ability to provide these free services, TRI also offers tattoo removal services to members of the community who do not qualify for free services. For every paid tattoo removal they complete, they remove the unwanted tattoos from someone who has been formerly incarcerated, is a former gang member, or has "branding" from human trafficking.
Tattoo Removal Ink is located in Florence, Kentucky. To learn more about TRI, visit them online at www.tattooremovalink.org
About Z Wave by Zimmer MedizinSystems
The Z Wave by Zimmer MedizinSystems transmits powerful sound waves into the tissue. The energy then spreads out radially to enhance the treatment effect (Radial Pulse Therapy). The body responds to these sound waves with increased metabolic activity in the form of lymphatic drainage and increased blood circulation. This results in a reduction of the appearance of cellulite, for which Z Wave is FDA cleared. Additionally, studies and practitioners have found that Z Wave enables improved results when used with other body contouring procedures and devices. Z Wave was also shown to accelerate tattoo clearance when used in conjunction with laser tattoo removal treatments. For more information about the Z Wave, visit a web overview of the product. You may also contact Zimmer MedizinSystems any time by phone or email.