Video: Zimmer Cryo Division Gives Back to Deserving Charity
Tattoo Removal Ink (TRI) Uses Zimmer Cryotherapy to Help Improve Lives and Occupational Potential
By Regina West; November 15, 2018

Scroll to bottom for video.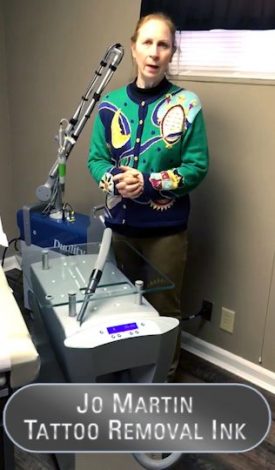 The Thanksgiving season gives us pause to reflect on our good fortune and on those around us who might benefit from a helping hand. In this spirit, Zimmer MedizinSystems donated a new Cryo 6 cold air device to a deserving organization, Tattoo Removal Ink (TRI). All year round, Jo Martin, the company's founder and director, manages TRI with this philosophy of 'giving back' and helping to improve the occupational potential of her clients. TRI's mission is to provide free removal of jail, gang and human-trafficking tattoos from formerly-incarcerated individuals, former gang members and victims of human trafficking.
In this video, Jo Martin describes the work that the charitable organization does. She also details how Zimmer Cryotherapy helps them to achieve successful outcomes in helping clients improve and expand their employment possibilities. She tells the story of why she called Zimmer MedizinSystems' "Z Service" line when her old Cryo 5 device needed repair. The device was out of warranty and after a personal, over-the-phone diagnostic was performed, the cost of repair was determined. Ms. Martin was not sure how the non-profit organization would pay for it and would have to call back later. The phone call prompted the Z Service team to learn more about the TRI organization.
After reading through the TRI website, Zimmer's Cryo Division learned of the wonderful work that the company does to help former convicts, gang members and victims of human trafficking to improve their lives. Zimmer decided to surprise TRI and Ms. Martin by donating a free Cryo 6 "Chiller" to the charity to replace the Cryo 5 unit that had been well used over the years. Ms. Martin expressed her gratitude and the importance of continued use of a Zimmer Cryo device in her work:
"When we do a treatment with the laser, it super-heats the ink, so you almost have to have a Cryo, a cooling machine, to do the procedure. I just want to thank Will and Jeff from Zimmer USA for their generosity and their kindness to send this to us."
Scroll down to the video to watch the story of Tattoo Removal Ink and why the company is so deserving of the Zimmer Cryo 6 donation.
Scroll down to watch the story.
About Tattoo Removal Ink
Tattoo Removal Ink (TRI) is a 501(c)(3) non-profit organization providing free removal of jail, gang and human-trafficking tattoos from the formerly-incarcerated, former gang members, and victims of human trafficking. The only compensation for their work received by TRI staff and board members is the joy and satisfaction of helping others. Donations to TRI are tax deductible and 100% of the funding goes toward free tattoo removal for their clients. To support their ability to provide these free services, TRI also offers tattoo removal services to members of the community who do not qualify for free services.
In addition to their tattoo services, TRI's Employment Advancement & Retention Needs (E.A.R.N.) Program offers free instruction and tutoring to further improve their community's occupational potential. Classes are held twice per week and also offer all participants individual, customized tutoring. E.A.R.N. classes are open to the public and are not limited to tattoo removal clients.
Tattoo Removal Ink is located in Florence, Kentucky. To learn more about TRI, visit them online at www.tattooremovalink.org
About Zimmer Cryo
The Zimmer Cryo delivers cold air as low as -30°C. The device is intended to minimize pain and thermal injury during laser and dermatological treatments. It also provides temporary topical anesthetic relief during injections, tattoo application, tattoo removal, RF, laser hair removal and much more.  The system can assist in a variety of applications and is particularly useful with cosmetic procedures. Unlike other cooling methods, such as contact cooling, cryogen spray or ice packs, Zimmer Cryo can cool the epidermis before, during and after the laser energy has been applied, without interfering with the laser beam.
For more information about Zimmer Cryo devices, please view a web overview of the product. You may also contact Zimmer any time by phone or email.