The Aesthetic Guide Spotlights Z Wave: "Shockwave Impacts Plastic Surgery and Aesthetic Procedures"
– Z Wave by Zimmer MedizinSystems earns recognition for advancing aesthetics and plastic surgery in Sept/Oct 2023 issue.

October 9, 2023
Scroll down to read the article in The Aesthetic Guide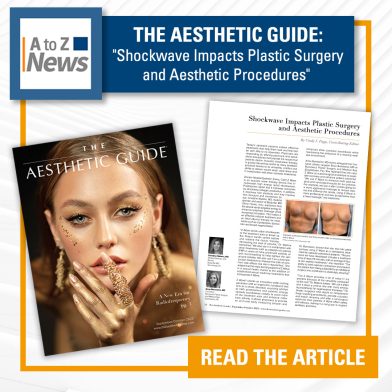 In the Sept/Oct 2023 issue of The Aesthetic Guide, the Z Wave device by Zimmer MedizinSystems gained notable attention for its role in advancing aesthetic and plastic surgery treatments. The article titled "Shockwave Impacts Plastic Surgery and Aesthetic Procedures" features insights from key opinion leaders (KOLs) in the field.
Christine Watson, MD, Medical Director and owner of Body Bar MD in Terre Haute, IN, elaborates on Z Wave's capabilities: "Z Wave sends radial shockwaves to the treatment area to break up the fibrous bands called septae and release the tissue, thereby decreasing the look of cellulite… We also use it as a post-liposuction treatment to improve the look of common side effects like skin irregularities." Dr. Watson further mentioned the significant role Z Wave is playing in sexual health, citing the addition of established sexual medicine treatments that incorporate Z Wave.
Similarly, Anna Buinewicz, MD, co-owner of Buinewicz Plastic Surgery and Medical Spa in Doylestown, PA, adds her praise: "The ability to treat capsular contracture and prevent the patient from being subjected to an additional surgery and anesthesia is absolutely amazing!" Dr. Buinewicz also uses Z Wave as a highly effective and more professional alternative to hand massage after Coolsculpting™ procedures to reduce edema and enhance results.
Both physicians emphasized the role Z Wave plays in body contouring, post-surgical recovery, and as an adjunct therapy for various treatments. The device's versatility is also highlighted as it can be used in conjunction with other treatments such as platelet-rich plasma (PRP) and microneedling. Importantly, Z Wave is a non-invasive treatment, adding to its appeal.
The article is accompanied by before and after photos illustrating successful treatments for capsular contracture, courtesy of Dr. Buinewicz.
In summary, Z Wave by Zimmer MedizinSystems is presented as an effective, versatile, and non-invasive device that is making significant strides in the aesthetic and plastic surgery sectors, including an impactful role in sexual health treatments. For more detailed information and to read what industry experts have to say about this advanced technology, see the full article below in The Aesthetic Guide.
Use the controls below to scroll the article.
You may also read the article on page 28 of the Sept/Oct, 2023 issue of The Aesthetic Guide.
Zimmer_TAG0923_V3_092623

NOTABLE QUOTES FROM THIS ARTICLE:
Quotes from Christine Watson, MD
"Z Wave sends radial shockwaves to the treatment area to break up the fibrous bands called septae and release the tissue, thereby decreasing the look of cellulite."
"We also use it in combination with other treatments such as platelet-rich plasma (PRP) in areas of more prominent cellulite, or with microneedling to help tighten the skin around cellulite. We also use it as a post-liposuction treatment to improve the look of common side effects like skin irregularities."
"The Z Wave provides a lot of value in my practice because of the versatility compared to the cost. We use it often and it plays a central role with many emerging treatments for regenerative therapies."
"​​[Dr. Christine Watson] added that the most exciting aspect of Z Wave is in sexual health, thanks to the addition of established sexual medicine treatments that incorporate Z Wave." – The Aesthetic Guide Magazine
Quotes from Anna Buinewicz, MD
"We use Z Wave to enhance both post-surgical and nonsurgical results for our practice. For example, we use it after Coolsculpting for a more aggressive massage to reduce edema and enhance the results. Using Z Wave is more professional and less burdensome than a hand massage."
"The ability to treat capsular contracture and prevent the patient from being subjected to an additional surgery and anesthesia is absolutely amazing!"