The Aesthetic Guide: "Increase Patient Comfort and Results with the Latest Innovation in Cryotherapy"
Cryo by Zimmer MedizinSystems, as featured in the July/August 2023 issue of The Aesthetic Guide.

August  10, 2023
Scroll down to read the article in The Aesthetic Guide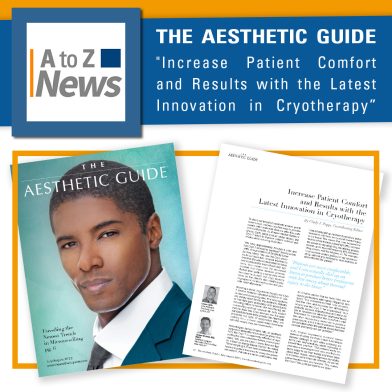 In the July-August 2023 edition of The Aesthetic Guide, the advancements and efficacies of Cryo by Zimmer MedizinSystems are brought into the spotlight. Dr. James Chelnis, an esteemed Aesthetic Surgeon at Manhattan Face and Eye, provides a compelling testament to the device's capabilities, emphasizing its role in allowing him to "dial up lasers for better treatments." He not only praises the device for enabling enhanced results but also points out the significant increase in patient comfort during procedures.
Leeon Jeffs is another enthusiast of this innovation. As the Vice President of Simplicity Lasers, a brand with a commendable presence across the U.S., he has invested in an impressive fleet of 75 Cryo devices. Jeffs' appreciation centers on the continuous skin cooling that Cryo devices provide, a feature that has added a new dimension to laser treatments at their numerous clinics.
Their combined insights underscore the profound impact and potential of Cryo in the aesthetic domain. Read the article below to learn more about what industry leaders are saying about this remarkable technology.
Use the controls below to scroll the article.
You may also read the article on page 32 of the July/August 2023 issue of The Aesthetic Guide.
TAG Cryo editorial w logo July-Aug 2023

NOTABLE QUOTES FROM THIS ARTICLE:
"We have approximately 70 Cryo 6 units and five Cryo 7 devices in our fleet… Our clients love the increased comfort that these devices provide. Rather than getting a spray only when the laser is pulsed, the Cryo devices blow on the client's skin continuously to prepare it for the laser pulse and provide relief afterwards." – Leeon Jeffs, Vice President of Simplicity Laser

"Patients are more comfortable, and I can actually dial up my lasers to produce better treatments with less worry about thermal injury to the tissue. This means that I can increase the fluence of my intense pulsed light (IPL), increase the power on my deep CO2 resurfacing passes, double up on my radiofrequency (RF) microneedling passes… For example, I can perform double passes on my microneedling, without any increase in skin redness or discomfort for the patient…" – James Chelnis, MD, Aesthetic Surgeon, Manhattan Face and Eye

"It is incredible to think I can do more, and the risks and recovery are still reduced when I use the Cryo 7…" – James Chelnis, MD, Aesthetic Surgeon, Manhattan Face and Eye

"Our patients are less apprehensive and more eager to return to the office for more future treatments; for a practice like ours that is vital…" – James Chelnis, MD, Aesthetic Surgeon, Manhattan Face and Eye

"Our patients really appreciate us investing in their care, and they are more eager to tell their friends and loved ones about their results, which improves our ability to increase word-of-mouth referrals, as well as patient testimonials and reviews. This makes the Cryo 7 the gold standard in our eyes." – James Chelnis, MD, Aesthetic Surgeon, Manhattan Face and Eye