Z Wave for Capsular Contracture Post Breast Augmentation
Salzman Cosmetic Surgery & Spa Treatment Demo and Practitioner Discussion
By Regina West; June 20, 2018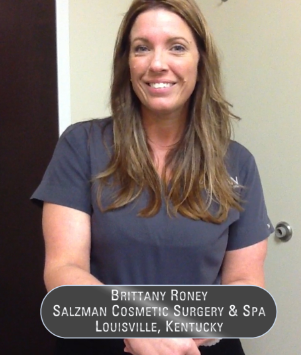 Scroll down for video.
Salzman Cosmetic Surgery and Spa recorded a video demonstration and practitioner discussion on the application of Z Wave for capsular contractures resulting from breast augmentation.
Non-invasive Body Contouring Specialist, Brittany Roney performed the Z Wave treatment, detailing her method and settings for loosening and softening contractures, breaking up scar tissue and increasing blood circulation to the area while ensuring patient comfort. She then gave an interview and provided insight into her experience using Z Wave post breast augmentation and for other applications, like post CryolipolysisTM, Vanquish METM, incorporated with ExilisTM Ultra and for cellulite. Ms. Roney stated, "I wouldn't do those treatments without the Z Wave, actually."
The video can be found below . It features a short treatment excerpt at the beginning and then an interview with Ms. Roney. Following the practitioner discussion with Roney, is the extended treatment footage.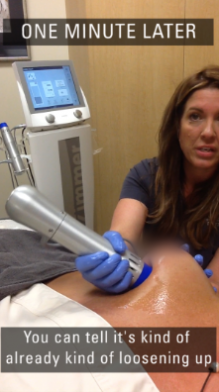 Treatment Demonstration
Throughout the treatment, Ms. Roney frequently asked her patient about comfort level and ability to tolerate the radial pulse waves. The patient consistently responded that she was comfortable. At the completion of the Z Wave treatment, the patient stated, "This isn't bad at all!" Roney and the patient enthusiastically observed the marked improvement in manipulability of the breast and softening of the tissues after just one short treatment. The patient commented, "I can tell a huge difference."
Practitioner Discussion
During the interview portion of the video, Ms. Roney mentioned that the entire Z Wave treatment for capsular contractures usually takes six minutes to complete. Depending on the condition of the contracture, patients may return for up to three additional treatments.  After four Z Wave treatments, Roney says that she has seen a 100% success rate for resolving capsular contractures post breast augmentation. She noted that for treating capsular contractures, the Z Wave  works "pretty much better than anything we've ever tried before."  She gauges her settings based on the patients' ability to tolerate the sensation as she gradually increases the energy from the Z Wave device. She remarked that ALL patients have been able to sustain her most aggressive setting of 185 J / 10 Hz.
Salzman Cosmetic Surgery and Spa, Brittany Roney nor were any of the participants compensated for this video or for their comments about Z Wave.
Scroll below to view the Z Wave treatment video and practitioner discussion from Salzman Cosmetic Surgery and Spa.
About Salzman Cosmetic Surgery and Spa
Salzman Cosmetic Surgery and Spa is located in Louisville, Kentucky. The practice is operated by Marc J. Salzman, MD, FACS. Dr. Salzman is a board certified plastic surgeon offering traditional surgical and non-invasive cosmetic procedures.  The medical office offers procedures for both men and women, ranging from breast augmentation/reduction to "Brazillian butt lifts" to ear pinning. The Med Spa offers services such as injectable dermal fillers and laser resurfacing for skin rejuvenation, as well as peels and facials, lash lifts and lash/brow tinting.
Salzman Cosmetic Surgery and Spa uses an array of state-of-the-art medical devices to aid in obtaining the best results possible.
To learn more about the practice and the services offered at Salzman Cosmetic Surgery and Spa, please visit www.itbecomesyou.com.
About Zimmer Z Wave
The Zimmer Z Wave transmits powerful sound waves into the tissue. The energy then spreads out radially to enhance the treatment effect (Radial Pulse Therapy). The body responds to these sound waves with increased metabolic activity in the form of lymphatic drainage and increased blood circulation. The end result is an improvement in the appearance of cellulite and improved results when used with other body contouring procedures. For more information about the Z Wave, visit a web overview of the product. You may also contact Zimmer any time by phone or email.
Related Z News Articles: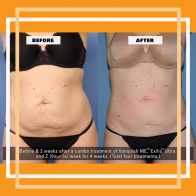 Salzman Cosmetic Surgery & Spa discussed using Z Wave in conjunction with fat reduction procedures like CoolSculpting™, Vanquish ME™, Exilis™ and others. Brittany Roney explained how Z Wave improves treatment outcomes when used either after or before many popular treatments ...
Read More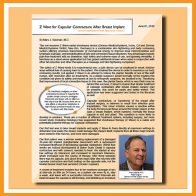 Read the new article, authored by Plastic Surgeon, Dr. Marc Salzman, about his Z Wave clinical study. The article details his experience treating with non-invasive Z Wave Radial Pulse Technology to soften and resolve capsular contractures resulting from breast implants ...
Read More