Video – Rochester Tattoo Removal Names Zimmer Cryo "#1 Skin Numbing Solution for Patients"
By Regina West; May 16, 2018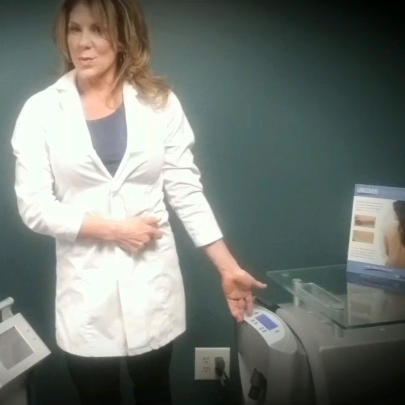 Scroll down for video.
Rochester Tattoo Removal created a video in which President, Kelly Borrelli, credits the Zimmer Cryo 6 cold air device with giving her clinic the ability to treat tattoo removals more vigorously than competitors.  Zimmer Cryo 6 devices deliver cold air as low as -30°C. According to Borrelli, the chilling effect of Zimmer Cryotherapy mitigates "any discomfort or pain associated with the laser", enabling her to remove tattoos more quickly and in fewer sessions than other clinics.
Borrelli says that technicians use the Cryo 6 to direct "freezing cold air deep into the skin where the ink is located".  In just a few minutes, they can "thoroughly cool the skin for treatment, reducing pain and risk of thermal injuries".
Ms. Borrelli adds that they invested in the Zimmer cold air device because great customer experiences are a top priority for the clinic. She names the Cryo 6 as "the #1 skin numbing solution for patients."  She also notes that the cold therapy is superior to ice packs, numbing creams and other skin numbing methods.
Rochester Tattoo Removal focuses only on tattoo removal, making them experts in this procedure. They also own the technology to support their skill.
Ms. Borrelli concludes with her observation on patient experience, "Since investing in the Zimmer Cryo 6, our patients are highly satisfied, say that the pain is so much less and even eager to come in for the next session."
The website for Rochester Tattoo Removal includes a frequently updated blog highlighting interesting topics and helpful information related to tattoo removal.  The site displays a collection of impressive before & after tattoo removal photos performed at their office.  They also provide detailed descriptions of the technologies utilized at the clinic, including the Astanza Duality laser and Zimmer Cryo 6.
Kelly Borrelli shared the below video and comments about Zimmer Cryo technology without compensation.
Scroll down to view Borrelli's full testimonial video.
About Rochester Tattoo Removal
To learn more about the services, technology and pricing at Rochester Tattoo Removal, you may visit them online at www.RochesterTattooRemoval.com. The clinic is located in Rochester, New York.
About Zimmer Cryo
For more information about Zimmer Cryo devices, please view a web overview of the product. You may also contact Zimmer any time by phone or email.