Video: 2019 ASLMS Cryo 6 Live Auction Winner, Renew Aesthetic Clinic, Uses Zimmer Device for Patient Comfort with Laser Treatments
"Zimmer will greatly improve patients' comfort during treatment."
By Regina West; April 25, 2019
Scroll to bottom for video.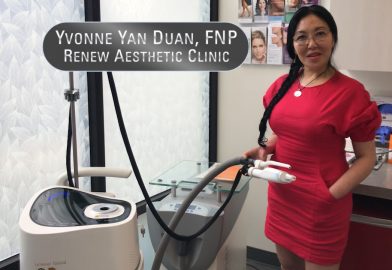 Renew Aesthetic Clinic was the winner of the Zimmer Cryo 6 Live Auction at this year's American Society for Laser Medicine & Surgery (ASLMS) conference. The annual conference was held this year at the end of March in Denver, CO. Nurse Practitioner, Yvonne Yan Duan, the owner and Medical Director of Renew Aesthetic Clinic, spoke about how she is now integrating the brand-new Zimmer Cryotherapy device with laser treatments.
"The Cryo system is fabulous," said Nurse Duan. "It can be actually integrated with a lot of different laser systems." Beside the new Zimmer Cryo unit, she displayed the practice's Lutronic LaseMD™, a non-ablative 1927 nm fractional fiber thulium laser. Activating both devices, she demonstrated how an adapter works to unify the laser hand piece and the skin cooling hose. This enables the two devices to work together seamlessly, while held by only one hand.
"I think Zimmer will greatly improve patients' comfort during treatment," she noted.
Next, Nurse Duan presented the clinic's Alma FemiLift laser and Zimmer Cryo 6 side-by-side. She explained that Renew Aesthetic Clinic employs the laser's CO2 technology for feminine rejuvenation services. However, when the device is not used with a vaginal wand attachment, a separate hand piece can treat for skin rejuvenation, providing CO2 fractional resurfacing. Duan remarks, "That will be a great opportunity for Zimmer Cryo to help out with that procedure, as well. I think patients will have much better tolerance while we are administering fractionated CO2 treatment."
Nurse Duan concluded, "I think our patients will really appreciate this particular, fabulous Cryo unit."
Yvonne Yan Duan provided this video and comments about Zimmer Cryo without receiving compensation of any kind.
UPDATE 7-2-2019:
After she won the Zimmer Chiller, Yvonne Yan Duan planned on integrating cryotherapy with laser treatments. How has that been going? She says, "We just had a chance to use our integrated hand piece (Zimmer & LaseMD) on a patient. This patient compared her first two experiences without Zimmer and concluded with Zimmer she was by far more comfortable in this treatment (her 3rd treatment), even with much more laser energy, therefore is likely to return for future LaseMD treatments." Check out the treatment video we've added below to see how Renew Aesthetic Clinic is using Zimmer Cryo with her Lutronic LaseMD laser today!
Scroll down to view the Cryo testimonial and treatment videos by Renew Aesthetic Clinic.
About Renew Aesthetic Clinic
Renew Aesthetic Clinic specializes in services intended to "renew, repose & regenerate".  Owner and Medical Director, Certified Nurse Practitioner, Yvonne Yan Duan, has thirteen years of experience working with aesthetic lasers and cosmetic injectables.  The clinic offers a variety of treatments for concerns like aging skin, hair loss, cellulite and hormone imbalance in men and women. Some of these services include: Botox®, Juvéderm®, Radiesse®, and Sculptra® injections for skin rejuvenation; PDO Thread Lift as an alternative to facelift surgery; BioTE® hormone pellet therapy; PRP regenerative therapy for skin and hair restoration; and sclerotherapy to eliminate unsightly spider veins. Additionally, Renew Aesthetic Clinic offers minimally invasive treatments with FemiLift, Celfina® and LaseMD™ laser technologies.
Renew Aesthetic Clinic is located in Beaverton, Oregon. For more information about the clinic and its services, you may visit them online at www.RenewAestheticClinic.com.
About Zimmer Cryo
The Zimmer Cryo delivers cold air as low as -30°C. The device is intended to minimize pain and thermal injury during laser and dermatological treatments. It also provides temporary topical anesthetic relief during injections, tattoo application, tattoo removal, RF, laser hair removal and much more.  The system can assist in a variety of applications and is particularly useful with cosmetic procedures. Unlike other cooling methods, such as contact cooling, cryogen spray or ice packs, Zimmer Cryo can cool the epidermis before, during and after the laser energy has been applied, without interfering with the laser beam. For more information about Zimmer Cryo devices, please view a web overview of the product.  You may also contact Zimmer any time by phone or email.