Quanta Aesthetic Lasers Complements Device Offerings With Deal To Distribute State-Of-The-Art Zimmer Chillers
By Regina West; May 3, 2017

Zimmer Aesthetic Division and Quanta Aesthetic Lasers have entered into a distribution agreement for Zimmer's Cryo units. The deal creates a partnership for the sale and marketing of the state-of-the-art cold air ("chiller") devices in the USA.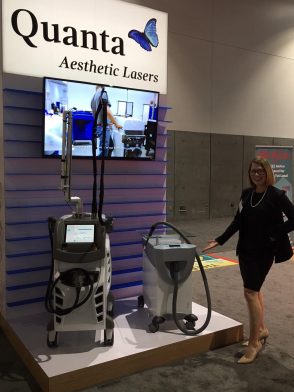 Quanta Aesthetic Lasers is known as a company striving to transform Aesthetics with world-class lasers and a focus on corporate integrity. This deal enables Quanta to complement their laser offerings with Zimmer's modern Cryo Therapy technology.  Zimmer's Cryo 6 and Cryo Mini devices were engineered for superficial aesthetic procedures. They deliver -30°C cold air, minimizing pain and thermal injury during laser and dermatological treatments and for temporary topical anesthetic relief with injections. Aesthetic practitioners obtaining the devices from Quanta can now help their patients "keep cool" during procedures like tattoo removal, dermal filler injections, hair removal, Radio Frequency skin tightening and many others.
Jeff Lyons, Director of Cryo Business Unit for Zimmer USA said, "We are committed to supporting this partnership with Quanta Aesthetic Lasers and are excited to team up with them to offer the Aesthetic market our world-class Zimmer Chiller units. We look forward to collaborating on creative approaches to the sales and marketing of this outstanding modality."
About Zimmer AestheticDivision
Zimmer MedizinSystems in Irvine, California, with its parent company based in Neu-Ulm, Germany, has 45 years of expertise in manufacturing high quality medical devices.  Zimmer's Aesthetic Division manufactures award-winning devices for the treatment of cellulite and enhancing body shaping, as well as skin cooling during laser and other dermatological treatments. Zimmer's flagship products, Z Wave and Z Cryo, utilize advanced Radial Pulse Therapy and Cryo Therapy technologies. With over 35,000 Cryo units sold, the company has set the gold standard for Cryotherapy and skin cooling systems and has significantly contributed to safer laser treatments while improving patient comfort.
For more info about Zimmer Aesthetic Division: www.zimmerusa.com, 800-327-3576, info@zimmerusa.com
About Quanta Aesthetic Lasers
Quanta Aesthetic Lasers is TRANSFORMING AESTHETICS, as the exclusive North American partner for Quanta System, designer and manufacturer of Erbium, fractional CO2, Nd:YAG, KTP, Diode and Alexandrite lasers, and IPL systems. Quanta offers world-class technology to help you succeed in laser tattoo removal and aesthetics.
For more info about Quanta Aesthetic Lasers: www.quantausa.com, 844-694-1064, TEXT "QUANTA" to 41411.