Video: Dr. Porter Discusses Multiple Applications for Z Wave at WrinkleFree MD
– Enhanced CoolSculpting® Results, Cellulite Treatment, Pain from Plantar Fasciitis
"This machine is something that I just love more and more every day because there are so many functions for it!"
By Regina West; March 14, 2019

Scroll to bottom for video.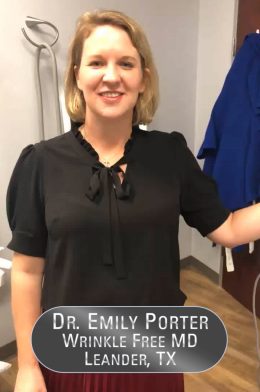 Dr. Emily Porter's practice, WrinkleFree MD Med Spa & Wellness Clinic, gets a variety of uses from their Z Wave Radial Pulse Technology device. In this video, Dr. Porter discusses the applications they use to obtain enhanced CoolSculpting® results, as well as treatments for cellulite and pain from Plantar Fasciitis. She walks through a demonstration of how the device is operated, some of the settings used by the office and how the device feels and sounds. Dr. Porter began, "This machine is something that I just love more and more every day because there are so many functions for it!"
Dr. Porter explains that she was originally prompted to purchase the Zimmer Z Wave due to evidence showing that CoolSculpting results are improved when the device is used afterward. She cites that up to an astonishing 70% more fat cells are broken up when the Z Wave device is used after the body contouring treatment. She later mentions additional benefits of Z Wave over manual massage post CoolSculpting, "You don't have to put a lot of pressure and it's consistent so that the person who's getting the 6 o'clock treatment is getting the same massage as the person who's the 10 o'clock in the morning."
As she worked with the Z Wave more, Dr. Porter says that began to realize that the technology could be used for many more applications. Another service offered by WrinkleFree MD is Z Wave cellulite treatment. Dr. Porter notes, "It can break apart the bands that cause cellulite… and make the skin have a more smooth-looking appearance."
Dr. Porter then discusses treating pain from Plantar Fasciitis, a third application for her Z Wave unit. She describes her own struggles with the extremely painful foot condition:
"I had to go to the Podiatrist and have these really, really painful shots put into the bottom of my foot to help relax the tissue… a steroid injection and some pain meds. And that hurt so much to have done, but it provided relief. Well, you can only have that done about 3 times a year because the steroids cause problems… Z Wave, you can have done whenever and it's super safe… Trust me, one treatment and your feet just feel so much better. They don't hurt. It doesn't hurt."
Following this discussion of Z Wave utility and applications, Dr. Porter walks through the device settings and how she alternates use of the two hand pieces. She demonstrates how the Z Wave sounds while operating at different hertz levels. Dr. Porter also discusses some points on what to expect during different treatment applications. She concludes, "I just love this device. There's lots of cool stuff to do with it and we get great results with all of it."
Dr. Emily Porter provided this video and comments about Zimmer Z Wave without receiving compensation of any kind.
Scroll below to view Z Wave testimonial and demo video by Dr. Porter.
About WrinkleFree MD Med Spa & Wellness Clinic
Dr. Emily Porter, the owner of WrinkleFree MD Med Spa & Wellness Clinic, is a board-certified emergency physician. Prior to her career in aesthetics, she obtained ten years of experience in emergency room medicine. A 16-year survivor of melanoma, Dr. Porter deeply understands the importance of excellent skin care.
The mission at WrinkleFree MD Med Spa & Wellness Clinic is to give their clients "the amazing aesthetic results they want safely and effectively with a natural look." WrinkleFree MD offers aesthetic services for the face and body and treats a variety of skin conditions, such as acne, enlarged pores, sun damage, wrinkles, crepey skin, double chin, and much more.  Some of the aesthetic services offered are CoolSculpting, Kybella and Skin Tyte for body contouring, as well as Advanced Melasma Peel, BBL® Photofacial, Halo™, Forever Young® BBL and Hydrafacials for skin rejuvenation. Injectable dermal fillers and Botox® can be obtained at WrinkleFree MD, as well as hormone replacement, laser hair removal, and PRP therapy for hair restoration. The office also specializes in treatments for sexual rejuvenation, such as diVa, O-Shot® and P-Shot®.
One of the practice's objectives is to establish great patient relationships and retain clients for life. They know that their clients return "because they get great results and the personal attention they desire…We'll grow old together…but no one will ever know!"
WrinkleFree MD Med Spa & Wellness Clinic is located in Leander, TX. You may call the office or visit www.wrinklefreemedspa.com for more information about their services and treatments. The WrinkleFree MD website also offers free, instant virtual consultations that are customized to your areas of concern. 
About Zimmer Z Wave
The Zimmer Z Wave transmits powerful sound waves into the tissue. The energy then spreads out radially to enhance the treatment effect (Radial Pulse Therapy). The body responds to these sound waves with increased metabolic activity in the form of lymphatic drainage and increased blood circulation. The result is an improvement in the appearance of cellulite and improved results when used with other body contouring procedures. For more information about the Z Wave, visit a web overview of the product. You may also contact Zimmer any time by phone or email.