Dr. Petropoulos: Z Wave Enables CoolSculpting™ with Less Discomfort, Improved Results, Reduced Swelling and Expedited Fat Clearance
– Z News  Video and Interview with Dr. Peter Petropoulos
"Z Wave has been a real blessing to my practice. It really has gotten patients through CoolSculpting treatments with minimal discomfort and better results – and has also augmented many of our other services, too."
Some of the applications discussed by Dr. Petropoulos are considered off-label use and are for informational purposes only. Zimmer MedizinSystems does not market Z Wave for ED (Erectile Dysfunction).
Read the Q&A and then scroll below for the video by Dr. Peter Petropoulos of Potomac Medical Aesthetics.
By Regina West; April 29, 2020

Scroll down for video.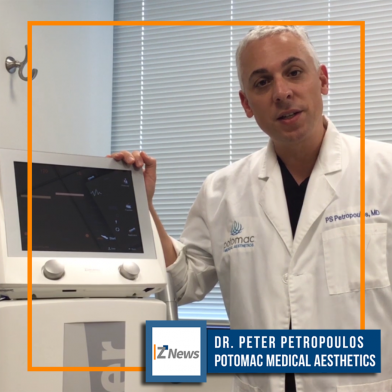 Dr. Peter Petropoulos of Maryland's Potomac Medical Aesthetics detailed how the Zimmer Z Wave improved his CoolSculpting treatments and enhanced other procedures in his practice.
In this video and follow-up interview, Dr. Petropoulos explained how his Cryolipolysis™ treatments have evolved. Three to four years ago, he began performing CoolSculpting. In the beginning, he implemented traditional manual massage with the procedure. Then he began hearing positive experiences from his colleagues who had replaced the manual massage portion with Z Wave treatments. Dr. Petropoulos decided to invest in his first Z Wave device.
After replacing manual massage with Z Wave treatments in conjunction with CoolSculpting, Dr. Petropoulos observed a difference.  He  reported, "[I] immediately noticed that patients could get through the massage portion of CoolSculpting a lot quicker and also with less discomfort during the procedure and less discomfort in the aftermath, in the days that followed the procedure, and less swelling. The results were also better, too."
Pleased with Z Wave's results with CoolSculpting, Dr. Petropoulos realized that he could add an additional service to the practice's offerings. "The following year," he said, "we added Z Wave at weeks 1, 2 and 3 to expedite the clearance of fat and noticed that our patients were getting to their peak results about 20 – 25% faster than just not doing Z Wave any time after the regular procedure. So, it made a great improvement in our CoolSculpting experience."
Potomac Medical Aesthetics soon upgraded to the Z Wave Pro model. Dr. Petropoulos and staff use both of the devices simultaneously to expedite the treatments.
Additionally, Potomac Medical Aesthetics uses Z Wave as an adjunct to therapies for Erectile Dysfunction (ED). Dr. Petropoulos said that this strategy has yielded "better results by combining modalities to augment blood flow."
Dr. Petropoulos concluded, "Z Wave has been a real blessing to my practice. It really has gotten patients through CoolSculpting treatments with minimal discomfort and better results – and has also augmented many of our other services, too."
Dr. Petropoulos provided this video and comments about Zimmer Z Wave without receiving compensation of any kind.
Z News  Interview with Dr. Peter Petropoulos of Potomac Medical Aesthetics:
Z News:    In the video, you mentioned that you heard about Z Wave from colleagues who already used the device in conjunction with Cryolipolysis (CoolSculpting). What did they tell you about the device/results that led you to purchasing the it for your own practice?
 PP:    My colleagues mentioned that the results are a little better, but primarily it gives you a marketing edge because of the minimized discomfort during the massage portion, thus providing more comfort to the patient and less discomfort to the provider doing the massage! Patients shopping around for a practice look for things like this when making their decision, especially if the price is the same. This was my biggest plus.
Z News:    You mentioned that your patients can tolerate the "massage portion" of Cryolipolysis better, quicker and with more comfort after you started using Z Wave to replace manual massage. You said that you noticed that they also had more comfort and less swelling in the days following the procedure. Has Z Wave given your practice a competitive advantage over practices in your area that do not have a Z Wave device and that may not be able to achieve the same enhanced results and increased comfort with body contouring procedures?
PP:    Yes, Z Wave definitely gives me an edge when patients tell their friends & acquaintances that the procedure didn't hurt, but have heard that it hurts at other places doing manual massage.  Patients have come in for consults requesting us because we use the Z Wave – primarily because of decreased pain, but they are not aware typically of better results or decreased swelling. I have to let them know about these added benefits.
In the past when doing manual massage, patients could sometimes not complete the massage or ask for a short delay between cycles of CoolSculpting because of anticipation of the massage pain. And certainly using 2 CoolSculpting machines simultaneously is scary to patients that would have pain with manual massage. They would request to do only 1 machine at a time to have only 1 massage at a time, rather than 2 in short succession. Also, my arms used to get tired after multiple treatment areas with manual massage.
Z News:    Following Cryolipolysis, when you use Z Wave at weeks 1, 2 & 3 to expedite the clearance of fat:
How long do those treatments take?
PP:    3 minutes. (3000 pulses per treatment zone.)
Do you perform those treatments yourself or are you able to delegate to staff?
PP:    Both, but we typically will use both machines (tabletop unit and Z WavePro) to cut down treatment time
Are you able to charge for those additional Z Wave treatments or is it factored into the overall cost of the Cryolipolysis, treatment?
PP:    Yes, we charge extra for the week 1, 2 & 3 treatments, but we do not charge extra as part of our CoolSculpting initial treatment.
 Z News:    You mentioned that you use Z Wave to enhance & speed up Cryolipolysis results, to increase local blood flow for treatment of Erectile Dysfunction (ED), and to augment many of your other services.
Can you give examples of what those other services are?
PP:    I have actually used Z Wave for upper back muscle spasms and low back spasms on staff and patients.
Do you use also use Z Wave to treat cellulite?
PP:    Not yet, but thinking about adding it to our service line
Z News:    Which is your favorite application for Z Wave? 
PP:    CoolSculpting is my favorite.  It makes us look more high tech than just massaging with our hands. And the pain reduction is awesome.  A close 2nd is the extracorporeal shock wave for Erectile Dysfunction (ED).  It works very well alone, but even better with PRP therapy.
Scroll below to view the Z Wave testimonial video by Dr. Peter Petropoulos.
About Potomac Medical Aesthetics

Dr. Peter Petropoulos is the founder and Medical Director of Potomac Medical Aesthetics. The practice offers non-surgical medical aesthetic services, as well as aesthetician services. Dr. Petropoulos and staff focus on making real connections with patients and providing personalized treatment plans. Every patient receives a complimentary consultation that includes a VISIA® facial analysis. This enables precise, custom treatment plans. Additionally, Dr. Petropoulos uses a male-specific treatment approach to address the increasing number of men seeking non-surgical aesthetic procedures.
Patients of Potomac Medical Aesthetics can be reassured by the fact that Dr. Petropoulos, a former emergency medicine physician, performs every medical procedure himself. This includes popular treatments like CoolSculpting, ForeverYoung BBL®, facial fillers and PRP (Platelet Rich Plasma). Aestheticians at the practice perform all other non-medical treatments, such as HydraFacial®, chemical peels and medical grade facials.
Potomac Medical Aesthetics is located in Potomac, Maryland. To learn more about the practice and the services offered, visit their website at www.potomacmedicalaesthetics.com.
About Zimmer Z Wave
The Zimmer Z Wave transmits powerful sound waves into the tissue. The energy then spreads out radially to enhance the treatment effect (Radial Pulse Therapy). The body responds to these sound waves with increased metabolic activity in the form of lymphatic drainage and increased blood circulation. The result is an improvement in the appearance of cellulite and improved results when used with other body contouring procedures. For more information about the Z Wave, visit a web overview of the product. You may also contact Zimmer any time by phone or email.