NW Face & Body Offers More With Zimmer MedizinSystems Cryo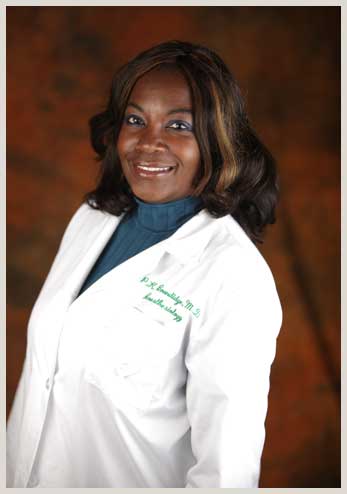 NW Face & Body, a multi-specialty clinic providing a wide range of medical and aesthetic services, has added a Zimmer Cryo device at their practice. The group is staffed with 5 physicians, 3 mid-level providers, 3 aestheticians and over 30 nurses and other employees.  NW Face & Body strives to go above and beyond patients' expectations and fulfill their needs with the utmost care and professionalism. They offer a variety of procedures and services in aesthetics, dermatology and ENT  (Ear, Nose, and Throat).
The Cosmetic arm of NW Face & Body deals primarily with plastic surgery procedures for the face and body. They also offer non-surgical options for those looking for non-invasive procedures. On the surgical side, Dr. P Kaye Brundidge (pictured) specializes in Anesthesiology. Dr. Brundidge has over 21 years of experience and plays a crucial role in many of the surgical procedures at NW Face & Body. For the face, the cosmetic branch offers blepharoplasty, CO2 laser resurfacing, endoscopic brow lift, facelift, neck lift, otoplasty and rhinoplasty. They also provide breast augmentation, breast lift and breast reduction surgeries. Liposuction, tummy tucks and a variety of non-surgical procedures are offered. A couple of the non-surgical treatments availabe are chemical peels and laser hair removal.
The Aesthetic division of NW Face & Body focuses on the skin's appearance. Offered are treatments to make skin look and feel younger and rejuvenated. The treatments available are similar to those provided at a spa but more in depth and treated with a medical approach and attention. This branch offers deep pore facials, microderm, skin bella ultrasound facial, skin medica chemical peels, dermaplaning, collagen blankets, vitamin c spa facial, waxing, and brow tinting.
The Dermatology department of NW Face & Body strives to remedy skin problems and irritations. Board-certified Dr. Voss specializes in Dermatology and Dermatologic Surgery, along with cosmetic surgical and non-invasive surgical procedures. This department overlaps with Aesthetics in order to maximize efficiency for the patient. The Dermatology branch focuses on treating blemishes and skin conditions such as acne, dermatitis, keloids, keratosis, moles, psoriasis, rosacea, sebaceous hyperplasia, warts, sunburn and skin cancer.
The Ears, Nose and Throat division at NW Face & Body is headed by three board-certified doctors. (Dr. Ludwig A. Allegra, Dr. Sunil K. Ummat, and Dr. Nilesh Shah.) The ENT team has over 40 years of combined experience and is able to diagnosis and treat of a multitude of conditions. The ENT team treats or offers snoring and sleep apnea problems, head and neck surgery, ear problems, pediatric problems, and allergy diagnosis and solutions.
The Zimmer Cryo Chillers assist with these various treatments by minimizing pain and discomfort to the patient. The Cryo Chillers provide local relief through air-cooling during various procedures. Medically, it helps to prevent damage to the skin throughout laser procedure. Zimmer Cryo Chiller also brings a piece of mind to the patient even when undergoing the most advanced aesthetic treatments.
You may visit NW Face & Body online at www.nwface.com.