Nurse Jamie Treatment Video on TV's "The Doctors": Facial Cryo Cupping For Youthful Skin
By Regina West; October 13, 2017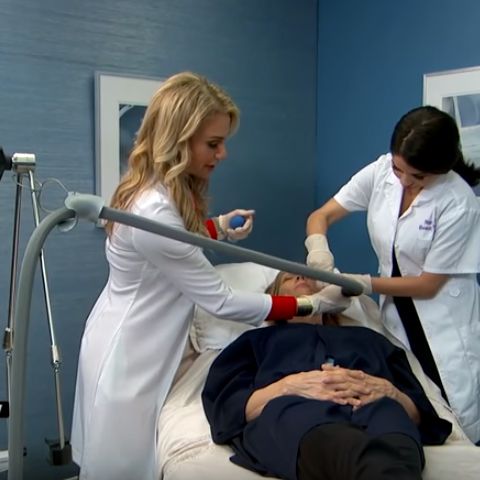 Jamie Sherrill, RN, known widely as "Nurse Jamie", is a celebrity skincare expert and the owner of Beauty Park Medical Spa.  She is also a TV personality, having made appearances as a beauty expert on shows like ExtraTV, E! News, The Doctors, Revenge Body with Khloé Kardashian, The Today Show, Good Day LA, and more.
As a registered nurse and global skin care expert, she has treated a large number of celebrity clientele and has consulted in exclusive med spas globally. Jamie has created demand for her services by perfecting complexions, drawing from her adroitness at keeping up with the latest innovations, medical devices and cutting-edge products and techniques in beauty.
One of those techniques used by Nurse Jamie, is Cryo Cupping with the Zimmer Cryo 6 skin cooling device.  Nurse Jamie uses the Zimmer Cryotherapy device alongside the "cupping" technique for facial rejuvenation and reinvigoration.  Due to the popularity and effectiveness of various techniques that are facilitated by Cryo Therapy, Nurse Jamie has recently acquired several of the Zimmer "chiller" units.  The devices deliver cold air as low as -30°C to the treatment area.
The cupping technique is performed by placing cups on the skin and then pumping air out of them to create suction. The method is said to increase lymphatic drainage and blood flow in skin tissue and muscles, relieving pain and fatigue and stimulating muscle recovery.
The "fire cupping" technique on the body gained national attention at the 2016 Summer Olympics when large red dots were observed on the skin of Michael Phelps and US gymnast Alex Naddour.  But for the face, a gentler Cryo Cupping procedure with soothing cold air is precisely executed by Nurse Jamie. Cold therapy, dating back to Ancient Greek times, is known to decrease pain and inflammation, enabling faster recoveries from workouts and rejuvenating the body.
In the below video, posted by the CBS TV show, The Doctors, Nurse Jamie and her assistant perform a facial Cryo Cupping procedure. Nurse Jamie and the medical panelists discuss the treatment as she integrates Cryotherapy with the Zimmer device. The process of combining cupping with Cryotherapy on the face, she says, can provide "a glow for about a month."
About Nurse Jamie:
Jamie's love of beauty began as a teenager, thus allowing her the opportunity to view the multi-billion dollar industry firsthand from the ground up. She was hand selected early on to be on an elite list of experts, a 'technological task force' to test the latest in laser technological advancements. Her expertise has not only kept her at the forefront of medical aesthetic improvements, she has also mastered the "injectable facelift," a combination of dermal fillers and paralytics, and is an instructor with CME Scholar/Allergan where she educates others on the latest innovations and proper techniques for administering Botox and Juvederm.
Armed with this expertise, Jamie has utilized her knowledge to create products to help clients fight the signs of aging allowing them to put their best face forward. As a spa director in luxury locales like Abu Dhabi, and Cabo San Lucas, she is now recognized as a global brand, and her skincare products and expertise are now available throughout the world.
Visit Nurse Jamie's website and view her Healthy Skin Solutions products at www.nursejamie.com.
About Zimmer Aesthetic Division:
Zimmer's Aesthetic Division offers award-winning devices for the treatment of cellulite and enhancing body shaping, as well as the skin cooling devices for use during laser and other dermatological treatments. The company's flagship products, Z Wave and Z Cryo, utilize advanced Radial Pulse Therapy and Cryo Therapy technologies.
For more information about Zimmer Cryo Devices, visit a web overview of the product. You may also contact Zimmer any time by phone or email.