Zimmer MedizinSystems Introduces Thermo TK  TECAR with Adjustable Heat and Versatility for Ultimate Pain Relief
– Zimmer MedizinSystems announces the latest addition to their therapeutic device lineup, Thermo TK, an adjustable high-frequency TECAR therapy for targeted pain relief. The device features multiple treatment modes and seamlessly integrates into physiotherapy, chiropractic, and rehabilitation practices for both acute and chronic conditions.
October 23, 2023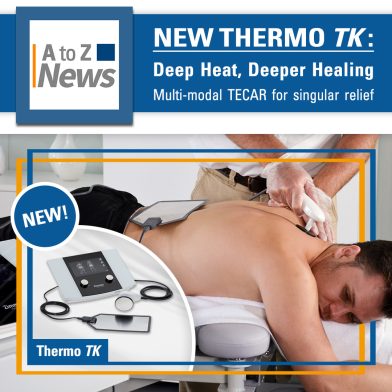 Zimmer MedizinSystems has unveiled its latest innovative device, Thermo TK. This comprehensive therapeutic solution offers a range of versatile application areas, making it an essential addition to physiotherapy, chiropractic, and rehabilitation practices.
TECAR stands for Tissue Electromagnetic Capacitive and Resistive therapy. It works by utilizing high-frequency currents to generate endogenous heat, which aids in reducing pain, improving blood circulation, and enhancing tissue repair.
Thermo TK stands out by uniquely combining the therapeutic advantages of active therapy with circulation-boosting and analgesic electrical currents, along with the soothing sensation of a massage. Practitioners can now tailor treatments to the individual needs of each patient, addressing both acute and chronic conditions.
The device features two specialized modes:
Capacitive Mode: Ideal for targeting superficial muscle structures.
Resistive Mode: Geared toward penetrating deeper structures like tendons and ligaments.
A significant feature of Thermo TK is its flexible application options. Practitioners have the choice between passive, active, and assistive methods, further customizing the device's utility across a broad range of therapeutic requirements.
By utilizing deep heat through high-frequency TECAR therapy, Thermo TK effectively reduces pain, offering another dimension to its extensive versatility. Unlike conventional methods that may provide only localized or temporary relief, Thermo TK serves as a comprehensive tool for more lasting and effective treatment outcomes.
For more information: ➡️ bit.ly/thermo-tk.
To be contacted by a product specialist for a free demo: ➡️ bit.ly/thermotk-info.