Dr. Gupta Describes Diverse Indications for Z Wave
– A to Z News  Video Testimonial: Z Wave Post-Procedure for Further Fat Reduction & Bruise Reduction, Erectile Dysfunction, Plantar Fasciitis
"Z Wave… helps to improve blood flow in the skin, and it also helps to further reduce fat when we're using it post-procedure, such as CoolSculpting™, SculpSure™, Vanquish ME™, Exilis Ultra™ and even with Emsculpt™ and Emsculpt neo™. It really helps to reduce further the number of fat cells that can be destroyed with those technologies."
Read the article and then scroll down for the video by Dr. Shalini Gupta of The Dermatology, Laser & Vein Center
By Regina West; November 1, 2022

Scroll down for video.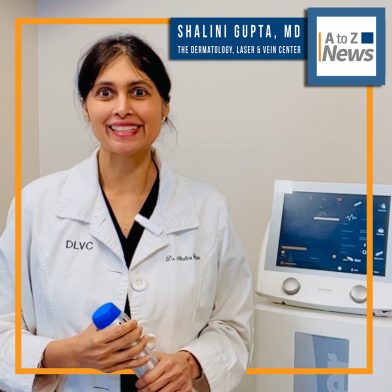 Dr. Shalini Gupta, Medical Director of The Dermatology, Laser & Vein Center, spoke with A to Z News about the many indications for which she employs Z Wave radial pulse technology. Zimmer MedizinSystems' Z Wave family of non-invasive devices is FDA-cleared for the temporary reduction of the appearance of cellulite, the temporary increase in local blood circulation, and to relieve minor muscle aches and pains. While these uses for Z Wave are in practice globally, practitioners like Dr. Gupta are additionally finding an array of valuable off-label applications for the system.
In this video testimonial, Dr. Gupta first explains how the device aids in enhancing body contouring procedures.
 "Z Wave… helps to improve blood flow in the skin, and it also helps to further reduce fat when we're using it post-procedure, such as CoolSculpting™, SculpSure™, Vanquish ME™, Exilis Ultra™ and even with Emsculpt™ and Emsculpt neo™. It really helps to reduce further the number of fat cells that can be destroyed with those technologies." 
Numerous medical studies have shown that Z Wave's soft shot radial pulses (AKA: shockwaves or ESWT) enhance the results and speed recovery for a variety of non-invasive and surgical body sculpting procedures. Z Wave increases metabolic activity, lymphatic drainage, and blood circulation to the treatment area, which enhances the results.
In addition to increasing the number of fat cells destroyed during non-invasive cosmetic procedures, Dr. Gupta attests that Z Wave can speed healing when used in conjunction with some minimally invasive and surgical procedures. "Another new indication we're using now is post-procedure, such as QWO™ or even post-liposuction," she stated. The modality helps to offset some of the side effects of these procedures. Dr. Gupta noted, "It actually helps to reduce the bruising a lot faster and also disperse some of the hyperpigmentation that occurs post-treatment."
Because of Z Wave's ability to increase blood flow, practitioners and medical studies have found success with its application in ED treatment. According to Dr. Gupta, "It also helps in patients who have Erectile Dysfunction. So, we'll use it sometimes in conjunction with Emsella™ to further have improved blood flow to the area."
Along with innumerable podiatrists, physical therapists, and sports medicine specialists, Dr. Gupta additionally utilizes this radial pulse therapy device to aid in soothing foot conditions. "It can also help to improve Plantar Fasciitis," she said. Plantar Fasciitis can cause heel pain and is experienced most commonly by runners and overweight individuals. A series of short treatments with Z Wave's acoustic sound waves can help to improve chronic inflammation of the soft tissues of the foot and heel.
Dr. Gupta disclosed that for her, part of the allure of cosmetic dermatology is that it is both art and technology-driven. "Over the last 22 years, we've accumulated a lot of different technologies that are evidence-based and really help to improve the lives of our patients and improve their bodies and their skin." Because of its diversity of application, Z Wave is among those devices used frequently at The Dermatology, Laser & Vein Center.
Some of the treatments discussed by Dr. Gupta are off-label applications for Z Wave. Dr. Gupta provided this video and comments about Z Wave without receiving compensation of any kind.
About The Dermatology, Laser & Vein Center

In 2001, Dr. Shalani Gupta founded The Dermatology, Laser & Vein Center. Dr. Gupta is a highly trained cosmetic dermatologist and is board certified in anti-aging medicine. It took her only two years to earn a degree from Miami University, finishing with a 4.0 GPA. She received her Doctorate of Medicine from Harvard Medical School and continued with an internship at Brown University in a combined Plastic Surgery/General Surgery program. Following that, Dr. Gupta completed a fellowship in Photomedicine at the prestigious NYU Medical Center's dermatology department. She subsequently trained at the University of Washington in Dermatology.
In partnership with Moshka Dermatology, Dr. Gupta offers dermatological treatments ranging from aesthetic to traditional medical dermatological concerns. The Dermatology, Laser & Vein Center operates under the philosophy that joy is found in helping patients look and feel their best, while utilizing the most up-to-date and proven procedures to achieve those goals. Dr. Gupta encapsulated that sentiment in an interview with Fox 19 News' Business Spotlight. She stated, "I make people look beautiful and I have a variety of excellent tools to do it with… It's not just the technology or the tools, but it's my artistry that really gives life to those procedures and helps my patients achieve the best results they can."
Using an arsenal of over 25 state-of-the-art, evidence-based technologies and techniques, The Dermatology, Laser & Vein Center offers aesthetic treatments for the face, body, and skin. For the body, Dr. Gupta performs procedures such as CoolSculpting® ELITE for fat reduction. In this procedure, the office pairs cryolipolysis™ with Z Wave radial pulse technology for enhanced results. To educate patients about the process, the practice website includes a CoolSculpting® ELITE + Z Wave treatment demo video, narrated by Dr. Gupta. Some other body contouring services include SculpSure™, vaser liposuction, Exilis® Ultra, and EMSCULPT®, EMSCULPT neo® electro-magnetic (HIFEM + RF) treatments for simultaneous fat reduction and muscle building. Treatments for the face include BBL (Broad Band Light), laser skin resurfacing, Morpheus8™, Skin Tyte™, and Thermage™. A variety of treatment options can address fine lines, wrinkles, and loose skin. Some of these include Botox® and filler injections, fractional CO2 laser, IPL (intense pulsed light) photo facial, ultherapy, and thread lifts.  
Additionally, the practice's Medi Spa provides skin care treatments such as chemical peels, microneedling, LED photomodulation, microdermabrasion, ThermiVa™ vaginal tightening, and more.
The Dermatology, Laser & Vein Center is located in Cincinnati, Ohio. To learn more about the services offered, visit the website at www.cincinnatiskinandlaser.com.
---
About Z Wave by Zimmer MedizinSystems
The Z Wave by Zimmer MedizinSystems transmits powerful sound waves into the tissue. The energy then spreads out radially to enhance the treatment effect (Radial Pulse Therapy). The body responds to these sound waves with increased metabolic activity in the form of lymphatic drainage and increased blood circulation. This results in a reduction of the appearance of cellulite, for which Z Wave is FDA-cleared. Additionally, studies and practitioners have found that Z Wave enables improved results when used with other body contouring procedures and devices. Z Wave was also shown to accelerate tattoo clearance when used in conjunction with laser tattoo removal treatments. For more information about the Z Wave, visit a web overview of the product. You may also contact Zimmer MedizinSystems any time by phone or email.