Treatment Demo – Gold Skin Care Center Offering Speedy, Effective Z Wave Cellulite Treatments over Gym Pants
By Regina West; June 6, 2018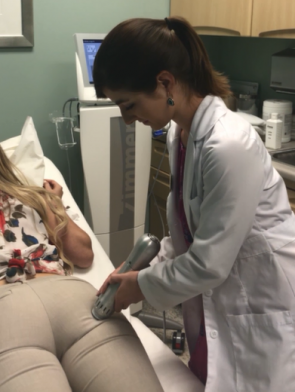 Scroll down for video.
Gold Skin Care Center demonstrated a quick and comfortable Z Wave treatment for the reduction of the appearance of cellulite.  In this video, Z Wave specialist, Laura, showed how the treatment is performed.  Remarkably convenient for busy patients, the procedure can be done over light pants like gym leggings.
The video's narrator explained, "If you leave the gym, you can bop in here for 20 minutes, get your cellulite treatment done – and you're out the door without ever having to disrobe."
Gold Skin Care Center is currently offering a series of  ten Z Wave treatments at a promotional price. They recommend  having the treatments two times per week for 5 weeks for "marked improvement" in cellulite appearance.  At 3 ½ minutes per zone, over your light tights or leggings, the video narrator notes that patients should be in and out of the office in an hour. After the initial series, "touch up" sessions can be scheduled to maintain the smoother appearance of the skin.
The clinic also offers injectable fillers and other "lunchtime" rejuvenation procedures. The narrator poses an example of just how convenient treatments can be at Gold Skin Care Center: "Every time you come in for a botulinum toxin [(ex., Botox® / Dysport®)] touch-up, you would talk to Laura about maybe taking a look at your cellulite and seeing if you need to do a couple more treatments to get that back up to [how] you want it to look."
Gold Skin Care Center is operated by board-certified Dermatologist and Cosmetic Surgeon, Dr. Michael H. Gold. Dr. Gold provides cutting-edge treatments in medical and surgical dermatology, cosmetic dermatology and aesthetic services. He oversees the Center's involvement in research endeavors and is affiliated with universities and hospitals both in the United States and in China. Dr. Gold speaks nationally and internationally on the topics of dermatology and aesthetic care. Dr. Gold has been featured in numerous publications, varying from mainstream (Cosmopolitan) to medical (Practical Dermatology).
The Gold Skin Care Center website highlights Z Wave for body contouring, fat reduction and cellulite treatments. Details are provided for interested patients about how the device works to combat cellulite and to enhance effects when paired with cryolipolysisTM, ultrasound, radio frequency and laser treatments.
The page dedicated to Z Wave information continues, "Dr. Gold usually recommends a Z WavePro treatment to eliminate cellulite and stretch marks. It can also be used for general skin tightening and body contouring procedures, or in aesthetic scar treatment."
Neither Gold Skin Care Center nor any of the participants were compensated for this video and comments about Z Wave.
Scroll below to view the Z Wave cellulite treatment video by Gold Skin Care Center.
About Gold Skin Care Center
Gold Skin Care Center and its subsidiaries, The Laser & Rejuvenation Center and Advanced Aesthetics Medical Spa, are located in Nashville, Tennessee.   Together, they constitute Nashville's premiere medical and cosmetic dermatology practice. To learn more about the practice and the services offered at Gold Skin Care Center, please visit www.goldskincare.com.
About Zimmer Z Wave
The Zimmer Z Wave transmits powerful sound waves into the tissue. The energy then spreads out radially to enhance the treatment effect (Radial Pulse Therapy). The body responds to these sound waves with increased metabolic activity in the form of lymphatic drainage and increased blood circulation. The end result is an improvement in the appearance of cellulite and improved results when used with other body contouring procedures. For more information about the Z Wave, visit a web overview of the product. You may also contact Zimmer any time by phone or email.