emFieldPro Therapy: A Look at the Technology Behind Will Smith's Hamstring Rehabilitation
– A to Z News  Explores Will Smith's Experience: "I've had a hamstring issue. Now I'm about to get my ass shocked."
Scroll below for Will Smith's video
July 11, 2023
Scroll down for video.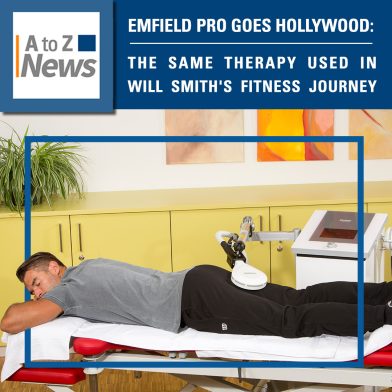 Global superstar, Will Smith, caught our attention in his intimate six-episode chronicle of his personal fitness journey, where we noticed a therapeutic device being used. A particularly memorable episode, humorously titled 'I Blew The Deadline for My Book | Best Shape of My Life,' offers viewers an inside look at his wellness regime. Amid his characteristic jovial banter, an advanced therapeutic device used during Smith's hamstring rehabilitation, which appears to be the emFieldPro by Zimmer MedizinSysteme, can be observed.
At the 11:57 mark, Smith candidly talks about his hamstring discomfort and his unique therapy session, humorously referring to the treatment as getting his "ass shocked." As we watch, we see the static treatment applicator of what appears to be an emFieldPro device, sporting the Zimmer MedizinSysteme logo, non-invasively delivering its electromagnetic field to the area of Smith's hamstring. He amusingly beatboxes along with the rhythmic pulses of the treatment, showcasing his innate ability to inject humor into even the most mundane of situations.
The Zimmer MedizinSysteme device seen in the video is known to provide therapy for conditions similar to what Smith refers to as his "hamstring issue". It's an authentic glimpse of how advanced technology plays a vital role in maintaining the health of even the most iconic figures.
The emFieldPro, meticulously engineered in Germany by Zimmer MedizinSysteme, is designed to take High Energy Inductive Therapy (HEIT) to new heights. It uses the human body's conductivity to magnetic fields, generating a potent magnetic field of up to 3 Tesla (equivalent to 30,000 Gauss). This process works toward optimizing the function of nerve cells, muscles, and blood vessels. All of this happens within typically 10 to 20 minutes, with no need for disrobing.
This episode's humor strikes a chord with viewers, as Smith's book deadline seems to have been "blown" amidst a self-imposed physical challenge and a comical misadventure of talking big and underestimating his security guard, 'Ran'. Smith's defeat in the challenge and his hamstring injury add a level of intrigue and relatability to his quest for peak physical health. Amidst this, his numerous professional commitments indeed make for a challenging but engaging juggling act.
Disclaimer: The mention of Will Smith's name in this article is purely for informational purposes. It should not be construed as an endorsement, sponsorship, or affiliation with Zimmer MedizinSysteme, Zimmer MedizinSystems, any of their global distribution partners, or the specific device used. The purpose of this article is to provide general information about HEIT and highlight its potential benefits. Any claims or implications beyond that are unintentional. We recommend consulting with a medical professional for personalized advice regarding your own healthcare needs.
Zimmer MedizinSysteme continues to strive for innovation in physiotherapy and sports medicine with devices like the emFieldPro. Our mission is to leverage cutting-edge technology to enhance recovery times and improve treatment outcomes, ultimately improving the quality of life for all.
About emFieldPro by Zimmer MedizinSystems
---
emFieldPro is a High Energy Inductive Therapy (HEIT) device. The non-invasive system, manufactured by Zimmer MedizinSysteme, generates a magnetic field of up to 3 Tesla, which is about 600 times stronger than a normal magnet. This strong magnetic field stimulates nerve cells, muscles, and blood vessels. emFieldPro is FDA-cleared for treatment of clinical indications such as muscle spasm relaxation, prevention or retardation of disuse atrophy, increasing local blood circulation, muscle re-education, immediate post-surgical stimulation of calf muscles to prevent venous thrombosis and maintaining or increasing range of motion.
emFieldPro therapy offers full and painless penetration. The system provides both static and dynamic applicators for flexibility in treating different pain and trigger points. No-contact transducers eliminate any need for patients to disrobe, facilitating a comfortable therapeutic experience.
For over 50 years, Zimmer MedizinSysteme, the German parent of the American company, Zimmer MedizinSystems, has been an innovator in the field of medical device manufacturing. Their engineering excellence has resulted in the exemplary emFieldPro device, taking HEIT to new heights.
For more information about the Zimmer MedizinSystems emFieldPro device, please view a web overview of the product. You may also contact Zimmer MedizinSystems any time by phone or email.