Joanna Czech's Expert Facials with Cryo 7 Give Stars Radiant, Glowing Skin for the Oscars Red Carpet
– Plus A to Z News  Chat with Joanna Czech, Celebrity Facialist
"[Cryo 7] is super anti-inflammatory, reduces redness, [and] the skin basically starts looking flawless and it's simply glowing."
Read the Q&A and scroll below for the video featuring Joanna Czech's coveted red carpet cryotherapy facial
April 1, 2023

Scroll down for video.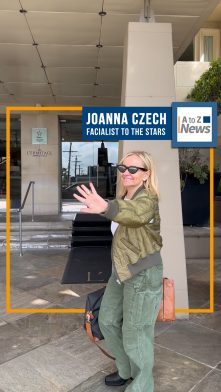 When the Oscars come to town, so does Joanna Czech, facialist to the stars. Joanna's calendar was packed full of appointments in preparation for the big event. When we imagine the Oscars, fashion and makeup are top of mind, but there's actually a lot of work to be done prior to the final look, and that work starts with skin. The stars seek out Joanna Czech for expert facial treatments.
A Beverly Hills Pop-Up for the Stars, Complete with the Cryo 7
Prior to the 2023 Academy Awards event, Joanna arrived at the Beverly Hills hotel L'Ermitage for a pop-up event. It looked as if she had transported her entire treatment center to the hotel.  And as Joanna wittily said of the day at L'Ermitage, "If giving a facial were a movie, it would be 'Everything, Everywhere, All At Once'." (See Joanna Czech's instagram account and her setup at L'Ermitage).
Joanna has treated a long list of celebrity clients, including Jennifer Aniston, Cate Blanchett, Kate Winslet, Anna Wintour, Christy Turlington Burns, and Kim and Kourtney Kardashian. It's no surprise then, that for the Oscars, A-list stars flocked to Joanna for pre-Oscars facial treatments to prep their skin for the big night.
Joanna says that something she included for each client was cryotherapy by Zimmer MedizinSystems, and that she regularly includes it in her treatments. For the Oscars, she specifically used Zimmer MedizinSystems' latest cryo device, the Cryo 7. Cryo 7 has new, state-of-the-art features and superior cryotherapy technology. Speaking about the Cryo 7, Joanna says it's, "super anti-inflammatory, reduces redness, [and] the skin basically starts looking flawless and it's simply glowing."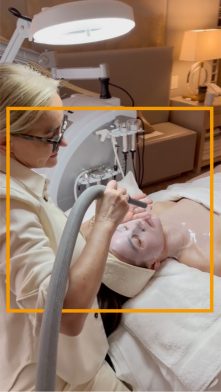 At the Oscars event in Beverly Hills, Joanna worked for ten hours without stopping! Each facial lasted 75 minutes. For clients, facial treatments are a soothing, pampering experience. But ten hours work for an aesthetician without breaks is hard work. It is especially for marathon days like these that the Cryo 7 is a dream to have. It has several features that improve ease of use and improve the practitioner's comfort. The Cryo 7 is specifically designed to facilitate a comfortable treatment environment for patients and staff.
Joanna's tricks of the trade are rooted in years of practice, and of course include a range of other products, such as serums and manual massage. Cryotherapy is the essential finishing touch. The therapeutic cold air, treating the face at -30°C, helps to give skin a true glow, perfectly timed for the event.
Joanna Czech provided this video and comments about Cryo by Zimmer MedizinSystems' without receiving compensation of any kind.
A to Z News  Chat with Joanna Czech
---
A to Z News:  Who were some of the lucky celebrities who got one of your pre-Oscars facials this year?
JC: Our clients this week included Hailey Bieber, Sabrina Carpenter, Cara Delevingne, Phoebe Tonkin, Cami Morrone, Amber Valletta, Lily James, and Samantha Hsu.
A to Z News:  How did you choose who got Zimmer MedizinSystems cryotherapy for the pre-Oscars event?
JC:  We did it on all our clients! It's standard for our treatments.
A to Z News:  Can you describe why you think cryotherapy is an effective treatment method to include?
JC:   I like using cryotherapy to reduce the appearance of pores, soothe inflamed skin, and to help "freeze" the muscles into place after massaging and sculpting the face.
About Joanna Czech
---

Joanna Czech began her career as a facialist in Poland, over 35 years ago. She soon found herself in New York City. Today she combines the techniques she learned in Poland with innovative technologies she's discovered over the years. Her two studios are located in Dallas, Texas, and New York City, and she is the coveted facialist for top-tier events like the Academy Awards and Met Gala. Most recently, she was the official skincare sponsor of the Oscar de la Renta Fall 2023 debut in New York City.
Her facial treatments include a variety of methods to give each client the best results. As she says, "I have never performed the same facial, ever, even if it is the same client." She always evaluates the condition of the skin first, and then customizes the treatment accordingly. A few things she uses in these customized facials are LED, ultrasound, cryotherapy, manual massage, and the list goes on. Her studios offer these custom facials as well as LED body treatments, myocontouring, brow and lash work, and even virtual consultations. A visit to either city location will also include a retail space filled with skincare products that Joanna recommends for home use. These are also available on her online shop.
Her incredible results are proven in her star-studded list of clients, which includes: Martha Stewart, Mandy Moore, Carey Mulligan, Jenna Coleman, Michelle Williams, Tan France, Uma Thurman, Liam Neeson, Kyra Sedgwick, and Minnie Driver. Joanna's work has graced the covers of nearly every fashion magazine: Vogue, Vanity Fair, Harper's Bazaar, Marie Claire, InStyle, and Coveteur.
Frequently traveling, with her offices in two cities, and splitting her time between her residences in Miami, Los Angeles and the Hamptons, gave her firsthand experience with how travel takes a toll on the skin. This spurred her creation of THE KIT, a travel-friendly collection of skincare essentials. The line of products is meant to keep skin healthy and glowing in any climate.
For further information about Joanna Czech, to book a virtual consultation, or to research her recommended skincare regimen and products, visit www.joannaczech.com
About Cryo by Zimmer MedizinSystems
---

The Zimmer MedizinSystems Cryo System delivers cold air as low as -30 C. In physical therapy, the cooled air can be used for efficient paint treatment, swelling reduction, and muscle relaxation. The system enables cryotherapy with precise placement and at a constant dosage, every time. In aesthetic medicine, the line of Cryo devices is intended to minimize pain and thermal injury during laser and dermatological treatments. The "chiller" provides temporary topical anesthetic relief during injections, tattoo application, tattoo removal, RF, laser hair removal, and much more. Unlike other cooling methods, such as contact cooling, cryogen spray, and ice packs, Cryo by Zimmer MedizinSystems can cool the epidermis before, during, and after the laser energy has been applied, without interfering with the laser beam. For more information about cryotherapy devices by Zimmer MedizinSystems, please view a web overview of the product. You may also contact Zimmer MedizinSystems any time by phone or email.