Interview with Joanna Czech, Facialist to the Stars
A-List Clientele Treated with Zimmer MedizinSystems Cryotherapy
By Regina West; July 25, 2019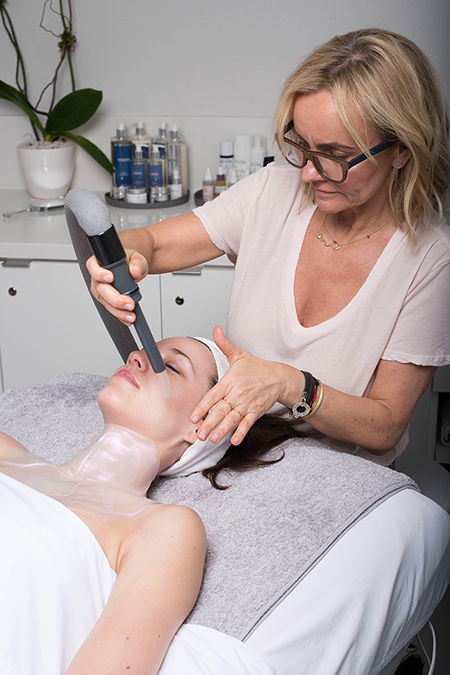 Z News interviewed facialist to the stars, Joanna Czech, about how she integrates Zimmer MedizinSystems Cryotherapy with her sought after skin care treatments.
Joanna's tricks of the trade have been featured in Glamour, Vogue and many other publications. She has discussed her techniques and technologies for treating A-listers such as Kim Kardashian, Bella Hadid, Phillip Lim, Anna Wintour, Naomi Watts, Christy Turlington Burns, Cate Blanchett, Kate Winslet, Uma Thurman, Liam Neeson, Kyra Sedgwick, and Sting & Trudie Styler.
Recently, Joanna was highlighted on television's Entertainment Tonight and E! Entertainment News. She detailed how she utilized Cryotherapy, LED light therapy, ultrasound, black diamond masks and other approaches to prep clients for the 2019 Met Gala. E! Entertainment News was allowed access to Joanna's session with Kim Kardashian West. A portion of the video of that facial session with Kim Kardashian West can be viewed on Zimmer USA's Instagram feed.
Joanna explained to Zimmer's Z News how she uses her Cryo 6 device to help her clients attain flawless, red carpet-ready skin.
Z News:   What do you use Zimmer Cryo most often for?
JC:   I use Zimmer Cryo specifically for skincare. We offer 6-10 treatments, twice a week, to increase the production of elastin and collagen. This tightens the skin and minimizes the appearance of pores.
Z News:   What are some other applications?
JC:   I infuse serums into the skin with cooled air. This works well in combination with healing serums to treat certain forms of dermatitis like eczema and rosacea. Also, I combine Zimmer Cryo with my facial remodeling using facial massage. I follow up with Cryo to almost freeze those muscles that I manually shaped and molded. Zimmer Cryo is great after extractions to reduce irritation and inflammation. It's also great for body treatments on the arms and legs in combination with ultrasound, microcurrent and LED therapy.
Z News:   What are the benefits that your patients see from Zimmer Cryo treatments?
JC:   They can see tighter, brighter skin, reduction in inflammation and redness, and a reduction of the appearance of the pores.
Z News:   What is your typical treatment protocol?
JC:   I incorporate Cryotherapy into my LED signature facial for up to 20 minutes.
Z News:   What is your favorite thing about Zimmer Cryo?
JC:   The Cryo 6 device is easy to use and I have gotten great customer service from the Zimmer MedizinSystems team!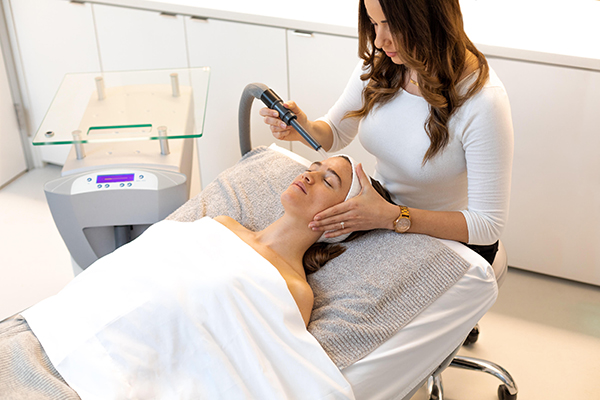 Joanna Czech's Cryotherapy Facial treatments and benefits are described on her company website:
"Because of its 'healing' properties, cold therapy treatment can be localized to different parts of the body, which makes it perfect to use in facials! During our Cryo Facial, cryogenically cooled air is blown onto the face; it is non-invasive, pain free, and has many wonderful benefits, which makes it extremely popular among my clients."
The Cryotherapy Facial treatment is offered at Joanna Czech's luxurious studios beginning at $550. All of the estheticians at Joanna Czech studios study her techniques and train with her personally before seeing clients. Ongoing product training and technology instruction are also part of the course work. Those lucky enough to schedule facial appointments with Joanna herself will pay upwards of $850. Her lauded facials are never the same twice. She states that she has "never performed the same facial – ever. Even [on] the same client."
More examples of Joanna Czech's Cryotherapy Facial treatments with Zimmer Cryo can be found on Zimmer USA's social media platforms. Below are links to additional videos and pictures on Instagram:
"Cold on cold… So anti-inflammatory #czechlist"
2019 Met Gala: Joanna Czech's Facial Clients
Entertainment Tonight! Met Gala 2019 and Kim Kardashian Facial Cryotherapy
E! Entertainment News – Exclusive Access to Kim Kardashian's Cryotherapy Facial with Joanna Czech
Kim Kardashian Face & Décolleté Prep for Oscars 2019 & Hollywood Beauty Awards – Joanna Czech Facial Cryotherapy
Joanna Czech provided these pictures and comments about Zimmer Cryo without receiving compensation of any kind.
About Joanna Czech
30 years ago in Poland, Joanna Czech began developing her techniques for performing facials. Her innovative approach and her integration with technologies continued in New York. In 2012, she moved to Dallas, Texas, where she operates Joanna Czech Dallas. She travels frequently between two studios and clients around the USA.
Joanna Czech's studios aspire to provide their guests with a tranquil, pampered and rejuvenating experience. Joanna stresses the importance of maintaining seasonal skincare regimens and a healthy lifestyle over sporadic short-term, quick fixes. Her non-invasive treatments are never overly aggressive. They combine innovative technologies and tried-and-true techniques. Joanna's visible and indisputable results are coveted by notable clients including: Kim Kardashian, Phillip Lim, Anna Wintour, Christy Turlington Burns, Cate Blanchett, Kate Winslet, Uma Thurman, Liam Neeson, Kyra Sedgwick, and Sting & Trudie Styler. Joanna's work has appeared on the covers of Vogue, Porter Magazine, Vanity Fair, Harper's Bazaar, Marie Claire, InStyle, and Coveteur, as well as in advertising campaigns for Dior, Givenchy, SKII and Maybelline.  She has served as Global Skincare Advisor for La Mer and is a Global Brand Ambassador for Biologique Recherché.
The studios offer Cryotherapy Facials, custom and enhanced LED Facials, brow shaping and lash & brow tinting. Her custom techniques vary based on the condition of the skin. They may also be combined to include proprietary masks, peels, LED, ultrasound, microcurrents, Cryotherapy and facial muscle manual massage & manipulation.
The company website features Joanna's CzechList. The CzechList section is full of skincare tips, products, places and anything else that Joanna feels passionately about sharing. One article in the CzechList section reminds the reader, "I have said it many times and will continue to say it – your skin starts at your nipples and ends at your hairline!" She continues with her recommended regimen for healthy, beautiful décolletage and breast skin. Joanna's online shop and retail space offer recommended skincare products for home use.
Joanna Czech studios are located in New York and Dallas. For more information about Joanna Czech and the products and services offered, please visit www.joannaczech.com.
About Zimmer Cryo
The Zimmer Cryo delivers cold air as low as -30°C. The device is intended to minimize pain and thermal injury during laser and dermatological treatments. It also provides temporary topical anesthetic relief during injections, tattoo application, tattoo removal, RF, laser hair removal and much more.  The system can assist in a variety of applications and is particularly useful with cosmetic procedures. Unlike other cooling methods, such as contact cooling, cryogen spray or ice packs, Zimmer Cryo can cool the epidermis before, during and after the laser energy has been applied, without interfering with the laser beam. For more information about Zimmer Cryo devices, please view a web overview of the product.  You may also contact Zimmer any time by phone or email.