Cutting Edge Cryo Makes the Switch from Nitrogen-Based to All-Natural Cryo for Localized Treatments and Facial Cryotherapy
– A to Z News Video + Bonus Interview with Ethan Colavecchio
"[The Zimmer chiller] has completely changed the way that we do targeted localized treatments. It's way more effective. The treatments themselves are way shorter now… We've had really great results from our customers."
Read the Q&A and then scroll below for the video by Cutting Edge Cryo
By Regina West; June 1, 2021

Scroll down for video.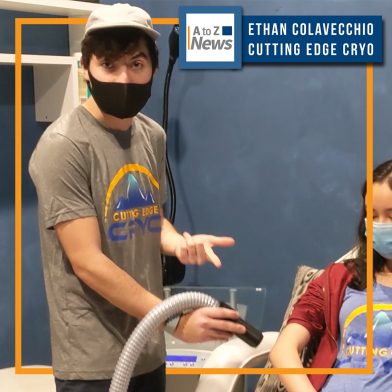 In late 2020, Cutting Edge Cryo made the switch from nitrogen-based to all-natural Zimmer electric devices for localized cryotherapy treatments and facial cryotherapy. Ethan Colavecchio, the store manager, said in a video for A to Z News that they are extremely happy with the decision. "It has completely changed the way that we do targeted localized treatments. It's way more effective. The treatments themselves are way shorter now. We don't have to spend as much time on the localized points," said Colavecchio.
Localized cryotherapy with the Cryo 6 device by Zimmer MedizinSystems targets areas that may be inflamed due to conditions related to aging, sports injuries, athletic workouts, and more. The device takes in regular room air and chills it to temperatures as low as -30°C (-22°F). The below-freezing air is then delivered to the treatment area via a therapy hose. Also known as localized cold therapy, this method has been proven to minimize pain, relax muscles, promote healing, and reduce swelling.
Among some of the differences between nitrogen-based and the Z Cryo device, are speed, efficiency and safety. Cryo 6 decreases the skin temperature quicker, with a lower risk of skin burns and keeps a constant dosage throughout the entire treatment. As noted by Colavecchio, this enables the treatment to be performed in less time. It also enables the benefits of the therapy to take effect more quickly and reliably, making both practitioner and client happy.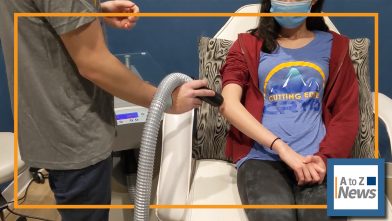 Cutting Edge Cryo performs  treatment on patients with pain or stiffness in the ankles, knees, elbows and other joints. In the video, Colavecchio gave a brief demonstration of a typical localized cryotherapy treatment for elbow pain. He explained that the area is treated for about three to four minutes, with frequent temperature monitoring to ensure that the skin temperature is within a safe range. He remarks that the temperature checks also guarantee that they achieve "the best results when it comes to inflammation and pains and aches." The clinic also offers combination therapy with whole body cryotherapy and then localized Zimmer cryotherapy directly afterward. "We see a lot of lower backs, especially after the whole body cryo, just to really get that point a little bit more compressed."
Cutting Edge Cryo transitioned from nitrogen to electric chambers for their whole body cryotherapy treatments, as well. For over 20 years, scientific studies have found these cold sauna environments to have positive effects on health and performance. However, the usage of cold therapy goes back to the times of the Ancient Greeks and Egyptians.
Colavecchio pointed out that Cutting Edge Cryo offers the benefits of cold therapy for the face, as well. This has been especially welcome for those whose skin has suffered due to donning face coverings during the COVID-19 pandemic. "We also do cryo facials with these [Zimmer cryo devices], which is really nice, too, because a lot of redness, rosacea, and acne that people are experiencing with the masks gets nullified almost completely." He remarked on some of the other aesthetic benefits that his customers receive from facial cryotherapy. "Their skin feels more firm. They notice that those fine lines are kind of fading away, and their face just feels more refreshed." In our A to Z News follow-up interview, below, Colavecchio elaborated on these treatments. He detailed some differences observed in the transition from the vaporized nitrogen to the all-natural Zimmer cryo methods.
"We've had a really great experience with the Zimmer machine," he concluded. "We've had really great results from our customers. We've had a lot of good feedback, so far, overall."
---
A to Z News Interview with Ethan Colavecchio of Cutting Edge Cryo
A to Z News:  Since your transition to Zimmer cryotherapy enables more effective & quicker localized cryo treatments, do you find that you can turn the treatment room around quicker and do more volume of business?
EC:    The Zimmer is a much more efficient machine than our previous nitrogen-based cryotherapy unit. We used to run 8-minute sessions on one localized spot with the nitrogen simply because it would take 4 minutes to achieve optimal cryo temperature (45 degrees Fahrenheit). Now with electric cryo we can reach that range within 30-45 seconds of a single treatment. This has drastically increased the number of sessions we have been able to run while also reducing labor.
A to Z News:  Was there ever a time when you performed facial cryotherapy with the nitrogen-based units?
EC:    We used to use a brand for our targeted and facial treatments which utilized nitrogen. The process was a lot more about how we can maximize the efficiency with the nitrogen but not get too cold on the face where irritation could occur. The Zimmer has allowed us to create a safe process to perform top-of-the-line facials without having to worry about client concerns over chemicals like vaporous nitrogen around their faces.
A to Z News:  Do you feel that the Zimmer cryotherapy device, using chilled all-natural room air, is safer for facial cryotherapy than nitrogen-based devices? Did you or your clients ever have concerns about the potential for inhaling chemicals from nitrogen-based cryotherapy on the face?
EC:    Absolutely! The Zimmer has dwelled on a lot of our clients' concerns when it comes to the older nitrogen-based models of facial cryotherapy. Our clinic does a wonderful job of achieving maximum client support and care, so nitrogen never became a deterrent for service. However; the treatment has become much easier to perform without the nitrogen. I would say that in the wrong hands, a nitrogen machine can do harm. But with the electric based machine, we have had a lot more comfortability and confidence in our treatments.
A to Z News:    It was great to hear about how your facial cryotherapy clients have found that the treatment improves their rosacea, acne, fine lines & wrinkles and skin firmness. Can you go into a little more detail about your facial cryotherapy treatments and how you integrate the Zimmer device with the treatment mask shown in the video? Do you ALWAYS use that mask with facial cryotherapy?
EC:    When we use the Zimmer for our facial cryotherapy treatments, we find it is best to use the facial mask attachment to achieve consistent results. This helps us feel confident that every single client is getting the same service. When we used the nitrogen-based locals, we would have to manually follow a technique where a lot of our technicians would sometimes falter in certain areas. The Zimmer allows us to maintain consistency and efficiency with our facial process.
A to Z News:    We can see that you get a good amount of daily use out of the chiller between localized cryotherapy treatments and facial cryotherapy services. Can you estimate how many hours per day/month you typically use it? How does it hold up under that amount of use?
EC:    On an average day we are running about 10-15 targeted treatments and about 5 facial treatments. This would be about 400 treatments a month with the Zimmer. Our recent transition over to electric full body cryotherapy has played a huge role in the growth of our targeted machine. We have had zero issues with overuse when it comes to running back-to-back sessions. The Zimmer has also allowed us to go on event schedules where we are seeing 30-40 localized treatments in a single day.
A to Z News:   Have you found that the Zimmer device, using no consumables, is a more cost-effective way to do cryotherapy?
EC:    I firmly believe that nitrogen-based cryo will be fully swept under the rug once electric machines become more available as a startup option for cryo owners. The cost that goes towards nitrogen consumption is fully based off the growth of your business. When it got to where we were spending maybe $3-4k on nitrogen alone per month, it was time to make a logical change.
A to Z News:   Have clients ever commented that they came to you instead of a competitor BECAUSE of your all-natural cryotherapy option, as opposed to only nitrogen options elsewhere?
EC:    Currently, in North Dallas we are the only electric localized / full body cryotherapy facility that has the exact two machines in the entire area. We have had a few clients who have experienced the electric whole body cryo machines and refuse to go back to the nitrogen just for the overall experience and effectiveness they get out of the treatment.
A to Z News:  In your video, you talked about a treatment process where your clients first do whole body cryotherapy and then localized cryo treatment afterward. Can you please elaborate on this process, as you might perform it for joint pain, sports injury or sports/workout recovery?
EC:    We run 3-minute treatments on acute portions of the body. But because our full body is so effective, we can do what we call a "Double Freeze" and achieve maximum results on client's trouble areas. I personally see a lot of lower back, upper shoulder, knees, joints, anything with high inflammation. The full body helps naturally drop a person's temperature into the low to high 50's, which allows us to pierce deeper once we tackle it with local therapy immediately after.
A to Z News:    For localized cryo on joints, do your clients typically visit only when their pain acts up? Do they visit regularly for ongoing management of pain/inflammation? Or do they usually come in for a specific issue and then stop coming when that resolves?
EC:    We see a lot of post and preventative care when it comes to cryotherapy. Depending on whether their ailment has been a long lasting one, or if it is more recent really changes the protocol as to when and how often they will do treatments. The first thing they tell you after you sustain an injury is to put on ice on it. That same ideology follows in the cryotherapy process. If we have a young student athlete who twists an ankle, they'd better be in at least once a day for the next couple days to reduce swelling and inflammation. Now, if we have an older client with long-term Rheumatoid Arthritis who wants to back away from their prescription pain killers, then it becomes more of a regular 1 to 2 treatments-a-week plan to help steer the body in the proper direction.
A to Z News:   Any special movements or protocol for localized cryo on joints or inflamed areas? (Up/down, circles, duration of treatment, etc…)?
EC:    We try to maintain a close proximity to the targeted area. Small acute motions – whether they are circles, or an up or down motion – helps to disperse some of that cold feeling while also allowing for proper maintenance of care. Specifically, when we do temperature checks throughout the process, we are moving for about 30 seconds, and then a temperature check is done to ensure proper practice. This keeps our clients feeling peace of mind, and also allows the technicians to properly provide the service.
A to Z News:   Do you integrate Zimmer local cryotherapy with any of your other services that you didn't mention in the video?
EC:    We have also used our Zimmer with our IV program as a temporary anesthetic on the application site. We have a few clients who can't stand the sight of needles and the cool application allows for a painless way to do IV injections.
Ethan Colavecchio and Cutting Edge Cryo shared the below video and comments about Zimmer Cryotherapy without receiving compensation of any kind.
Scroll below to view the ZCryo video by Cutting Edge Cryo.
---
About Cutting Edge Cryo

Cutting Edge Cryo specializes in providing the most advanced technologies and treatments for the health and well-being of their clients. Clients can stimulate the body's "fight or flight" response in the all-natural, electric whole body cryotherapy chamber. This experience prompts the body protect against what the body perceives to be a threat. This promotes the production of endorphins and redirects oxygenated, nutrient-rich blood to the vital organs. Once the cryo treatment is complete, these endorphins and oxygenated blood are released back into the peripheral tissues, decreasing histamine (inflammation) markers, helping to repair injured muscles, ligaments, joints, and tendons.
While Cutting Edge Cryo's WBC treatments at are excellent for relieving pain and general inflammation, some areas of acute pain may require more attention. The company provides localized cryotherapy sessions for athletic recovery of specific problem areas, and for relieving post-surgical, arthritic, and other sources of pain. Their all-natural Z Cryo device chills room air to below-freezing temperatures. The treatment promotes blood flow and healing, reduces tension and inflammation at the site and helps to prevent further damage. The treatment also acts as a natural analgesic, relieving pain.
Facial cryotherapy and LED light therapy combination treatments are available, compounding the many health and beauty benefits of each.
The location offers the dynamic NormaTec Compression Zone to enhance blood flow and lymphatic drainage. IV therapy drips are available, sending vitamins, minerals and health supplements directly to the blood stream. Other non-invasive treatments and technologies for body sculpting, toning and slimming are available at Cutting Edge Cryo. Some of these include the SculptPod, infrared sauna, InBody Body Composition reporting, and more. Some treatments may be experienced à la carte and in combination.
To learn more about the services and technologies available at Cutting Edge Cryo, you may visit them online at www.cuttingedgecryo.com. The clinic is located in Lewisville, Texas.
About Zimmer Cryo
The cryotherapy device by Zimmer MedizinSystems delivers cold air as low as -30°C. In Physical Therapy, the cooled air can be used for efficient pain treatment, swelling reduction and muscle relaxation. The system enables Cryotherapy with precise placement and at a constant dosage, every time. In Aesthetic Medicine, Zimmer Cryo is intended to minimize pain and thermal injury during laser and dermatological treatments. The "Chiller" provides temporary topical anesthetic relief during injections, tattoo application, tattoo removal, RF, laser hair removal and much more.  Unlike other cooling methods, such as contact cooling, cryogen spray or ice packs, Zimmer Cryo can cool the epidermis before, during and after the laser energy has been applied, without interfering with the laser beam. For more information about Zimmer cryo devices, please view a web overview of the product. You may also contact Zimmer any time by phone or email.