Zimmer MedizinSystems Enhances Support with New Cryo Troubleshooting Guides – Download Now and Stay Cool!
– Cryo by Zimmer MedizinSystems: Troubleshooting Guides for Cryo 6, Cryo 7 & Cryo Mini

August  23, 2023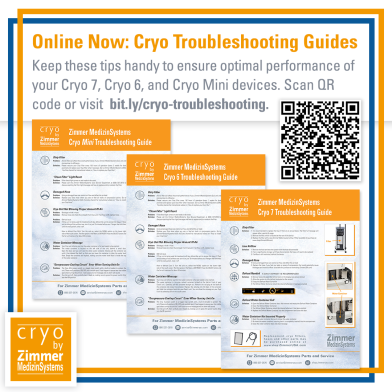 Building upon their already excellent support, Zimmer MedizinSystems has introduced new comprehensive Troubleshooting Guides for their esteemed Cryo units, including the Cryo 7, Cryo 6, and Cryo Mini models. These guides illustrate the company's ongoing commitment to providing even better assistance to cryo users.
Free, User-Friendly Troubleshooting Guides
The newly released guides are freely available and designed to assist users in effortlessly maintaining their Cryo devices. This valuable resource is available online, providing immediate assistance should any troubleshooting be required with a Cryo unit. Model-specific guides can be accessed by scrolling to the bottom of this article, by clicking on bit.ly/cryo-troubleshooting, or by scanning the QR code.
Ensuring Reliable and Smooth Operations
Known for the high reliability of its chiller devices, Zimmer MedizinSystems is now further supporting its users with these guides aimed at keeping the units optimized and running seamlessly. The guides encapsulate the commitment to quality that the company is renowned for, providing exceptional reliability and longevity unique to Zimmer MedizinSystems' products.
Essential Filter Maintenance for Cryo Units
A vital part of maintaining the cool efficiency of a Cryo unit is timely filter replacement. Zimmer MedizinSystems offers filter replacements for Cryo 7, Cryo 6, and Cryo Mini units – easily purchasable online, ensuring uninterrupted cooling performance as part of regular maintenance.
A Continued Commitment to Excellence
Zimmer MedizinSystems continues to be a world leader in the field of cryotherapy devices, now making detailed instructions and maintenance tips even more accessible. The new Troubleshooting Guides stand as a testament to the company's dedication to user satisfaction and product excellence. Visit bit.ly/cryo-troubleshooting today or download your guide below to learn more about maintaining the optimal performance of these advanced devices.