Zimmer MedizinSystems Awarded "Company of the Year" for Pain Management Devices by MedTech Outlook Magazine
January 17, 2023
Scroll down to read the article in MedTech Outlook magazine.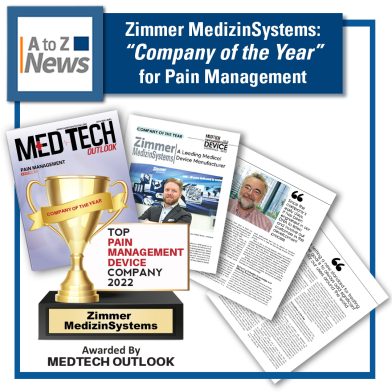 We are honored to have been awarded "Company of the Year" for Pain Management Devices by MedTech Outlook magazine. We celebrate this with great appreciation for the practitioners who contribute their expertise to help us advance our product research and development.
The magazine notes, "The work and expertise that goes into the development process show in the quality of Zimmer MedizinSystems' products. Many practitioners and medical professionals who use the therapies are intensively involved in their development." The article gives an interesting overview of pain management in the United States over the past decade. It reports that when treating chronic pain, Americans have increasingly turned to physical therapy, or chiropractic medicine, opting for alternatives to opioids. Zimmer MedizinSystems is helping push this wave of alternatives by providing practices with introductions and training for options that they may not have considered. This approach opens new treatment paths for patients and gives practitioners additional revenue streams. 
By involving our customers in the development process, Zimmer MedizinSystems provides high-quality, intuitive, and results-oriented devices. This collaborative approach ensures that we are bringing needed products to the pain management field. And through discussions and practitioner feedback, we know where we can help train and educate to bridge gaps. 
MedTech Outlook magazine also considered the breadth of our product offerings in pain management. The article highlights, "No other producer of therapy modalities has the same wide range in this space. Therapies include High Energy Inductive Therapy (HEIT), ultrasound, electrotherapy, combination therapy, high power laser, radial pulse wave [shockwave]…and TECAR therapy." 
For more on our devices, approach to innovation, and product training, this article is a great way to understand the scope of our company. 
Read the full article below to learn why MedTech Outlook magazine chose us to receive the top honor of "Company of the Year" for Pain Management Devices.
BITE-SIZED EXCERPTS
"What differentiates Zimmer MedizinSystems is the broad choices a clinician can get from one single manufacturer in the space of physical medicine and pain management."
"We are setting a new standard for treating pain. The goal is to always add significant value for our users around the world." – Robert Wilber, President of Zimmer MedizinSystems
"Cryo by Zimmer MedizinSystems has been the gold standard in skin cooling for many years."
"There is so much more included when clinicians decide on a Zimmer MedizinSystems product. Most of our clients appreciate the extensive training and gold standard service support that comes with it." – Robert Wilber, President of Zimmer MedizinSystems
"Monitoring the U.S. healthcare system closely for years, Zimmer MedizinSystems realizes that the industry has historically focused on treating symptoms instead of resolving the root cause of an issue."