Dr. Joel L. Cohen on Cryo as an Integral Part of Pain Management for Dermatological Procedures
– A to Z News Video + Bonus Interview with Dr. Joel L. Cohen
"At both of our offices, we have Zimmer [MedizinSystems] Chillers and this is really an integral part of how we manage patients' discomfort for many of the procedures we do."
Read the Q&A and then scroll below for the video by Joel L. Cohen, MD of AboutSkin Dermatology and DermSurgery 
By Regina West; May 3, 2022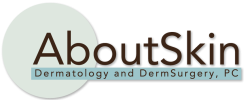 Scroll down for video.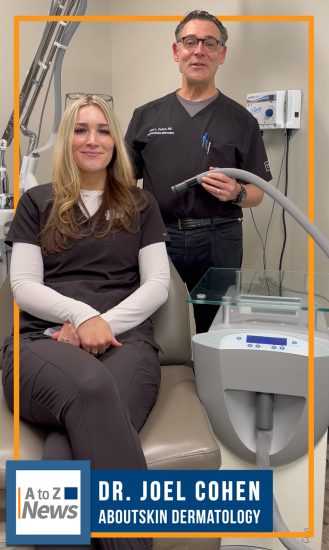 Dr. Joel L. Cohen, Medical Director of AboutSkin Dermatology and DermSurgery, discussed with A to Z News how Z Cryo helps to minimize procedure pain. It is widely acknowledged that laser and injection treatments may cause some patients a degree of irritation. Dr. Cohen noted, "At both of our offices, we have Zimmer Chillers and this is really an integral part of how we manage patients' discomfort for many of the procedures we do."
Localized cryotherapy with Z Cryo takes in regular room air and chills it to temperatures as low as -30°C (-22°F). The below-freezing air is then delivered to the treatment area via a therapy hose. This localized cold therapy method targets areas that are experiencing acute pain and inflammation. Skin cooling is particularly effective in reducing the risk of thermal injury to the skin with laser procedures. Cryo by Zimmer MedizinSystems can soothe the treatment area before, during, and after laser applications without interfering with the laser beam.
In the video below, Dr. Cohen listed a number of lasers and procedures with which he uses Z Cryo.  "Starting with non-ablative treatments, such as IPL and very focal BBL, or pulsed dye laser treatments with the V-beam. We'll use a Zimmer Chiller for many of these people to really help overcome a little bit of that discomfort during the treatment." He added, "We routinely use it for non-ablative fractional treatments like fractional thulium 1927… 1540… It is an integral part of the Halo® system… so that's built into the handpiece, but we also use it for many other handpieces." He commented that AboutSkin also implements Z Cryo with fractional CO2, fractional erbium, and full-field erbium laser treatments "so that patients can tolerate procedures better". Z Cryo can provide an additional layer of safety and comfort, said Dr. Cohen, even when nitrous oxide, PRO-NOX™, and nerve blocking agents are also in use.
Dr. Cohen ran down some of the dermatological conditions that he treats with an erbium laser with Z Cryo as an adjunct. "I routinely use [Z Cryo] for single-shot erbium," he started, "which I use for macular seborrheic keratoses, xanthelasma, and even sometimes some sebaceous hyperplasia, and part of skin tag removal."
But the utility of his Zimmer MedizinSystems cryo machine doesn't begin and end with lasers. Dr. Cohen explained how cryotherapy is beneficial with treatments for hair regrowth. "It is an important part of Platelet Rich Plasma (PRP) treatments that we do in the scalp," he said, as he illustrated the procedure with a member of his cosmetic team. "To pinpoint the area that we're going to inject and really help freeze that skin a little bit so that they're better able to tolerate the procedure."
"Having Zimmers in the office is really key for us at AboutSkin Dermatology," Dr. Cohen ended. "This really helps manage discomfort for our patients."
Dr. Cohen and AboutSkin Dermatology shared this video and comments about Zimmer MedizinSystems cryotherapy without receiving compensation of any kind.
A to Z News Interview with Joel Cohen, MD of AboutSkin Dermatology and DermSurgery
---
A to Z News:    In the video, you highlighted numerous aesthetic and traditional dermatological procedures where you integrate Z Cryo to manage patient discomfort. You mentioned that you use the Z Cryo with IPL (Intense Pulsed Light), BBL (Broadband Light), Pulse Dye laser with Vbeam®, fractional thulium, Halo®, and others. Using one of these treatments as an example, can you describe for the layperson how this cryotherapy system works to minimize procedure pain before, during and after the laser is administered?
JC:     While the Zimmer device is integrated into the Sciton Halo® hybrid fractional laser, when I am treating multiple areas with the Halo® for a patient on the same visit (like face, neck, and chest) we often use a second Zimmer to cool the area that just finished its treatment. An example would be cooling the face when we have progressed down to the neck or chest. In addition, for some people who find the Vbeam® Perfecta uncomfortable, we often incorporate the Zimmer to help them tolerate the procedure better. Most people tolerate fractional thulium laser treatments (like Sciton Moxi®) without difficulty by simply using some topical anesthetic alone. But some people like have the Zimmer on during the treatment – especially for areas of the face that tend to be a little bit more sensitive, including the upper lip and cheekbone areas.
A to Z News:     You talked mainly about the pain minimization aspects of using Cryo by Zimmer MedizinSystems. You said, "[Z Cryo] is an integral part of how we manage patients' discomfort." Can you explain other aspects of how Z Cryo benefits treatments? For example, by reducing heat and risk of thermal injury to the skin?
JC:     For some procedures like MaxG™ IPL (Cynosure) or BBL™ (Sciton), patients feel warm during the treatment – and some prefer to have a Zimmer chiller helping them minimize that heat during the procedure. With the new BBL™ HERO's lower fluences yet more pulses, however, I believe the intra-procedure heat can be helpful with collagen stimulation and tightening (such as on the neck and décolleté). So, we tend to avoid the Zimmer during the procedure. But the Zimmer chiller is super helpful to minimize the discomfort and the patient's startled responses during the pulses of bipolar fractional radiofrequency treatments (RF microneedling like Morpheus8®). And I do believe patients get a better treatment that way as they can tolerate more pulses, deeper pulses, and more energy.
A to Z News:     You also mentioned that you may sometimes use a combination strategy for pain management, pairing the Zimmer MedizinSystems chiller with nerve blocking agents or nitrous oxide. You specifically noted this combination with fractional CO2, fractional erbium, and full-field erbium. Can you talk more about your use of Z Cryo together with products like lidocaine or PRO-NOX™?
JC:     For many patients, I have them do a loading dose of PRO-NOX™ nitrous (with 7-8 deep breaths and a nose clip on) prior to the regional anesthetic blocks of ablative resurfacing and ablative fractional resurfacing. During the course of the blocks, as well as the procedure, we incorporate the Zimmer chiller to help the patient tolerate the heat and the vibration that patients still feel despite the nerve block.
A to Z News:     You mentioned that your offices use Z Cryo to ease discomfort from PRP (Platelet Rich Plasma) injections. Do you use it with other types of injections?
JC:    For many people, PRP injections for hair loss can be uncomfortable. When I brought PRP into our office in 2016, we immediately started to incorporate a Zimmer chiller. During the procedure, we blow the cold air directly to the current needle stick and also to the next adjacent site. I see first-hand how this helps people every day. We also routinely use the Zimmer chiller the same way at the site of neuromodulator (Dysport®, Jeuveau™,  Xeomin®, BOTOX®) injections for the underarms/palms/soles.
A to Z News:     We can see that you get a good amount of daily use out of the chiller with all of the treatments that it integrates into. How long have you been using your Z Cryo devices? Can you estimate how many hours per day/month you typically use it? How does it hold up under that amount of use?
JC:    I bought our first Zimmer chiller in 2006, and it is still in use today! It is a reliable system that has rarely needed fixing over all of these years. Since then, we have brought on several devices that have a Zimmer attached to them, including the Cynosure Cynergy™ laser as well as the Halo® laser. And then recently, we brought on another stand-alone Zimmer Cryo unit to use for the thulium, RF microneedling, PRP sessions, and hyperhidrosis treatments mentioned above.
Scroll below to view the ZCryo video by Dr. Joel L. Cohen.
About AboutSkin Dermatology and DermSurgery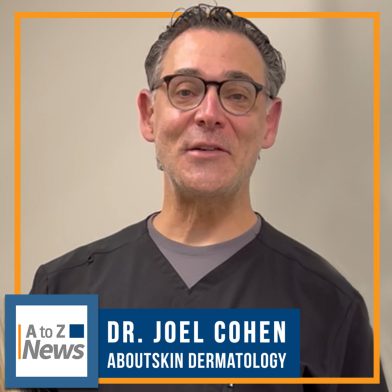 Joel L. Cohen, MD is the Medical Director of AboutSkin Dermatology and DermSurgery. He is board-certified by the American Board of Dermatology and was fellowship-trained in Mohs micrographic surgery, lasers, aesthetics, and dermatologic oncology. A true expert in his field, Dr. Cohen is widely quoted in popular publications, has published more than 270 scientific medical articles and book chapters, and has co-authored three academic textbooks.
AboutSkin Dermatology and DermSurgery offers an array of medical and aesthetic dermatological services. Medical services include skin cancer screenings and Mohs surgery, photodynamic therapy, and treatments for acne, rosacea, psoriasis, and other skin concerns. The practice's aesthetic dermatology services include injections like BOTOX®, Dysport®, Xeomin®, Jeuveau™, and dermal fillers. The offices also offer laser hair removal, laser skin resurfacing, intense pulsed light (IPL), chemical peels, microdermabrasion, and microneedling. Skin tightening and fat reduction treatments for the face and body are also available. Procedures including Ultherapy, Kybella®, Emsculpt neo®, and Genius® RadioFrequency are administered on-premises.
To learn more about the services available at AboutSkin Dermatology and DermSurgery, you may visit them online at www.aboutskinderm.com. The practice has two offices, located in Greenwood Village and Lone Tree, Colorado.
About Zimmer Cryo
The Zimmer MedizinSystems Z Cryo system delivers cold air as low as -30°C. In physical therapy, the cooled air can be used for efficient pain treatment, swelling reduction, and muscle relaxation. The system enables cryotherapy with precise placement and at a constant dosage, every time. In aesthetic medicine, Z Cryo is intended to minimize pain and thermal injury during laser and dermatological treatments. The "chiller" provides temporary topical anesthetic relief during injections, tattoo application, tattoo removal, RF, laser hair removal, and much more. Unlike other cooling methods, such as contact cooling, cryogen spray, and ice packs, cryo by Zimmer MedizinSystems can cool the epidermis before, during, and after the laser energy has been applied, without interfering with the laser beam. For more information about cryotherapy devices by Zimmer MedizinSystems, please view a web overview of the product. You may also contact Zimmer MedizinSystems any time by phone or email.