Dr. Clemons of Renovus Medical Spa Softens and Repairs Thick, Fibrotic Scar Tissue with Non-invasive Z Wave
– Z News Video + Bonus Interview with Dr. Clemons
"By using the Z Wave, it allows us to go the extra mile and combine multiple modalities to address the causation of their problems. It is much more desirable to treat instead of just 'bandaid' their issues."
Some of the applications discussed by Dr. Clemons are considered off-label use and are for informational purposes only. Zimmer MedizinSystems does not market Z Wave for Erectile Dysfunction (ED).
Read the Q&A and then scroll below for the video by Dr. Donald Clemons of Renovus Medical Spa
By Regina West; September 21, 2020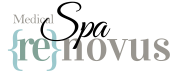 Scroll down for video.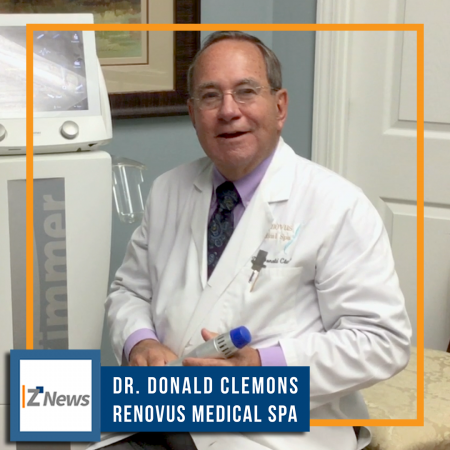 Board Certified Dermatologist, Dr. Donald Clemons, recounted some success stories about innovative Z Wave treatments he has administered to soften problematic scar tissue. In this Z News video, Dr. Clemons reviewed how the non-invasive device achieved both aesthetic and medical benefits for his patients. The video, along with a follow-up interview with Dr. Clemons, can be viewed below.
One year ago, Dr. Clemons' practice, Renovus Medical Spa, began using Z Wave to produce enhanced CoolSculpting™ (Cryolipolysis™) results for patients and to treat Erectile Dysfunction (ED). Dr. Clemons noted that he "fell in love with the results".  He also saw the potential of the Radial Pulse Technology device for other types of treatments. He began to use Z Wave to treat fibrotic scar tissue.
As an example, Dr. Clemons first described a case where a patient in her twenties came to him with facial deformation. It resulted from a surgery she had undergone as a preteen. Wound dehiscence had left thick, facial scarring and drooping on the right side of her face. He believed that the thick scarring would prevent him from being able to restore her face's natural contour with dermal filler. Attempting to soften and revise the scar, he treated the area with Z Wave for 3 weeks, at about 2 treatments per week, for a total of five to six treatments. "It softened that scar that much, I was able to use the Bellafill to get a lift," said Dr. Clemons. He shared the patient's before and after images, which revealed a barely visible scar following the Z Wave treatments. In his follow-up interview with Z News, Dr. Clemons said: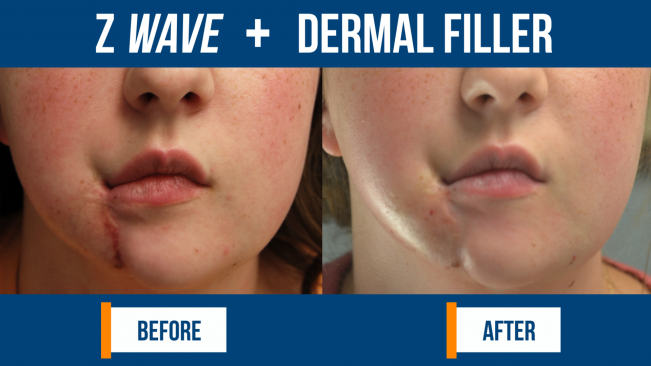 "The surgically scarred patient significantly softened and released her bound down scar sufficiently so that I was able to elevate and restore most of her presurgical contour. I could not mobilize the tissue enough before the Z Wave that I would have felt comfortable treating her."
(You may read the rest of the Z News interview with Dr. Clemons below.)
Dr. Clemons continued, describing three other cases in which he used the Zimmer Z Wave to soften fibrotic scarring. He successfully resolved a patient's contractures and scarring from knee surgery. The thick tissue had been limiting the patient's mobility and range of motion. "Her [physical] therapist is amazed in measuring her," said Dr. Clemons. "Just in a matter of about six weeks of treatment, she is almost resolved with almost complete mobility, and the majority of her pain now is gone… it worked beautifully with her." He described the therapist's reaction.  "She's never seen anything work that fast and that well. She's talking about sending me some of her problem patients."
In another case, Dr. Clemons detailed treating a patient's acne scars with Bellafill® dermal filler. She experienced some and fibrotic thickening under the skin's surface. "It didn't look bad, it just felt a little too firm," said the doctor. He softened the tissue using Z Wave and reported, "the skin is a lot more supple and soft. She's very pleased." (See follow-up question about this case in interview below.)
Lastly, Dr. Clemons shared a case where a patient developed thick surgical scars following blepharoplasty at another practice. He summarized, "Using the Zimmer on both sides of her hypertrophic scars, lateral to her eyes, [with] a little steroid injection, she's softened – just done beautifully with it."
Wrapping up his thoughts on Z Wave treatment for scars, Dr. Clemons concluded, "Think about it for treating fibrotic lesions, it has worked really well in our hands."
Z News Interview with Dr. Donald Clemons of Renovus Medical Spa
Z News:  You mentioned in your video that you "fell in love with the results" achieved by Zimmer Z Wave in relation to body contouring with CoolSculpting™ and in treating Erectile Dysfunction (ED). You later talked about some diverse cases where you were able to soften scar tissue for various aesthetic and medical purposes. It sounds like you have been very innovative in using Z Wave for different applications and are able to improve the lives of many patients. Which Z Wave application do you find to be the most exciting, gratifying or groundbreaking?
DC:  Because of the good results that I was seeing in treating the fibrotic tissue of Peyronie's Disease, I started to see what other uses that I might discover. When this very pretty, but disfigured young lady came in to see if I could help her, I realized that I could not fill in her defect. She was so severely bound down by this thick, immobile fibrotic scar tissue on her lower jaw. I asked her if she would allow me to try to soften the scar and release it to allow me to inject a long-term filler in the region to revolumize her. She agreed and it was successful beyond our dreams. I enjoy helping my patients with innovative therapies when all my colleagues have given up. That is why I remain in practice long after I might have retired. Thinking outside the box has been important for me for a very long time.
Z News:  Let's talk about that case where your patient came to you with facial drooping and deformity from thick surgical scarring. After you tried 5 or 6 Z Wave treatments, the scarring had softened so much that you were able to successfully lift the drooping with Bellafill® dermal filler and give her face more symmetry.  How would you rate the improvement on the scar tissue for that patient? What kind of results would you have anticipated getting from the filler WITHOUT having first softened the scar tissue with Z Wave?
DC:  The surgically scarred patient significantly softened and released her bound down scar sufficiently so that I was able to elevate and restore most of her presurgical contour. I could not mobilize the tissue enough before the Z Wave that I would have felt comfortable treating her.
Z News:  Can you give a little more detail about the acne scarring case you mentioned, where you were able to use Z Wave to soften thickened tissue?
DC:   This was a young lady with severe acne scarring, who had been treated over the years with lasers and actual dermabrasion to flatten the scars. I saw her and started injecting Bellafill throughout the subcutaneous facial regions. Over the past two years, I probably have used 14-16 syringes total, with great results. She began developing excessive fibrotic reaction and her cheeks were beginning to harden and was of concern to both of us. I have done a series of Z Wave treatments to try to soften this and have been extremely happy with the results. The skin is again soft and supple and the patient loves her results.
Z News:  Are there any comments from happy patients who underwent Z Wave treatments that stick out in your mind? What were they treated for?
DC:  Just the many smiles, hugs and gratitude that have been sent my way.
Z News:  Are you able to delegate most/all Z Wave treatments to trained staff? Can you tell us about any instances where you may perform the Z Wave treatments on patients yourself?
DC:  My staff does most of the treatments, although I am available if the patients would rather that I treat them. This is especially true for ED patients who are hesitant to have a female perform therapy.
Z News:  About what percentage improvement in results do you achieve using Z Wave with CoolSculpting™ / Cryolipolysis™ vs. the procedure without adding Z Wave?
DC:  We feel that we are getting 15-20% improvement. It is easier for the staff to massage the treated region with Z Wave and much less painful for the patients.
Z News:  Do you find that it has given you an edge over your competition, having added Z Wave to your practice and having found so many applications for the device?
DC:  By using the Z Wave, it allows us to go the extra mile and combine multiple modalities to address the causation of their problems. It is much more desirable to treat instead of just "bandaid" their issues.
Dr. Clemons provided this video and comments about Zimmer Z Wave without receiving compensation of any kind.
Scroll below to view the Z Wave testimonial video by Dr. Donald Clemons.
About Renovus Medical Spa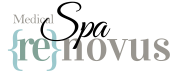 Dr. Donald Clemons is a board-certified dermatologist and the Medical Director of Renovus Medical Spa. He is one of the most experienced and leading dermatologists in Tennessee's Tri Cities area. Ten years ago, Dr. Clemons shuttered his traditional dermatology practice to focus on cosmetic dermatology.
Renovus Medical Spa offers aesthetic services, cosmetic procedures and their own line of skin care products. Some patients of the medical spa seek aesthetic treatments, like a revitalizing trip to the infrared sauna or laser hair removal. As well, the medical spa offers Dysport®, Restylane®, and Bellafill® injection treatments to restore lost volume, smooth lines and enhance facial contours. Non-invasive fat reduction, skin tightening and body contouring treatments are available. Some of these include CoolSculpting™, the hCG diet and Zimmer Z Wave. Renovus Medical Spa also administers Z Wave treatments for cellulite. Their website contains more information on this quick and painless procedure. Men and women with concerns about bladder incontinence and intimate wellness may inquire about these treatments available at the practice.
Renovus Medical Spa is Tennessee's destination for patients who desire medically-based, results-oriented skin and body treatments. The office is in Johnson City, Tennessee. To learn more about the practice and the services offered, visit their website at www.renovusbeauty.com.
About Zimmer Z Wave
The Zimmer Z Wave transmits powerful sound waves into the tissue. The energy then spreads out radially to enhance the treatment effect (Radial Pulse Therapy). The body responds to these sound waves with increased metabolic activity in the form of lymphatic drainage and increased blood circulation. The result is an improvement in the appearance of cellulite and improved results when used with other body contouring procedures. For more information about the Z Wave, visit a web overview of the product. You may also contact Zimmer any time by phone or email.