World-Class Athlete, Claudette Groenendaal, Says emFieldPro Worked Immediately and Has Now Become Part of Her Strategic Training Regimen
– A to Z News Features World-Class Athlete, Claudette Groenendaal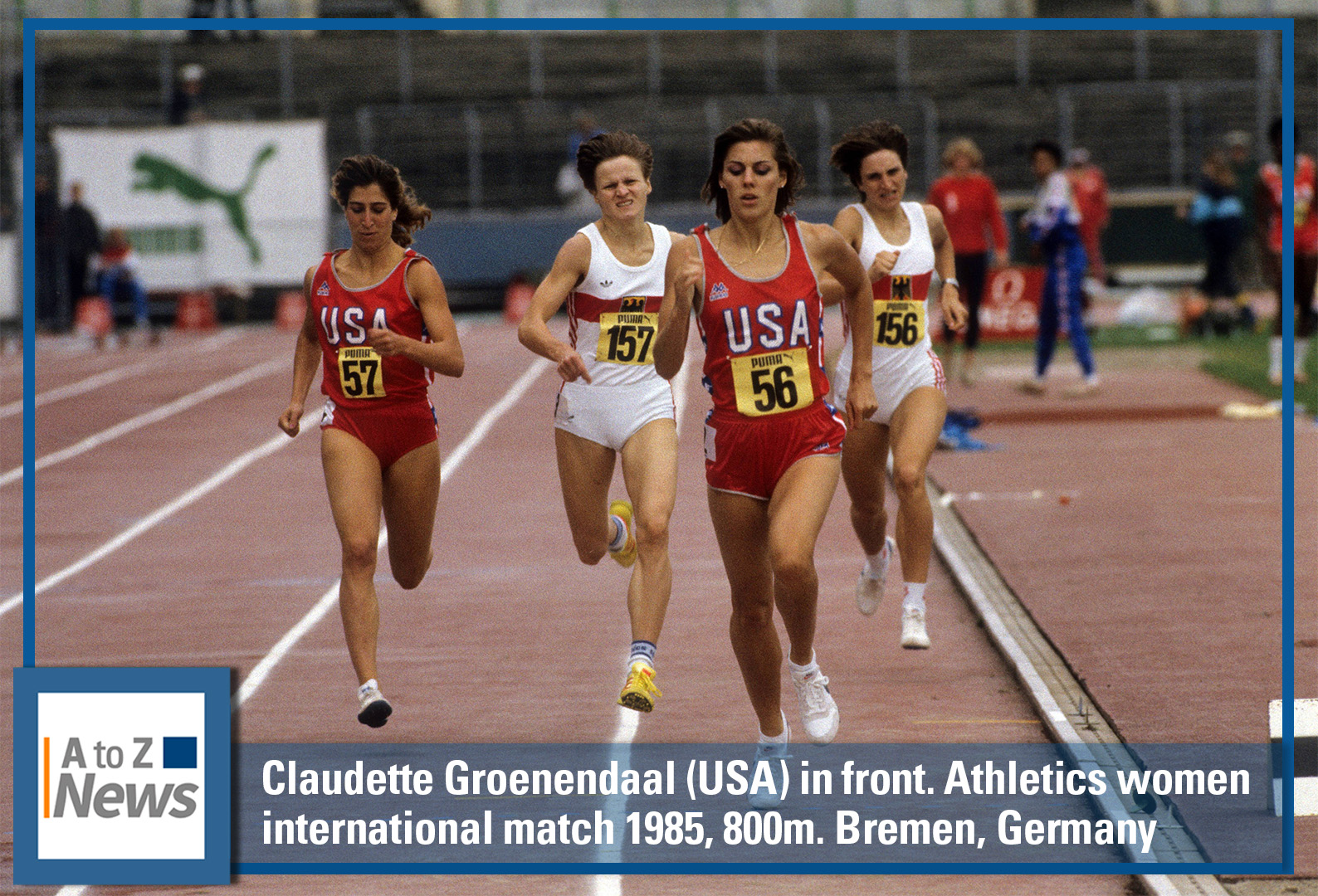 "[emFieldPro] is the best! I'm so happy with the machine and treatment results I'm getting for my back pain."
"I'm getting treated for my upper and lower back. I have slight kyphosis and lordosis so when the doctor first used the emField machine on my upper back, I could immediately feel my back unclenching. I also noticed an immediate difference during my interval training later that afternoon and it allowed me to run much more effortlessly. The difference is amazing!"
Scroll below for the video featuring Claudette Groenendaal with Dr. Michael Sheps
By Regina West; February 15, 2023
Scroll down for video.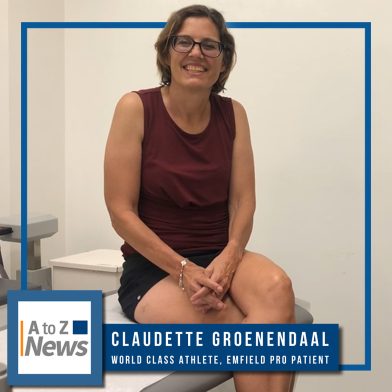 If Claudette Groenendaal looks familiar, it might be because you've seen her on the cover of The Runner magazine. A world-class athlete, she is a National Champion of the NCAA in the 800 meters as well as in the 1500 meters. She set the collegiate record in the 800 meters in 1985 and held it for over 25 years, and she still holds the school record for the University of Oregon. Additionally, Claudette was a two-time US Champion (USA Track and Field) in the 800 meters after graduating college. If that's not enough, she also set the world record for her age group (50-59) for the 4 x 800 meters relay. For many years, shoe companies sponsored her and she traveled to Europe every summer to compete.
In the A to Z News video below, Claudette speaks with Vice President of Sales at Zimmer MedizinSystems, Gerold Gabele, about her experience being introduced to the emFieldPro. She had already tried different treatment modalities, which were "OK", but the energy radiating from the emFieldPro gave her immediate relief. She says she's been sharing her enthusiasm with everyone in her athletic circle, spreading the word about emFieldPro ever since.
"When Dr. Sheps first put the [emFieldPro] on my back…  it was a game-changer for me. I love these treatments and when I'm traveling for work… I notice a difference when I'm not having them… When it's working on my back I feel it unclenching…and I just feel everything in my back and lower back opening up and it's been a wonderful experience. I couldn't be more happy."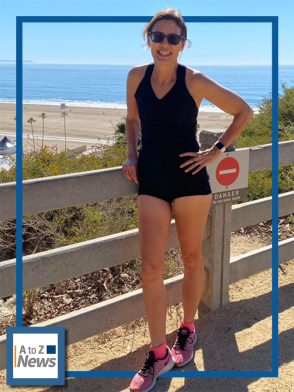 On a visit to chiropractor Dr. Michael Sheps, at Pacific Coast Sports Medicine in West Los Angeles, Claudette explained that the emFieldPro achieves two distinctly different things for her. First, it relieves pain from her kyphosis and lordosis (which give her back issues with poor posture and tightness). Second, it has become an important element in her training regimen. As she describes, with age, athletes need to be more strategic in training to avoid injury. This means that today, as a masters athlete (a class for athletes over 35 years old), she needs to pay more attention to pre-care and after-care. A part of her personal strategy now includes incorporating regular treatments with the emFieldPro. "As an older athlete, you have to be much more careful – and so having access to something like this is instrumental to my training. And it's something I wish I would have had when I was younger." She says that her training was already positively affected after her first treatment. "In fact, there is a picture of me jumping [after my first workout post-treatment] because I'm so excited. It was amazing."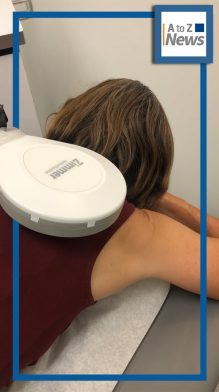 A to Z News visited with Dr. Sheps to see him demonstrate with Claudette how her emFieldPro treatments are performed. In the video, Claudette says, "It just feels so great! And I like trying this different frequency because it feels different… I'm just feeling it in a different way. It's just the best. I am sure Dr. Sheps got tired of me that first two months because I just was ranting about how much I loved it every second." You can hear the different frequencies being applied to her upper back, as she lies comfortably prone. These different frequencies are a feature of the emFieldPro which can deliver anywhere between 1-150 Hz. The doctor decides treatment, and custom programs can be easily saved to make future visits more convenient for both the patient and practitioner. Treatments are also performed quite quickly, taking about ten minutes from the moment the machine is positioned and turned on.
As you can see in the video, the energy delivered via the applicator is quite strong, but not uncomfortable. In fact, Claudette says she enjoys the sensation. For the treatment Claudette receives, the applicator doesn't even need to have direct skin contact. This demonstrates how powerful the emFieldPro is, generating a magnetic field of up to 3 Tesla.
The emFieldPro has two different applicators: one for static treatment and one for dynamic treatment. The practitioner selects one, depending on the treatment requirements. The machine stimulates muscles using High Energy Inductive Therapy. The body absorbs the electromagnetic field being delivered by the emFieldPro, which penetrates cells and activates the electrochemistry of tissues and cell membrane function.
Dr. Sheps points out that one of the nice things about the emFieldPro is that it's easy and safe to use, and for the most part, treatment can be unattended.
Claudette Groenendaal and Dr. Michael Sheps provided this video and comments about Zimmer MedizinSystems' emFieldPro without receiving compensation of any kind.
Scroll to the bottom of the page to watch Claudette Groenendaal and Dr. Michael Sheps talk about her treatment with emFieldPro and how it has become part of her training regimen.
About Dr. Michael Sheps
---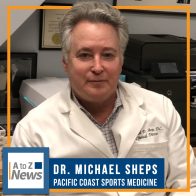 The practice of Michael Sheps, D.C. specializes in high intensity laser therapy, spinal decompression, and chiropractic care. His practice follows a "whole person" treatment philosophy. Rather than simply treating symptoms, Dr. Sheps analyzes the underlying causes of a patient's discomfort and creates a treatment plan that is unique to the individual.
Dr. Sheps performs spinal and cervical manipulation to help relieve back and neck pain due to conditions like herniated and bulging discs, arthritis, pinched nerves and sciatica. An adherent to multidisciplinary, solutions-driven research, he offers other safe alternatives to surgery and medication. Some of these include treatment with Zimmer MedizinSytems' OptonPro high power laser, the emFieldPro High Energy Inductive Therapy, and extracorporeal shockwave therapy. Additionally, he has developed patent-pending protocols for pain management and musculoskeletal treatments that combine laser therapy, cryotherapy, decompression, shockwave therapy, muscle stimulation, and sequential compression.
Over the course of his 36 years in practice, Dr. Sheps has developed chiropractic and patent-pending pain management protocols that have won the trust of professional athletes, the US Department of Defense's Wounded Warriors program, celebrities, and patients seeking relief.
The office of Dr. Sheps is located in Los Angeles, California. To learn more about his practice and services, visit the website at www.drsheps.com. You may also visit Pacific Coast Sports Medicine online at www.pacificcoastsportsmedicine.com.
About emFieldPro by Zimmer MedizinSystems
---
emFieldPro is a High Energy Inductive Therapy (HEIT) device. The non-invasive system, manufactured by Zimmer MedizinSysteme, generates a magnetic field of up to 3 Tesla, which is about 600 times stronger than a normal magnet. This strong magnetic field stimulates nerve cells, muscles, and blood vessels. emFieldPro is FDA-cleared for treatment of clinical indications such as muscle spasm relaxation, prevention or retardation of disuse atrophy, increasing local blood circulation, muscle re-education, immediate post-surgical stimulation of calf muscles to prevent venous thrombosis and maintaining or increasing range of motion.
emFieldPro therapy offers full and painless penetration. The system provides both static and dynamic applicators for flexibility in treating different pain and trigger points. No-contact transducers eliminate any need for patients to disrobe, facilitating a comfortable therapeutic experience.
For over 50 years, Zimmer MedizinSysteme, the German parent of the American company, Zimmer MedizinSystems, has been an innovator in the field of medical device manufacturing. Their engineering excellence has resulted in the exemplary emFieldPro device, taking HEIT to new heights.
For more information about the Zimmer MedizinSystems emFieldPro device, please view a web overview of the product. You may also contact Zimmer MedizinSystems any time by phone or email.