Chiropractic Economics Mag Features emFieldPro Case Studies
As seen in issue 3 of Chiropractic Economics magazine.

February 6, 2023
Scroll down to read the article in Chiropractic Economics magazine.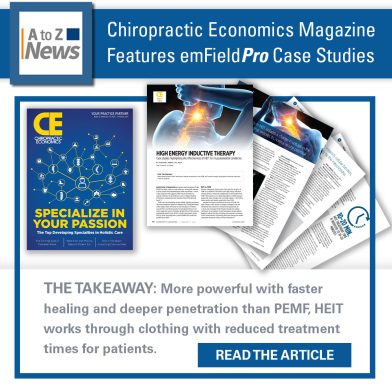 Dr. Sheps of Pacific Coast Sports Medicine shares case studies and his remarkable results with the emFieldPro device by Zimmer MedizinSystems. In the article, Dr. Sheps explains that "another therapeutic device exists that takes the benefits of PEMF to a new level… PEMF is an exceptional modality to reduce pain and inflammation, and stimulate nerve repair. HEIT is all that and much more: faster results and deeper penetration than PEMF. Additionally, it can contract muscles, whereas the majority of PEMF devices possess such low potency that patients can barely feel them, and no muscle contractions are induced." 
Dr. Sheps continues, "High energy inductive therapy has shown impressive results for various clinical indications." His examples include cases of radiating neck pain, rib fractures, and an athlete presenting with tennis elbow – all of whom had impressive healing and reduced pain after emFieldPro HEIT treatments.
The article states, "THE TAKEAWAY: More powerful with faster healing and deeper penetration than PEMF, HEIT works through clothing with reduced treatment times for patients."
Read Dr. Shep's article to find out why HEIT is so impactful!
Use the controls below to scroll between pages in the article.
You may also read the article in Chiropractic Economics Magazine, Issue 3: February 17, 2023
Zimmer_Tech-Talk-1_CHEC_3-2023_No-Ads