New White Paper by Nurse Practitioner, China Battista:
"Z Wave (RSWT) Treatment for QWO® Side Effects and Increased Efficacy"
By Regina West; November 1, 2021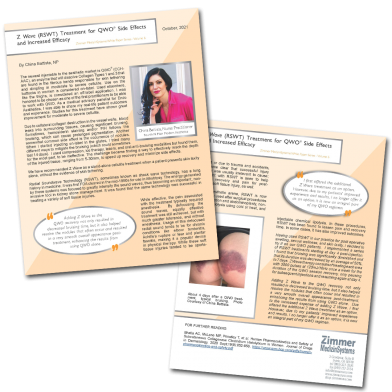 Scroll down below article or click to go directly to the complete 2-page paper.
Nurse Practitioner, China Battista, has authored a new white paper that was published in volume 6 of the Zimmer MedizinSystems White Paper Series. The paper, "Z Wave (RSWT) Treatment for QWO® Side Effects and Increased Efficacy", begins by reviewing numerous uses for the device in the Physical Medicine and Aesthetics fields. It then details her protocol and results from using Z Wave as an adjunct to QWO, a newer technology for treating cellulite.
The paper examines Battista's findings: Z Wave Radial Pulse Technology significantly diminished QWO side effects like duration of bruising and nodules, and enhanced the results compared to using QWO alone. Bruising time was decreased by an average of 50%. Combination therapy shows marked improvement in cellulite of the buttocks within a 90-day treatment period. The paper includes a patient photo showing the typical bruising at 4 days post QWO, before the implementation of Z Wave treatments.
The white paper concludes, "I first offered the additional Z Wave treatment as an option. However, due to my patients' improved experience and results, I no longer offer it as an option; it is now an integral part of my QWO regimen."
Scroll down to read the complete 2-page paper,
"Z Wave (RSWT) Treatment for QWO® Side Effects and Increased Efficacy", by China Battista, NP.
About China Battista, NP
China Battista began her career as a burn ICU nurse. There, her passion for critical care nursing and plastic surgery developed. She was inspired to continue her education and subsequently graduated at the top of her class at Wagner College. After earning her degree as a Family Nurse Practitioner, she practiced emergency medicine for over a decade.
Integrating her extensive experience in aesthetics and emergency medicine, today Battista practices under the direction of board-certified plastic surgeon, Dr. Michael Nagy at Fourth N Main Modern Aesthetics in Asbury Park, New Jersey. She performs and oversees non-invasive and minimally-invasive aesthetic services for the body and face. This includes procedures for cellulite and body contouring, injectables, antiaging, and laser hair removal. Additionally, she is a trained provider in Vampire PRP and other Platelet Rich Plasma procedures.
About Z Wave by Zimmer MedizinSystems
The Z Wave by Zimmer MedizinSystems transmits powerful sound waves into the tissue. The energy then spreads out radially to enhance the treatment effect (Radial Pulse Therapy). The body responds to these sound waves with increased metabolic activity in the form of lymphatic drainage and increased blood circulation. This results in a reduction of the appearance of cellulite, for which Z Wave is FDA cleared. Additionally, studies and practitioners have found that Z Wave enables improved results when used with other body contouring procedures and devices. Z Wave was also shown to accelerate tattoo clearance when used in conjunction with laser tattoo removal treatments. For more information about the Z Wave, visit a web overview of the product. You may also contact Zimmer MedizinSystems any time by phone or email.
Below is the complete report by China Battista, NP