"Fairy Facial Mother" of Beverly Hills Talks about Her "Obsession" with Z Cryo for Facial Cryotherapy and Integration with Other Treatments
– Z News Video and Interview with Clinical Skin Care Specialist, Jacky Banayan
Read the Q&A and then scroll below for Jacky Banayan's video.
By Regina West; February 27, 2020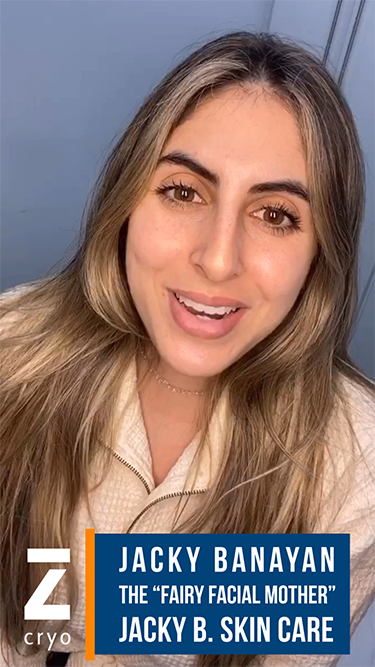 Scroll down for video.
Clinical Skin Care Specialist, Jacky Banayan, is known as the "Fairy Facial Mother" of Beverly Hills. She recorded a video for Z News in which she discussed her "obsession" with her Zimmer Cryo device for facial cryotherapy and for its integration into most of her other treatments.
The video reviews some of Banayan's thoughts on the benefits of cooling the skin using all-natural Zimmer cryotherapy versus other methods of cold therapy. She compared Z Cryo chilled air cryotherapy to methods like ice cubes and nitrogen cryotherapy.
In the video testimonial, Banayan revealed a skin cooling method that she had tried earlier in her career. She confessed that she used ice pieces, wrapped in gauze and plastic wrap. However, she soon found that the messiness and wetness of ice was "counterproductive". Because the ice made her clients' skin wet, skin care products dripped off and could not penetrate effectively into the pores.
Describing why nitrogen cryotherapy is not an optimal choice for her, she said, "The thing about nitrogen cryo machines is that you have the possibility of creating a skin irritation or a skin burn when using it in aesthetics."
Banayan said that she "jumped on it right away" when she discovered how Zimmer cryotherapy works, rapidly chilling natural room air to temperatures as low as -30°C (-22°F) and then directing a controlled flow to the treatment area. She now uses her Z Cryo device to ease discomfort during chemical peels, to calm and cool redness during microdermabrasion treatments, and "to just about add it on to every single thing" that she does. Banayan commented, "It helps with redness. It helps with inflammation. It helps with product penetration. And just overall, it has completely enhanced my treatments."
Treatment demonstrations follow the testimonial to give us a glimpse into the "Fairy Facial Mother" Cryo experience.
Z News later sat down with Banayan for a follow-up interview. She explained why her Zimmer Chiller is invaluable with her treatments and to her business.
Z News Interview with Jacky Banayan: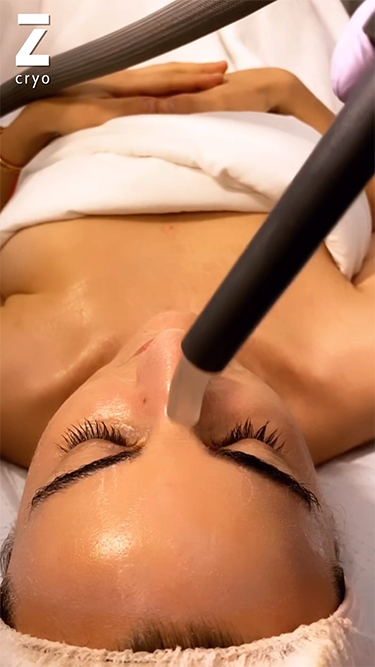 Z News:   What do you use Zimmer Cryo most often for?
JB:   I use the Zimmer Cryo most often for elevating discomfort and heat from treatments. For example, my acne clients can not have a facial without the Cryo now. It makes everything substantially more comfortable.
Z News:   What are some other applications? What kind of treatments do you use Zimmer Cryo with?
JB:   I use this modality in combination with my microdermabrasion treatments for my acne clients, with my chemical peels, and my nano-needling treatments.
Z News:   You have said on social media that your Zimmer Chiller reduces the pain from other "more aggressive" facial treatments. How much would you say it increases comfort, according to your clients? Do you have any examples?
JB:   For my acne clients, during microderm treatments – applying product – the whole process is extremely hot and it stings and is uncomfortable. With the Zimmer Cryo, I am able to soothe their skin, yet still do what I need to do to give them results! Which is so exciting for both parties! 
Z News:   What are some of the benefits that your clients see from Zimmer Cryo treatments?
JB:   For my clients that add the Cryo to their basic treatments, they are able to just go out and about afterward without looking red or feeling embarrassed that people may notice they just received treatment!
Z News:   Why do you love Zimmer's all-natural chilled air for your Cryotherapy so much more than nitrogen Cryo?
JB:   Because this Cryo machine uses all-natural chilled air, I feel confident adding it on to any and every treatment without creating a 'chemical reaction'. Although nitrogen Cryo machines are great, on most of their warning labels they ask you not to use the nitrogen over open wounds, scabs or even sunburns. In the office, when mixing around different acids for chemical peels, or just mixing together Retin-A® with some hydroquinone, you don't want to experiment with a possible reaction from nitrogen. Nitrogen burns can 100% happen.
Z News:   What is your typical treatment protocol?
JB:   Cleanse, extract, ultra sonic, microderm, Cryo during microderm, mask, Cryo during mask, and apply product, Cryo during application!
Z News:   What is your favorite thing about Zimmer Cryo?
JB:   It is clean, relieves redness and provides nourishment & comfort for my clients. It also shows immediate results!
Z News:   What have some of your clients said about their facial Cryotherapy or other Cryo treatments?
JB:   They can no longer have a facial or experience one without it! They love the Cryo. Especially my acne clients and my chemical peel clients!
Z News:   Have you had clients ask about facial Cryotherapy?
JB:   The majority of my clients add it onto their facials!
Z News:   How much are you able to charge for facial Cryotherapy as a stand-alone service and when integrated into other treatments?
JB:   I increased the prices of my chemical peels, Cosmelan® and nano needling, and made Cryo a mandatory add-on, as I believe these treatments are substantially more effective with the Cryo. For all other treatments, Cryo is a $50 add on. And the majority of my clients add it onto every treatment.
Z News:   You mentioned that you used to use ice cubes with plastic wrap for cold therapy. What was this life like before your Zimmer Chiller?
JB:   It was frustrating! Because I needed a way to alleviate heat and discomfort after treatment. But the ice cubes just got everything wet! Not to mention, it wasn't a relaxing process. The Cryo has definitely made everything easier.
Jacky Banayan provided this video and interview about Zimmer Cryo without receiving compensation of any kind.
Scroll below to view the Z Cryo testimonial and treatment video by the "Fairy Facial Mother", Jacky Banayan.
About Jacky Banayan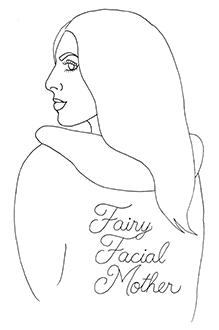 Jacky Banayan is a Clinical Skin Care Specialist, known as the "Fairy Facial Mother". Her office is in the heart of Beverly Hills, California, in the Roxsan medical building, near the world-famous luxury shopping mecca of Rodeo Drive. When entering this professional environment, Banayan says, "You just know you'll be getting the results you have been looking for in a facial!"
Banayan specializes in anti-aging and acne treatments for men and women. She also offers a large array of other aesthetic skin treatments. She offers facial cryotherapy with all-natural Zimmer Cryo, sheet masks, chemical peels, microdermabrasion, facial contouring, microcurrents, micro-needling, ultrasound, radio frequency, LED light therapy, her special "Liquid Gold Blood Facials" and "VIP Red Carpet" treatments,  and many other services for the face, neck, décolletage, back and buttocks. Services are available by appointment only. The quickest way to contact Jacky Banayan is via Direct Message on Instagram at @jackybskincare (www.instagram.com/jackybskincare).
About Zimmer Cryo
The Zimmer Cryo delivers cold air as low as -30°C. The device is intended to minimize pain and thermal injury during laser and dermatological treatments. It also provides temporary topical anesthetic relief during injections, tattoo application, tattoo removal, RF, laser hair removal and much more.  The system can assist in a variety of applications and is particularly useful with cosmetic procedures. Unlike other cooling methods, such as contact cooling, cryogen spray or ice packs, Zimmer Cryo can cool the epidermis before, during and after the laser energy has been applied, without interfering with the laser beam. For more information about Zimmer Cryo devices, please view a web overview of the product. You may also contact Zimmer any time by phone or email.