Aesthetic Insights :
"Versatile Cooling Device Works with Many Modalities"
Cryo by Zimmer MedizinSystems featured in the September 5, 2023 issue of Aesthetic Insights.

September 8, 2023
Scroll down to read the article in Aesthetic Insights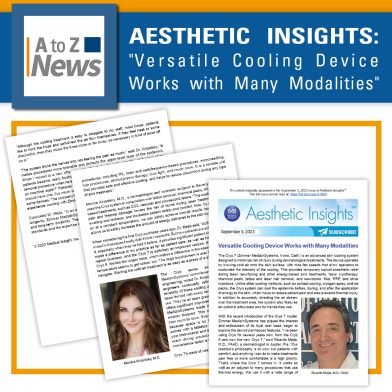 A to Z News is thrilled to spotlight Cryo by Zimmer MedizinSystems, prominently featured in the recent Aesthetic Insights article, "Versatile Cooling Device Works with Many Modalities." Leading physicians, Drs. Ricardo Mejia and Monika Kiripolsky, have shared their expert insights on this top-of-the-line cryotherapy device.
Dermatologist Dr. Ricardo Mejia of Jupiter Dermatology praises the Cryo 7's versatility and its unique ability to enhance comfort levels across an array of aesthetic procedures. "Our practice's philosophy is to wow our patients with comfort… That's where the Cryo 7 comes in," he says. Further elaborating, Dr. Mejia highlights its utility in a wide range of procedures, including IPL, laser and radiofrequency-based treatments, microneedling, hair procedures, and much more. Not to be overlooked, he also observes how the device contributes to repeat business, affirming its benefits extend beyond patient comfort to business success.
Dr. Monika Kiripolsky specifically extols the cryo system's safety and efficiency features. She states, "The cooling minimizes pain and thermal damage, lowers the risk of burns during laser treatments, reduces swelling and redness, and increases patient safety and comfort." She also appreciates its ability to deliver cool air at a constant temperature, enabling practices to achieve quicker and safer results.
Get the details on how Cryo by Zimmer MedizinSystems continues to set the industry standard for patient comfort and procedural efficacy in the complete Aesthetic Insights article below.
Use the controls below to scroll between pages in the article.
You may also read the article in September 5, 2023 issue of Aesthetic Insights.
Versatile Cooling Device Works with Many Modalities 9-5-2023 WEB

EXCERPTS:
Dr. Ricardo Mejia:
---
"Our practice's philosophy is to wow our patients with comfort, and anything I can do to make treatments pain free or more comfortable is a high priority. That's where the Cryo 7 comes in. It works so well as an adjunct to many procedures that use thermal energy."
"We use it with a wide range of procedures, including IPL, laser and radiofrequency-based procedures, microneedling, hair procedures, photodynamic therapy, blue light, and much more. It is a reliable unit that provides safe and effective cooling, and helps to reduce discomfort during any type of skin treatment."
"It provides significant patient comfort, which has made a difference in my practice as far as patient care, as well as helping to generate repeat business."
"The Cryo 7 is definitely an improved version. It's quieter than the Cryo 6. We like the longer hose, which makes a difference in the ease of movement. The temperature seems to get colder, too. The large touchscreen is user friendly and easy to navigate."
Dr. Monika Kiripolsky:
---
"The cooling minimizes pain and thermal damage, lowers the risk of burns during laser treatments, reduces swelling and redness, and increases patient safety and comfort."
"Also, by delivering cool air at a constant temperature, we can safely achieve overall results faster, because it allows us to safely increase the amount of energy delivered to the skin during treatment."
"The system tricks the nerves into not feeling the pain as much. It makes procedures more tolerable and protects the upper-level layer of the epidermis."
"Patients really love it, and I get a ton of use out of it. Every clinic should have one."