Video: Absolute Laser Tattoo Removal Relies on Zimmer Cryo for Skin Cooling during Laser Treatments
"You cannot do without this machine."
By Regina West; June 12, 2019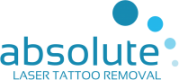 Scroll to bottom for video.
"You cannot do without this machine." That's how Absolute Laser Tattoo Removal nurse, Christina Swift, described the clinic's reliance on their Zimmer Cryo 6 device.
Absolute Laser Tattoo Removal created this video testimonial and treatment demonstration to highlight their use of the 'Zimmer Chiller' for patient comfort and safety. They noted that the cryotherapy technology cools patients' skin to as low as -30°C during laser procedures.
Swift explained that the Zimmer unit's ease of operation facilitates a reduction of skin temperature prior to laser treatments. She began, "It's a simple machine. It doesn't break down. You just have the start button and the power – and that's it – and you're ready to go. This machine will get the patient's skin to negative 30 degrees."
In advance of the treatment, Swift talked her patient through the laser tattoo removal process. She explained, "I like to hold it in the area that we're going to be working on for probably about 20 to 60 seconds to get the area cold. Then I'll get the laser ready and we'll just go to it."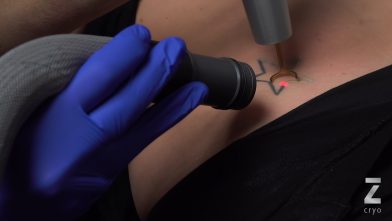 Swift then began the laser tattoo removal using the PicoWay picosecond laser by Candela Medical. She continued to direct cold air from the Zimmer Chiller alongside the laser. The Zimmer skin cooling device helps to minimize pain and protect against thermal injury from laser procedures. Verbally checking in with her patient, Swift gained confirmation that the comfort level was quite tolerable. During the video demonstration, the short tattoo removal session was shown in entirety. The procedure was completed quickly. Happy with the results, Swift concluded, "One treatment – that's awesome." The patient appeared tranquil and free of pain and discomfort.
Absolute Laser Tattoo Removal provided this video and comments about Zimmer Cryo without receiving compensation of any kind.
Scroll below to view the Z Cryo testimonial & demo video by Absolute Laser Tattoo Removal.
About Absolute Laser Tattoo Removal
Absolute Laser Tattoo Removal provides a "Clean Slate Fresh Start" to patients desiring laser tattoo removal. Their skilled and expertly-trained staff offers complimentary consultations, guidance through the process, clean facilities, comfortable treatment, and the most modern technology available.
The clinic utilizes Pico laser technology along with Zimmer Cryotherapy to ensure great results in a reasonable amount of time, and with minimized discomfort. Detailed information about Absolute Laser Tattoo Removal's staff, PicoWay laser, the treatment process and aftercare is presented in clear, easy-to-understand language on the clinic's website. A large portfolio of before-after photographs and procedure videos are also available to peruse. The website additionally highlights an episode of TV's The Doctors in which a PicoWay laser tattoo removal procedure was featured.
Absolute Laser Tattoo Removal has two locations; one in San Diego, CA and one in Hermosa Beach CA. For more information about the clinic and its services, you may visit them online at www.absolutetatremoval.com.
About Zimmer Cryo
The Zimmer Cryo delivers cold air as low as -30°C. The device is intended to minimize pain and thermal injury during laser and dermatological treatments. It also provides temporary topical anesthetic relief during injections, tattoo application, tattoo removal, RF, laser hair removal and much more.  The system can assist in a variety of applications and is particularly useful with cosmetic procedures. Unlike other cooling methods, such as contact cooling, cryogen spray or ice packs, Zimmer Cryo can cool the epidermis before, during and after the laser energy has been applied, without interfering with the laser beam. For more information about Zimmer Cryo devices, please view a web overview of the product.  You may also contact Zimmer any time by phone or email.