5 Reasons Alternative, Non-Invasive Treatment Modalities Benefit Your Business
– Discover key benefits for adding these treatment options to your practice.
September 27, 2023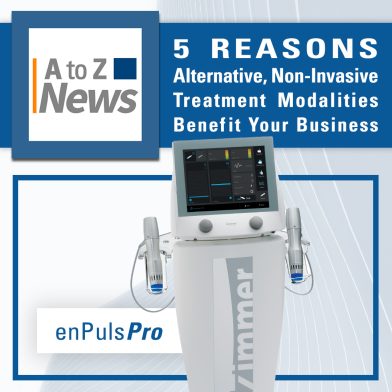 The healthcare landscape is ever-evolving, and patients are increasingly looking for alternative, non-surgical, and drug-free treatment options. Zimmer MedizinSystems offers solutions like our FDA-cleared enPulsPro device for radial pulse shockwave therapy that cater to the specific needs of various types of practitioners, including, but not limited to, podiatrists, physical therapists, chiropractors, and sports medicine professionals. Here are five key advantages of incorporating the enPulsPro into your practice:
---
1. Meet Patient Demand for Alternative Treatments
Many patients are increasingly seeking less invasive treatment alternatives for pain management and tissue repair. By offering enPulsPro — a highly effective, research-backed modality — you provide a viable alternative to steroid injections or even surgical interventions. This not only meets patient demands but also facilitates quicker recovery.
2. Add Additional Revenue Streams
The enPulsPro device provides an effective and lucrative addition to your service offerings, enhancing your clinic's financial health and helping to differentiate your services in a competitive market.
3. Enhance Your Practice's Reputation
Incorporating the enPulsPro, supported by a wealth of research, can position your practice as a frontrunner in offering innovative, non-surgical treatment solutions. This distinction sets you apart from competitors, making it easier to differentiate your services.
4. Benefit from Easy Implementation
Our enPulsPro device is user-friendly and requires minimal staff training. Zimmer MedizinSystems offers comprehensive support to ensure successful integration into your practice.
5. Foster Patient Retention with Versatile Treatment Options
By offering additional treatment options like the enPulsPro, you're not only broadening your services but also increasing patient satisfaction. This dual benefit can make your practice the go-to choice for treatment needs, helping to foster patient loyalty.
For a free demonstration or for additional details on the FDA-cleared indications of the enPulsPro device by Zimmer MedizinSystems, interested parties are encouraged to contact the company's dedicated product specialists.
The team at Zimmer MedizinSystems is eager to collaborate with healthcare providers, with the goal of enhancing patient care, boosting patient satisfaction, and improving the practice's financial performance.