Congratulations, Zimmer Aesthetic Division 3 Category Award Sweep In 2017 Aesthetic Everything Awards
By Regina West; September 19, 2017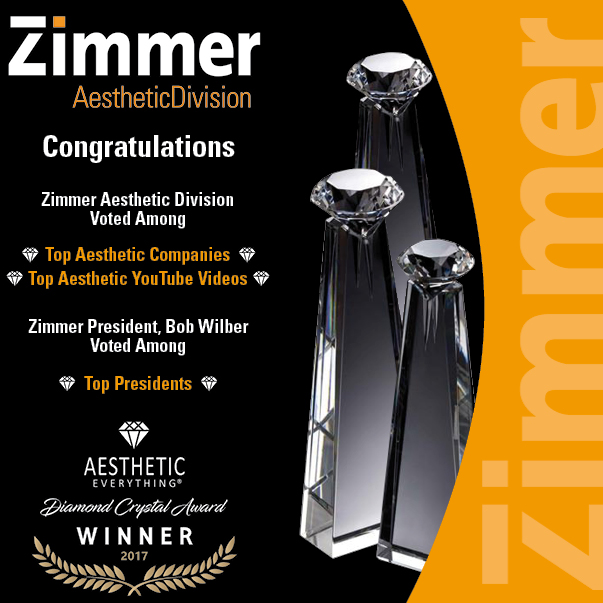 Zimmer Aesthetic Division won big in the 2017 Aesthetic Everything Awards.  The award winners were announced the week of September 18th, 2017.  Zimmer took awards in the categories of "Top Aesthetic Companies" and "Top Aesthetic YouTube Videos."  Zimmer's Boston based President, Bob Wilber was also voted among winners in the "Top Presidents" category.
The winning YouTube video, "Zimmer Z Wave Pro – How It Works – Cellulite Treatment & Enhancing Body Contouring" was newly created and added to YouTube in March of 2017.  The animated video details how the Zimmer device uses Radial Pulse Therapy to combat the appearance of cellulite and in conjunction with body contouring procedures for enhanced results. The notable results of Zimmer's Z WavePro have garnered attention in Aesthetics since its introduction.  (The first Z Wave table top unit was introduced in the USA in 2012 and the Z WavePro, two years later, in 2014.) For over 25 years, Zimmer has been synonymous in the US Aesthetic field with its Cryo "chillers". The technology minimizes pain and thermal injury during laser and dermatological treatments.
In 2016, Zimmer USA celebrated its 30th anniversary in Irvine, California.  Recognized with awards for outstanding product video, top leadership and top company, Zimmer further demonstrated excellence in 2017 with dozens of other new resource video uploads, customer guides, patient pamphlets and a newly overhauled and re-launched website.
Congratulations to the Zimmer Aesthetic Division for its accolades in the Aesthetic Everything Awards and for its redoubled dedication to customer service and company expansion in 2017.