Video: Dr. Hewko Performs an Ankle Treatment with the OptonPro 25W Laser and Discusses the Benefits of High-Power Laser Therapy
– A to Z News  Video + Bonus Interview with Dr. Hewko
"The amount of joules, which is the light, being put into the body, helps stimulate the mitochondria, the cells, to produce more ATP to give the cell more energy to bring… the injured part back into a more normal state – quicker and faster… The majority of the time, patients feel some type of relief right away, on the first treatment, second treatment, every treatment thereafter. They always get up and say they feel better."
Read the Q&A and then scroll below for the video by Dr. Thomas Hewko
By Regina West; September 7, 2021

Scroll down for video.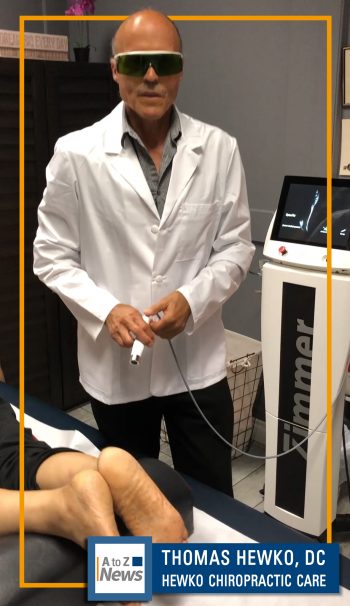 Thomas Hewko, DC, performed a treatment on his patient's sprained and arthritic ankle using the OptonPro 25W high-power laser. He discussed the benefits of using the Zimmer MedizinSystems device in a chiropractic practice while he demonstrated its use.
Dr. Hewko began by remarking that a few easy taps on the laser's interface gets the practitioner up and running. After double-clicking the handpiece to activate the continuous laser light, he began the treatment. "The amount of joules, which is the light, being put into the body, helps stimulate the mitochondria, the cells, to produce more ATP to give the cell more energy to bring… the injured part back into a more normal state – quicker and faster," he explained. "The majority of the time, patients feel some type of relief right away, on the first treatment, second treatment, every treatment thereafter. They always get up and say they feel better."
The high-power laser emits wavelengths of 810 nm, 980 nm and 1064 nm. They can be used simultaneously to stimulate different tissue depths or individually, depending on the needs of each treatment. Dr. Hewko addressed the effect of the laser heat on the patients in his practice. "It's comforting for the patients. They can handle it. It's never overwhelming to the patient. It's soothing… All patients like it… They always get a relief effect from their stress or pain in that area of the body that we do it on."
One of the benefits of treating injuries with a high-power laser, said Dr. Hewko, is the ability to provide therapy without exacerbating pain at the treatment site. "The laser has been a good addition to the office because you don't have to move the injured area. It's not painful. And yet a lot of times, the patients see the effect. Sometimes in acute injuries, it's too painful to move and they don't like it being aggravated." He added, "So it's the perfect modality to use in adjunct with chiropractic."
Dr. Hewko provided this video and comments about Zimmer OptonPro without receiving compensation of any kind.
---
A to Z News Interview with Dr. Thomas Hewko of Hewko Chiropractic Care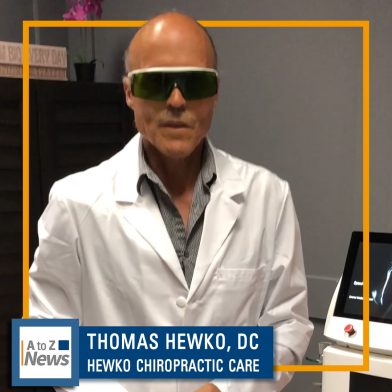 A to Z News:   Dr Hewko, for how long have you been practicing chiropractic?
TH:    I have been involved in chiropractic since 1977 and graduated from Cleveland Chiropractic College in LA in December 1980. I have been a licensed Doctor of Chiropractic since 1981. Directly after my studies, I worked for Dr. Thomas Scott and started out with my own clinic in 1983.
A to Z News:   And for how long have you been using laser therapy in your clinic?
TH:    I got my first laser 9 years ago, which was at that time a low-level laser, also known as a cold laser.
A to Z News:   When did you begin incorporating the OptonPro 25W high power laser therapy into your treatment protocols?
TH:    I tried a high-power laser at a colleague's office and saw very good results, especially in the care of athletes. Being a runner and a competitive athlete, myself, I'm always looking for an edge. I was treated with a high-power laser and saw results on my own injuries. I decided that I needed this for my patients, as well. In 2020, I stumbled across an ad for the OptonPro and got in touch with the Zimmer MedizinSystems sales department. After they provided me with an in-office demonstration, I purchased the device.
A to Z News:    What kind of outcomes and feedback from patients do you get from the OptonPro?
TH:    I do get great results and patients tell me that they feel much better right after treatment. I haven't had one patient for whom I didn't get improvement using this device.
A to Z News:    For what indications have you had the best, most successful outcomes?
TH:    Musculoskeletal indications like knee, neck, back and shoulder pain, as well as sprains and torn ligaments. It even helps with fractures like broken wrist bones and broken fingers.
A to Z News:    How long does a typical OptonPro treatment normally take?
TH:    Normally, depending on the indication, about 5-10 minutes.
A to Z News:    How many treatment sessions does it usually take for patients with pain to get results?
TH:    They get results after the first treatment. And the healing and pain reduction gets accelerated with each visit. On average, I treat patients (depending on their condition) between 3 to 10 times.
A to Z News:   In your experience, what are the biggest differences between low-level laser therapy and high-power laser therapy?
TH:    With the high-power laser, my patients normally feel much better right away, in terms of pain reduction. Whereas with a low-level laser, the treatment benefits take longer to achieve and are usually not immediate.
A to Z News:    Are there any features that you especially like about the OptonPro – 25 Watt?
TH:    Yes, it is very easy and intuitive to use. You just have to switch it on and it the software guides you through therapy.
A to Z News:    Do you ever use combination therapy with the OptonPro and other modalities or treatment types? If so, what are the benefits of using them together?
TH:    Yes, I use massage in combination with laser, as well as PEMF (Pulsed Electromagnetic Fields) with the laser. That helps to accelerate the healing process and the condition of the body.
A to Z News:    Does having the ability to treat with high-power laser therapy help your business to attract more patients or tough cases that others cannot successfully treat?
TH:    Yes, absolutely. Because my patients get results and therefore refer other patients to my clinic. 
A to Z News:    Have you ever worried about causing thermal injury to a patient with a high-power laser that you've used? Does OptonPro's skin temperature sensor help to alleviate those concerns?
TH:    No, it doesn't concern me because I am trained on the correct way to use the device. And there are safety features, like temperature sensor and the threshold test, making it very safe to use.
Scroll below to view the OptonPro treatment demonstration video by Dr. Thomas Hewko.
---
About Hewko Chiropractic Care

Dr. Thomas Hewko has over 40 years of experience in chiropractic, treating adults and children. He approaches treatment from a "whole person" perspective. This involves examining the underlying causes for the patient's pain and discomfort, as opposed to just treating the symptoms. By taking this approach, Dr. Hewko creates customized chiropractic and wellness plans for each of his patients. His practice offers safe, professional treatment alternatives to surgery and medication.
Hewko Chiropractic Care treats back pain, using proven spinal manipulation methods to help relieve pain and correct specific back problems. Non-surgical back pain treatment can help treat herniated and bulging discs, arthritis, pinched nerves and sciatica. Patients experiencing neck problems can be treated with cervical manipulation. Neck adjustments can improve its mobility and restore its range of motion. Non-surgical neck pain treatment can also help treat headaches (including migraines). The practice also provides rehabilitative care for injuries resulting from car accidents, falls and work-related accidents.
The center offers additional innovative treatments to help relieve and correct musculoskeletal injuries and issues. OptonPro high-power laser treatments are available for "therapeutic success at the speed of light".
Hewko Chiropractic Care is located in Santa Ana, California. To learn more about the practice and their services, visit them online at www.hewkochirocare.com.
About OptonPro 25W by Zimmer MedizinSystems
The high-power OptonPro 25 W is the newest model in this German-made laser line. It offers practitioners the ability to provide pain relief therapy "at the speed of light". The device applies high-power light for targeted penetration of energy deep into the tissue. Highlights of the OptonPro laser include up to 25 watts of output power for faster treatments combined with the most modern technology.
The OptonPro's laser light is emitted from an ergonomically shaped laser applicator and is equipped with a manually adjustable switch. Double-clicking once emits a continuous laser light and eliminates the need for a foot pedal. Skin temperature can be monitored during therapy with a sensor that is integrated right into the laser applicator. Now, the practitioner can be confident that undesirably high skin temperatures are avoided during therapy – no matter the skin type. The simultaneous output of three wavelengths of laser light (810 nm, 980 nm, and 1064 nm) opens up a broad field of therapeutic options. Therapy using 3 wavelengths enables the simultaneous stimulation of different target sites. Pain receptors at the surface, as well as deeper tissue structures, are stimulated at the same time. The 1064 nm wavelength has the lowest light scattering and promotes radiation penetration into deep layers of tissue.
Zimmer MedizinSysteme, the device maker's German parent company, has been a pioneer in the field of high-energy laser therapy. Their engineering excellence has resulted in the new OptonPro 25 W setting new standards in output, wavelength, safety, and in simplicity of operation.
For more information about the Zimmer MedizinSystems OptonPro device, please view a web overview of the product. You may also contact Zimmer MedizinSystems any time by phone or email.
Related Z News Articles: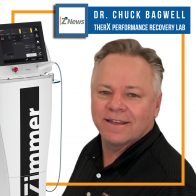 Physical Therapist, Dr. Bagwell (TherX) reviews the new OptonPro 25W high-power laser. He walks through some of the OptonPro's top features. Also, relays his experience using this device, compared to the previous OptonPro 7W model. VIDEO + ARTICLE + Q&A ...
Read More