Seasoned Z Wave Practitioner, Contour Room,
Gives In-Depth Z Wave Q Testimonial & Demo
"I tested [Z Wave] out first. Within a week of having it… I bought it. There was no question that it gives instant improvement that's visible and you can also feel in the consistency of tissue."
Read the article and then scroll below for the video by Aleksandra Dworska of Contour Room.
By Regina West; June 4, 2020

Scroll down for video.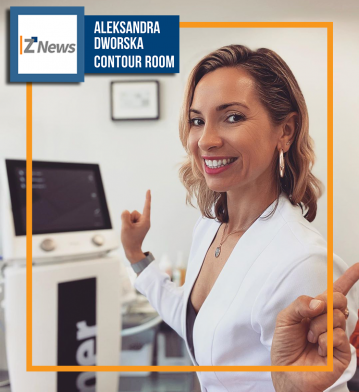 In a video testimonial and treatment demo, licensed esthetician, Aleksandra Dworska relayed her experience with the Zimmer Z Wave device. Ms. Dworska is the owner and operator of Contour Room and has worked with the Radial Pulse Technology device for more than two years.  "I have been an owner of the Z Wave by Zimmer… for 2 years," she began. "And I've been so happy working with it – and quite successful – that I have decided to upgrade to the newest model, the Z Wave Q."  For the next 5 ½ minutes, she shared a treatment demonstration and a thoughtful review on the device and its results.
Contour Room is a non-invasive body sculpting studio in Los Angeles. The office specializes in the improvement of cellulite. It also offers services to improve results on post-liposuction and post-abdominoplasty (tummy tuck) patients. Aleksandra reviewed how the Z Wave Q technology benefits these efforts, her practice and her clients. She emphasized the new model's quieter, water-cooled operation. As a practitioner who gets several hours of use per day from the device, she values the new water-cooled handpiece for its ability to treat for longer periods. "I can see client after client and I don't have to worry that the machine will stop with treatment because it's overheated." Aleksandra also noted her appreciation for the Z Wave Q's quieter operation. "The lower noise level is a huge advantage," she said. "I use the Z Wave daily, multiple times throughout the day. Sometimes, I'm doing as many as 6 zones at a time… 5 clients a day, that's quite a bit of noise exposure at the end of the day… This now has been solved with the Z Wave Q, where the treatment head is way, way, quieter."
As the video showcased a treatment demonstration by Contour Room, Aleksandra dubbed the Z Wave to be one of the best performing technologies in her office. "I am very selective with the technologies." She performed extensive research prior to deciding on the device. She also reported, "I tested [Z Wave] out first. Within a week of having it… I bought it. There was no question that it gives instant improvement that's visible and you can also feel in the consistency of tissue. It pretty much immediately softens any beginning stages of scar tissue fibrosis." Further, Aleksandra said that Z Wave is a favorite treatment for enhanced results post Cryolipolysis™ (CoolSculpting™). Her Z Wave unit, she said, is great at smoothing "bumpiness, where the body has a hard time breaking down the frozen fat."
In addition, clients of Contour Room find Z Wave treatments to be painless. Aleksandra stated, "Most importantly, it's actually comfortable for a client to have done, where some other technologies that require a little bit more tissue manipulation can feel a little too invasive." She continued, "It brings a lot of comfort afterwards because it moves the fluids so quickly that it just brings back mobility in certain areas and my clients are very, very happy about it and very thankful for it."
Aleksandra concluded with a comment on her satisfaction with Zimmer USA during her research and purchasing process. She said of Zimmer USA's credibility, "It's sometimes very hard to find a company that's honest about the equipment that they're selling and they always answer all of my questions very objectively. Beauty is very innovative nowadays. There's new things coming out every year and it's quite a job to sort through what's real and what's not. And what's safe… I'm happy that I've made a choice to invest in Zimmer. No regrets there."
Aleksandra Dworska provided this video and comments about Zimmer Z Wave without receiving compensation of any kind.
Scroll below to view the Z Wave testimonial by Contour Room.
About Contour Room

Contour Room is a full-service, one-stop body sculpting boutique. Founded in 2009, it is owned and operated by licensed esthetician, Aleksandra Dworska. Aleksandra is trained in massage therapy and manual lymph drainage and has been certified in Endermologie® since 2002.
For years, Aleksandra has been well known in Los Angeles for expert treatments in Endermologie. Endermologie utilizes deep tissue massage to tighten and firm skin, as well as to address cellulite. It was the first cellulite treatment to be approved by the FDA. Since inception, Contour Room has always been on the cutting edge of non-invasive aesthetic treatments. They offer other effective technologies for face and body, like the Zimmer Z Wave Q for cellulite and body shaping, Ballancer®Pro, Ico|One®, and Infrared Sauna Pod treatments.
Contour Room is located in Los Angeles, CA. To learn more about the practice and the services offered, visit their website at www.contourroom.com.
About Zimmer Z Wave
The Zimmer Z Wave transmits powerful sound waves into the tissue. The energy then spreads out radially to enhance the treatment effect (Radial Pulse Therapy). The body responds to these sound waves with increased metabolic activity in the form of lymphatic drainage and increased blood circulation. The result is an improvement in the appearance of cellulite and improved results when used with other body contouring procedures. For more information about the Z Wave, visit a web overview of the product. You may also contact Zimmer any time by phone or email.